In today's world of technologically-advanced supercharged personal watercraft, the challenge isn't so much how to make more horsepower but how to maximize its potential. And if there's one thing, it is that there is tons of potential buried inside of today's watercraft. Whether its unlocking more speed, improving hull optimization or ensuring engine longevity, we here at The Watercraft Journal have compiled a list of our Top 3 picks of "first mods" to make to the top-of-the-line performance 3-seaters offered by Kawasaki, Sea-Doo and Yamaha.
It's important to note that our choices here aren't merely for increases in speed, although many listed here directly – or indirectly – result in significant gains to sustained top speed numbers. In fact, you'll see that our average top speed is 76 mph across all three watercraft: the 2020 Kawasaki Ultra 310X, the 2020 Sea-Doo RXT-X 300 and the 2020 Yamaha FX SVHO. More often than not, we considered which aftermarket products delivered the widest overall gains; whether that was to engine cooling, fuel efficiency, handling characteristics or otherwise.
Likewise, we also selected products that did not require extensive technical knowledge to install or resulted in permanent alterations to the PWC, such as a through-hull exhaust system or opening up the engine itself. Nope, everything here is 100-percent reversible. Lastly, we purposely stuck with aftermarket parts suppliers with proven track records, who stand by their products and have conducted extensive testing – no fly-by-night, mail-in order outfits here. It's super easy to make a claim online, but few can back it up. Trust us.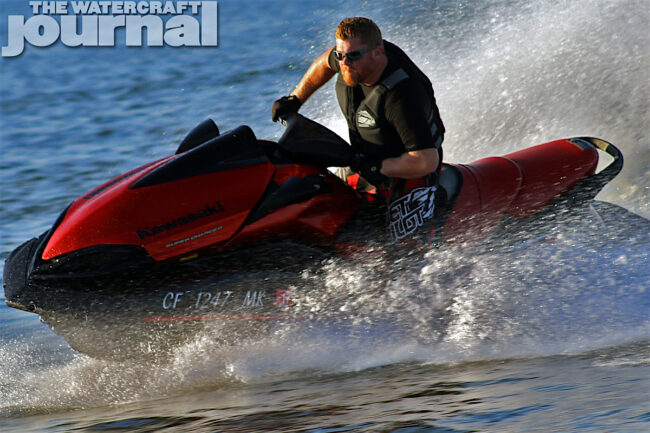 Kawasaki Ultra 310X JetSki – 77mph
While you were sleeping, Jamie Eade and the mad scientists at Kspeed Performance in Brisbane, Australia, were busy perfecting Kawasaki's King Kong of blown JetSkis, the Ultra 310X. Despite wielding the highest horsepower output on the market, the Ultra 310X is a beast – tipping the scales at 1049-pounds – and it's for this reason that many counted the big JetSki out when it came to picking up huge speed gains, at least without some serious re-engineering.
"Not so!" Eade declared. Kspeed found that decreasing the deep-V hull's drag was key, so the overall plane attitude of the ski is adjusted using Kspeed's 2-degree pump wedge. "Alone, it's worth 1-2 miles per hour," Eade explains. "But together with our Kspeed intake grate, and you'll gain quicker acceleration, higher top speed and a much smoother and a much more predictable ride. Low speed and high-speed turns are a breeze with new-found control."
Yet, the most important piece of Kspeed's Stage 1 package is their ECU reflash. When paired with the pump wedge and intake grate, Kspeed's kit reliably produces top speeds of 77mph from an otherwise unmolested Ultra 310X. The result of literally hundreds of man hours, Kspeed's remapping of the engine management curve increases the Kawasaki's fuel efficiency by optimizing timing, dwell and discharge. Speeds like this from an Ultra once required a $10,000 turbo system; now it can be achieved within 3-hours in your home garage.
Sea-Doo RXT-X 300 – 76mph
Recent results from a wide array of tuners has revealed the insane potential lurking just beneath the surface of a factory-stock Sea-Doo RXT-X 300. With a handful of surprisingly noninvasive aftermarket parts, speeds in the mid-80s are not only achievable but replicable using a number of combinations. Jet X Powersports' Ryan Dalli explained, "We achieved consistent 84-85mph speeds on Michael Spark's [RXT-X 300] with little more than a ECU tune and a custom-pitched prop."
Yet, unless you're planning on only running on flat water or in a straight line, the RXT-X's ST3 hull requires some serious assistance. WCJ agreed with Greenhulk.net's own Jerry Gaddis who stated, "[the RIVA Racing Pro Series] sponsons absolutely transform this ski. I consider them a must have on this hull." This of course, echoes our test results from over a year ago, as only the RIVA sponsons reset the ST3's pivot point, dramatically readjusting how the hull enters into and executes turns while under hard throttle.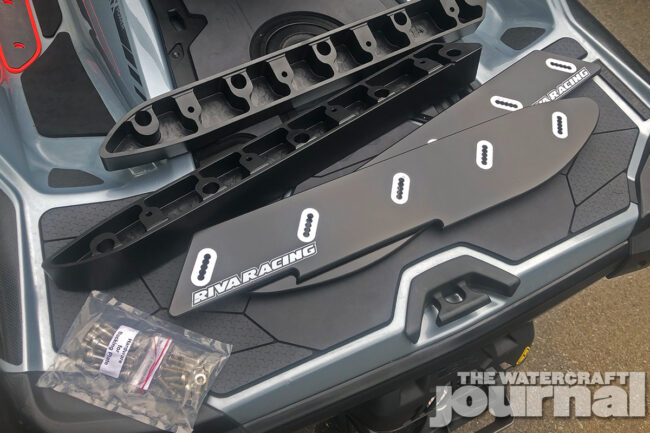 Equally, tuners have found that the supercharged ACE engine is hampered by excessive oil blow-by, which can dampen combustion and retard the engine's efficiency. Equally, this super-heated, vaporized oil fogs the intercooler, coating the fins and keeping the cooler from effectively chilling the intake charge. Even bone-stock 300HP Sea-Doos are seeing these effects, and therefore require the addition of a Oil Catch Can/Engine Breather Kit. Although it doesn't directly increase engine output, it does improve overall efficiency and thereby total performance.
Interestingly, Sea-Doos can achieve extraordinary top speeds without the need of an ECU reflash (although it certainly does help, and is necessary if more extensive modifications are planned for the future). Rather, by simply bypassing the ECU's speed control module, speed enthusiasts have achieved speeds as high as 76-77mph. Thus, Gaddis also parroted our final recommendation, the RIVA Racing SCOM unit, which literally interrupts the diagnostic plug socket, and permits the Sea-Doo to run unrestricted without tampering with the ECU tune at all. Moreover, it literally takes minutes to install.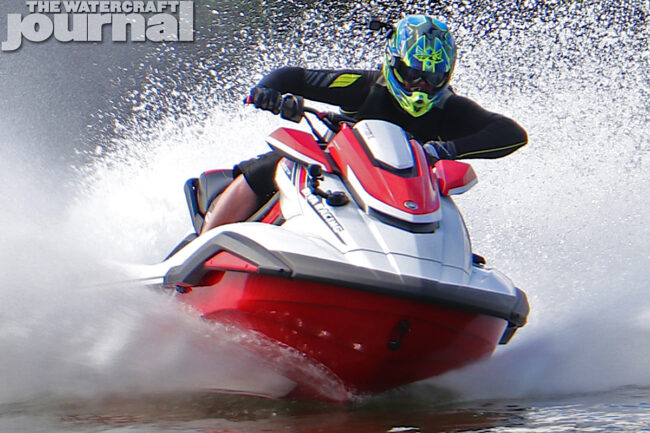 Yamaha FX SVHO WaveRunner – 76mph
Fatefully, one of the most potential-rich personal watercraft is also the most restricted. It took a great deal of ingenuity and testing to unearth the true talents of the 2018-and-up Yamaha FX SVHO WaveRunner, and once revealed, it became one of the winningest 3-seaters in racing. Yet, doing so requires considerable engine management re-calibration – and why we recommend a MaptunerX tune. Gaddis explained, "The ski is not going any faster until you reflash the ECU to remove the speed limiter. [And] the beautiful thing about the MaptunerX is you can upgrade tunes at any time at no extra cost."
Gaddis cautioned, "[Upgrading to the] RIVA ride plate must be done at the same time as tune because [the FX hull develops] very unstable handling at speeds above 72-73 mph." This very same sentiment was echoed by multi-National and World Champion racer Brian Baldwin, who noted, "the stock FX ride plate [likes] to push the nose too much. It really puts a lot of downforce on the front of the ski, and the RIVA rideplate really gets the ski more on the back-part of the hull, and gives it a lot more top speed as well."
Lastly, we questioned if Gaddis would recommend the ribbon delete kit as the final modification. "No, the ribbon on 2018-and-newer skis is much larger than previous models and flows more air. (Although, I recommend removing the ribbon on higher stages of modifications, such as Stage 2 or 3.) Instead, I'd go with the RIVA Racing Power Filter. This replaces the restrictive factory air box and lets the engine draw in a lot more cool, dense air," remembering to add, "And everything is available at the Greenhulk PWC Performance Store – and save 10-percent by using the coupon code "greenhulk" when you check out."