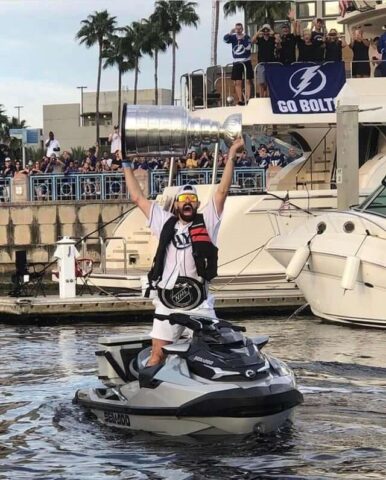 So, what do you do when your hockey team wins the Stanley Cup?  Well you tow around your massive trophy aboard a Sea-Doo of course.  This is exactly what Tampa Bay Lightning player Alex Killhorn did.
After finally wrapping up the season as champions, Killhorn rode around Tampa on his GTX Limited showing off the trophy and bringing together fans and supporters.  Take a look at the full Sea-Doo news content below for the details.
While Alex Killhorn is a superstar on ice, he's fast becoming a Sea-Doo rockstar on the waters of Tampa Bay. 
In March, Covid19 stopped the professional sports world faster than clamping down on the Sea-Doo intelligent Brake & Reverse lever. During the down time Tampa Bay Lightning star Killhorn started visiting his teammates via the waters of Tampa Bay aboard his Sea-Doo GTX Limited. To keep his fans engaged, he shared the adventures via YouTube video series, 'Dock Talk.' 
Who would have bet their season would end with a Stanley Cup championship. In true Tampa Bay style, the celebration included an on-water parade. Lightning players and celebrities floated the cup on their various Sea-Doos to the joy of Lighting fans.
This new celebratory use of Sea-Doo watercraft has led some Sea-Doo designers to explore a new LinQ accessory to easily lock in trophies for future championship rides.