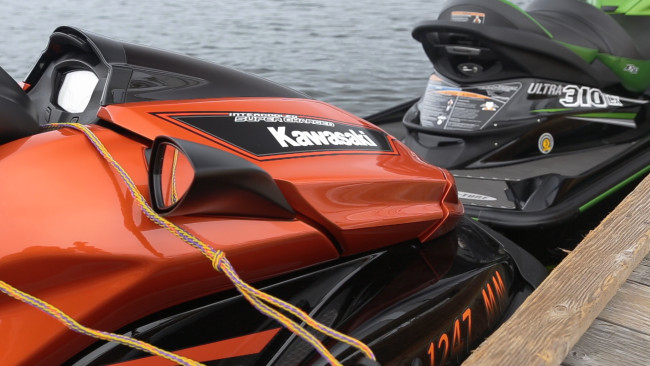 Chances are, if you're a manufacturer, a dealership or a custom shop within this niche industry, you've read the writing on the wall. Traditional print advertising yields little to zero result as so few would-be new customers subscribe to paper magazines. So you turned to Facebook (it's free after all – well, to start that is), and that's been good. Here's the problem though, unless you're aggressively pursuing, cultivating and feeding that Facebook/Twitter/Snapchat/Instagram/Google+/Pinterest account, your reach will run out. It's the law of diminishing returns. So where to turn? The days of "build it and they will come" are gone. Today, we need to build it and take it to them. If you're looking for fresh faces, you need to go to where the people are.
So where is that? Your best, easiest and most reliable source in this industry is The Watercraft Journal. No other outlet reliably produces more content, welcomes more new and returning PWC enthusiasts, and delivers more confidently on its obligations than any other magazine, forum or media outlet. Producing fresh, entertaining and informative magazine-quality articles each and every day, The Watercraft Journal has escalated to become the single-most popular personal watercraft magazine in North America (and is quickly zoning in on Australia) in just two short years. With nearly 1,000 articles published thus far, The Watercraft Journal also wields one of the largest catalogs of professionally-written "evergreen" PWC content on the Internet today.
You want your company to grow, to reach new and returning customers and a third-party resource to advocate and present your products. We at The Watercraft Journal want to continue to cultivate and support this intimate, niche industry and all those companies within it. This is a partnership ready to happen. Already over 20 companies have come to support The Watercraft Journal, and in return have been rewarded with high impact digital advertising, up-to-the-minute time-sensitive news posts, and intelligent and enjoyable feature-length content, all of which to direct its 200,000 annual readers to their storefronts. Let The Watercraft Journal be your partner and resource in helping grow your brand today. And here's why:
Consistent Growth Consistently
Steady growth is something that few companies in and out of this industry have been able to maintain for weeks or months at a time. Yet, when a digital publication can do it, it's almost miraculous. Above and below you will see how how February's performance numbers stack up against January's (which are compared below). And more importantly it will be illustrated how consistently this title continues to draw in new and return readership month after month. It's uncanny growth for such a publication when considering the industry, but not so much when you weigh it against the level, professionalism and consistency of the websites, blogs and magazines being produced and presented today. When you do that, it all makes much more sense.
January 2016
Total number unique readers: 24,221*
Total number of articles read: 57,448
Percentage of new readers: 60%
February 2016
Total number unique readers: 20,622*
Total number of articles read: 45, 465
Percentage of new readers: 61.54%
*This number is considered equal to an individual sale of a single copy of a magazine.
When Quality Is Just as Important as Quantity
It's important to note that in this day of immediacy that there is a reliable source for top quality, professionally-written magazine content that is published each and every single weekday. Pending a national holiday, you won't see a day go by without new and uniquely-written articles from The Watercraft Journal. Providing coverage from the entirety of the personal watercraft industry – be it touring, fishing, racing, freestyle/freeride, or do-it-yourself tech – we bring the enthusiast the widest array of coverage possible. And we produce more sustainable content than any other publication, be them print or memory-sapping downloadable PDFs – both of which we don't do.
News articles published in January 2015: 25
Feature articles published in January 2015: 12
Total feature word count: 11,040 words*
News articles published in February: 30
Feature articles published in February: 7
Total feature word count: 5,264 words*
*When this number is translated to print publication standards equals a 78-page magazine. Please note that this number does not include an average of two uniquely-written news articles published daily.

Putting the Word Out To The World
As we've said before, The Watercraft Journal doesn't require any sort of download, or paid subscriptions or even a password to log in and access our industry-leading content. What that has done is make us the single-most popular outlet for PWC news, reviews, tech and coverage in North America. We're the first source that people check (we know, we have the data to prove it). And with our Facebook, Twitter, Instagram, YouTube, and weekly newsletters, we bring our content directly to them. No waiting around for updates. No checking the mailbox. If they've got a computer, a laptop, tablet, smartphone or Apple Watch, they can read The Watercraft Journal
February Facebook likes: 15,195
Top Five countries: United States, Australia, France, Canada, United Kingdom
Changing Seasons, Changing Gears
Although February showed a slight change in content allocation, continued and measured growth was the name of the game with The Watercraft Journal. As we close up the last lingering weeks of winter, we've been amazed with the continuing growth of readership, regardless of the weather outside. In fact, The Watercraft Journal continued growing during this past winter (January and February) enough to eclipse last year's April and May. That's really saying something, and an incredible indication of the power of this audience. So again, if looking to grow your clientele, reach a broader audience of would-be customers and spread the word about your brand, product and services, let The Watercraft Journal be your resource and email kevin.shaw@shawgroupmedia.com about advertising your company in the single-most popular PWC magazine today.