While the three major PWC manufactures mass produce their PWC's on a large scale, there is still one key detail every customer wants. Customers want a quality product but also want to the ability to customize their machines. Sea-Doo was able to recognize this desire and thus created the LinQ Accessories.
LinQ Accessories are a great way to increase the storage on board your Sea-Doo PWC. With the purchase of a LinQ Base Installation Kit, the world of accessories opens up to you. Let's say your friend calls you up and wants to go out for an evening ride. While dinner at home could eat up a lot of your time, why not throw some food and drinks into your LinQ Cooler and eat dinner on the water!
Or what if you want to go out for a day ling ride and are going to need some extra fuel. The LinQ Fuel Caddy holds up to 4 gallons of fuel. The perfect amount without too much weight in the rear. The Fuel Caddy is great because you can put a LinQ watertight bag on top for additional dry storage.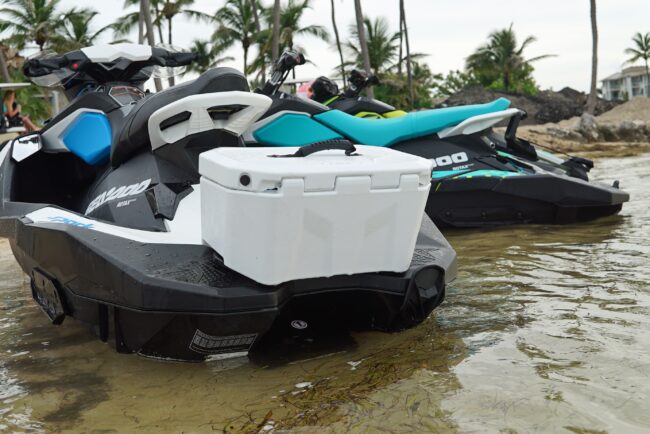 For years, the only storage on a PWC has been in the front end. While many of these storage units have increased in size over the years, there is still a need for more room. LinQ Accessories allows you to swap a cooler out and install a fuel caddy in minutes. By purchasing the installation kit and using these accessories, you can be sure that everything will be safe and secured.
Sea-Doo created this accessory line to help you personalize your PWC to fit your lifestyle. Whether you like to go on extended trips or need a cooler for fishing or food storage, the LinQ Accessories line has your covered. To see how these accessories look in action, check out this video. To see all LinQ Accessories offered for 2020 and to find what Installation Kit will fit your Sea-Doo PWC, click here.