Lake Powell is a reservoir lake located on the border of Utah and Arizona. It is a popular destination for family and friends to travel to. With warm weather, clean water and plenty of things to do, this is a perfect spot for anyone.
Bob Reed is a long time personal watercraft lover and had the idea to take his out one day and go fishing with it on Lake Powell. After enjoying his fishing trip, he decided that he wanted to share his love for fishing on Lake Powell with the public. So he started Up Lake Adventures. With the introduction of the Sea-Doo Fish Pro, he is now hosting 7 day trips where everyone packs up their gear and food onto their Sea-Doo and away they go.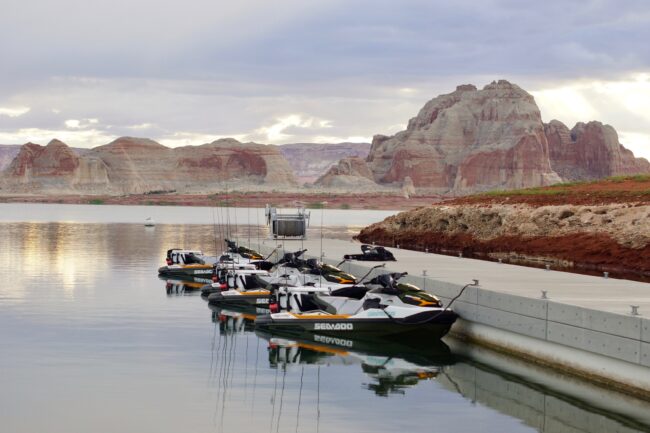 Lake Powell is known for their largemouth bass, smallmouth bass, crappie and walleye. Being on a watercraft allows you to go into narrow channels and really try to find that big fish that will make your whole trip. Adam Eakle with KSL Outdoors joined Bob just last week for a watercraft fishing trip. His experience was awesome and could not speak highly enough of how professional Up Lake Adventures is. Making safety their number one priority and having their clients catch tons of fish, there really isn't anything better than that.
While Bob loves fishing and taking clients out, he said that he enjoys the freedom his clients have with picking their own spots. Everybody is on their own watercraft so they get to have the controls in their hand. Many of his clients are first timers to Lake Powell so it allows them to experience the lake their way. If you are wanting to go on a fishing trip where a professional guide will make your experience worth it, check out Up Lake Adventures. Bob is so passionate about guiding that you will remember this trip for a lifetime.