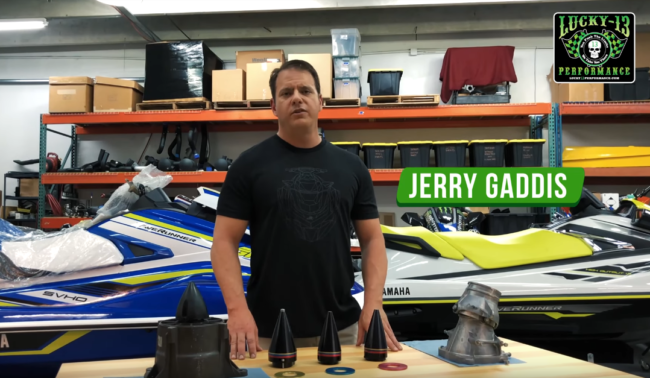 For those hardcore racers or recreational riders out there, it's all about perfectly dialing in your watercraft for the best top speed, acceleration, and holeshot hookup with reduced cavitation. One of the best ways to do this is to tune your jet pump accordingly.
An easy way is to use the Lucky 13 adjustable pump cone and with varieties available for Yamaha, Sea-Doo, and Kawasaki, RIVA Racing makes it possible for you to tune your ski according to the setup you need.
The basic construction of these pump cones uses a series of anodized spacers sandwiched between the cone and base with a stainless steel tail cone bolt holding it all together. By adding or removing any of the various thickness spacers, you can change the conditions at which your ski operates.
Adding more spacers will extend the cone length and reduce your RPM. By adjusting your RPM and consequently your pump pressure, you will be able to fine tune your ski according to the surrounding environmental conditions as well as aligning it with any modifications you have made to your ski.
For more information on the Lucky 13 pump cone, check out the latest video.