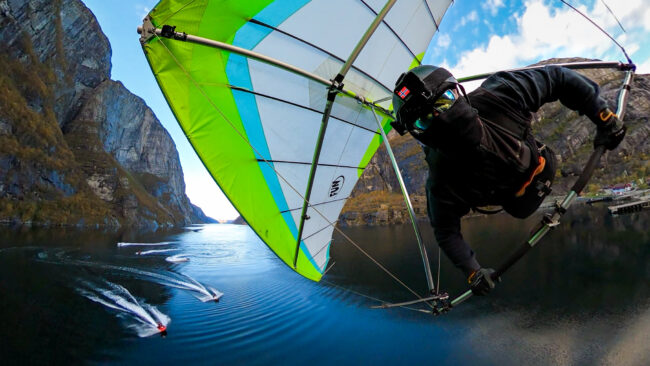 We never fail to be amazed by the images that come from the Jet Ski Club Stavanger. Club member Audrius owns and operates North Pix Media, a professional photography and video service company, and from what we've seen, is well worth the money. Audrius sent me this video and these images from the club's most recent trip, which included some amazing footage from The Fjord Flier, hang glider pilot. Audrius wrote:
"Everyone has their own hobbies and activities that make them feel truly alive. We set out early for a 110 mile jet ski trip to meet the hang glider pilot aka TheFjordflier. Passionate about flying. A man is living his hobby and using every good weather window to do what he loves. Most of the time he flies in the early morning just before the thermals pick up. To get perfectly still weather for a flight is really rare at this time of the year. He drove 80 miles from the city to "Lysebotn" to reach one of his favorite launch spots.
"About the place called Lysebotn. Lysebotn sits at the end of Lysefjord – one of the pearls of Fjord Norway – and gets many visitors in the summer on the car ferry or tourist fast boats from Stavanger city. The village is located in a very isolated valley that is only accessible by one road or by boat. When the narrow mountain road is closed during the winter, for seven months of the year the village is accessible only by boat. It is most alive from June to mid-August, with base jumpers from around the world coming here to jump off "Nesatind" and "Kjerag".
"The tourist season has ended in October and there is no activity in the valley. TheFjordflier launched from the low spot close to the road. Normally, during the season, he launches from the very top of the Lysefjord mountains. For more breathtaking flights, please visit TheFjordflier's YouTube channel HERE.
https://www.youtube.com/watch?v=73uQOjYtCGc