This most recent ride hosted by the JetSkiShop.com is an epic adventure that saw 10 watercraft taken of an exclusive two-day expedition which clocked up 10 1/2 hours of ride time on the watercraft and traveled over 350kms (217 miles) and encountered wild dolphins and turtles, shot the mangroves, cruised the Tangalooma Island shipwrecks and Pumicestone passage, included a over night stay at Caloundra on the Sunshine Coast, maximizing the jet ski lifestyle to its fullest!
The group of riders gathered early at the boat ramp on Saturday morning eager to get out on the water. We had a safety meeting to address to any questions and to discuss the ride plan. Setting off at 7:30am sharp, we headed north past South Stradbroke Island and make our way to Slipping Sands for our first pit stop.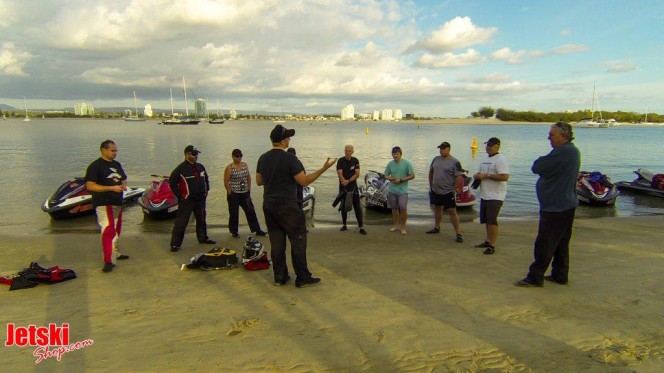 Here was our first chance to spread out and carve up the flat water before entering Moreton bay. Crossing this bay can go either one of two ways: dead flat or viscous chop. Fortunately, we got the dead flat water conditions. Pulling up at Peel Island offered us a chance to stretch our legs and use the amenities. After a quick regroup, we picked up the pace for breakfast and a fuel top off at Redland Bay Marina.
Fuel usage varied between brands. On average the Sea-Doo and Yamaha top up (ran empty – Ed.) around 42 liters (11 gallons), where the Honda didn't top up and was still reading almost full. Leaving the Marina and heading north, the ride meandered past St. Helena Island. This island is home to so much history from the 1800's, including a Penal Establishment.
Tangalooma Island was next on the list. Hosting some very iconic shipwrecks, and a magnet for all watercraft that can get there. The beautiful blue waters are full of lots of marine life and is a perfect getaway from the rat race of Brisbane, only a one hour ride away. After exploring the wrecks and taking in the sun, we continued on our trip north to Pumicestone Passage.
Entering the passage, we pulled into the dock to refuel both the bodies and watercraft. By now the Honda watercraft were down a total of 50 liters for the day and the other craft were on their second refuel. We grabbed a drink and an ice cream and got our butts into gear. We only had about two hours of daylight left in the day, and with 1 1/2 hours of riding to go we knew it would be tight. Making our way through with an out-going tide, we didn't muck around. Only one ski got stuck in the mud when the rider diverted from the group. Finding out the hard way, pushing a 400kg (882 lbs.) jet ski off a mud bank is worth following the crowd.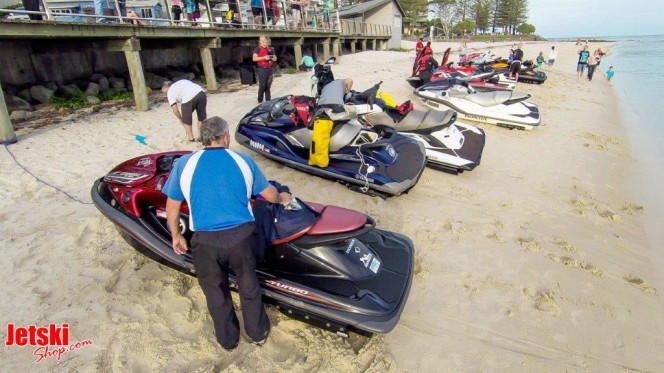 Pulling in at our destination of Caloundra on the Sunshine Coast, we secured the watercraft on the beach. We were met by the security guard who settled in for his 12 hour shift of some jet ski beach watching. Out for dinner at Hogs Breath and out for breakfast at the Coffee Club.
Sunday was time to turn around and head back home to the Gold Coast. We managed to squeeze in some attractions on the way like the Redcliff Street markets, airport fly over, and some mangroves tracks. All in all, it was an awesome weekend with friends using their jet skis to their maximum potential.