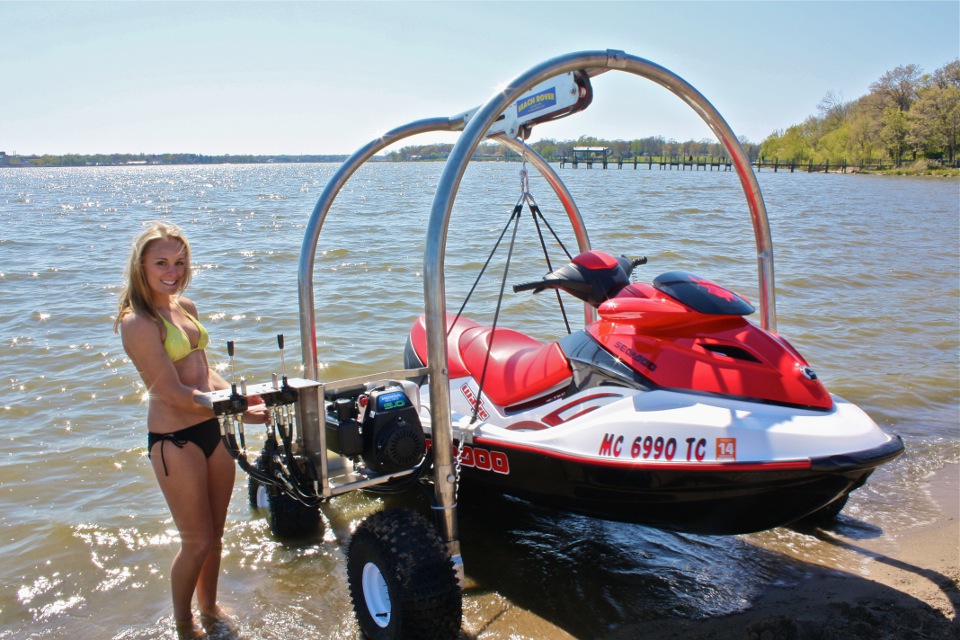 Are you a full-sized runabout owner who wants to enjoy the ease and accessibility of launching your ski from the beach like those toting smaller stand-up jet skis? Because of the massive weight difference between the two, imagining hauling a hand-pulled balloon-tired dolly with 1,000-pounds of runabout on it down the shoreline is all but impossible.
But now, you can with anabolic steroids! Ha, ha. No, just kidding. Rather than chemically-induced performance-enhancing drugs, you just need the all-new Beach Rover All-in-One Jet Ski Lift & Dolly. Built by Shoreline Manufacturing, LLC in Holland, MI, the motorized Beach Rover is available with a Honda 5.5hp electric start engine, battery, and solar charging system (for an extra $1,000) over its standard pull-start configuration.
Similar to those large industrial lifts used to dry dock boats during the off season, the Beach Rover can power up a 20-percent incline as easily as it can drive down a beach without any pulling, tugging or heaving. It's motorized knobby tires ensure that you won't get stuck as it automatically lifts over 1,500-pounds worth of personal watercraft.
Built from stainless steel, the Beach Rover is safe for salt water use, the Beach Rover is easily assembled and easier to operate. Universal lifting brackets work for all PWC models and are tethered to eliminate swaying or swinging. If you think it's great, it is. But at $8,500 it's not cheap either. Watch the video below to see the Beach Rover in action.