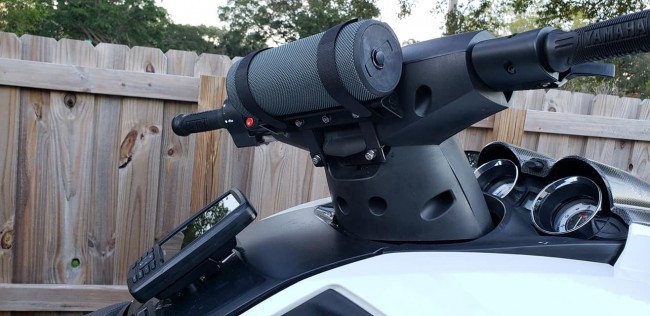 The sun is shining, the water feels refreshing and it's the weekend. The perfect picture to start your weekend of riding PWC with your friends and family. While it could be hard to make this any better, PWC Muscle has one thing to make things better. They sell a Yamaha Speaker Bracket that allows you to use your UE Megaboom speaker while out on the water. The UE Megaboom speaker is not sold with the speaker bracket but can be bought on multiple websites online.
Listening to music is something that makes very situation better. Whether your choice is hip-hop, country or classic rock and roll, listening to music makes your time on the water even better. The Yamaha Speaker Bracket fits on Yamaha GP1800, FX and VX models is offered at $34.99.
When shopping on PWC Muscle, simply put in your Yamaha model, if you would like blue Loctite and what color of strap you would like. The Bracket is made of powder-coated aluminum, two Velcro straps and 3 stainless steel mounting hardware. With the aluminum powder-coated and using stainless steel hardware, it eliminates the chance of rust or corrosion if you ride in the saltwater.
While installation is very simple, PWC Muscle has provided an installation video which shows you exactly how to install the bracket. The video shows installation on a GP1800 but it is the same process for every other model.