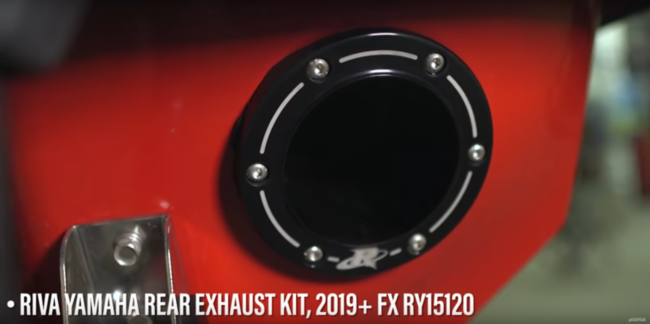 Attention all owners of 2019 Yamaha WaveRunner FX series models. RIVA Racing has just introduced the new rear exhaust kit. While you may be the best looking out on the water on top of your brand new WaveRunner FX series, why not make it sound the best too. The new rear exhaust system offers performance, style and sound.
With installing this kit, you will remove the restrictive sound suppression system located between the waterbox and the rear hull exit. When dealing with new exhaust systems, you want to keep in mind the decrease in back pressure. This kit provides your WaveRunner with improved performance by the reduction of back pressure and restriction. Its flush design too makes the finished product something you'll marvel at.
The kit retails on RIVA Racing for $399.95. All that is included is: powder-coated mandrel bent aluminum exhaust tubing, billet through-hull exhaust outlet, high-temp silicone tubing and all hardware. For a more in-depth view of the installed kit, check out this video produced by RIVA Racing on their YouTube page. RIVA Racing has been in the industry for many years and build lasting products. This kit will be a total head turner out on the lake this summer. With Free Shipping offered on orders over $150, what are you waiting for.