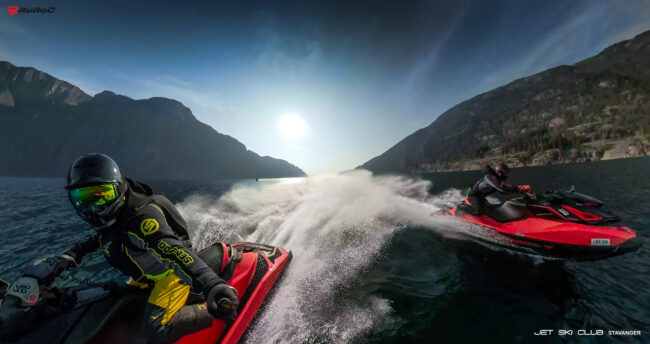 Stavanger, Norway is a beautiful city nestled on the Stavanger Peninsula in South West Norway. The city is known for its rich heritage in architecture and traditions. With is being so close to the Atlantic Ocean, it allows the chances for you to see some beautiful marine life increase. While in the past, politicians have tried to ban personal watercraft from riding within 400 meters (roughly ¼ mile) offshore, the PWC community in Norway is still going strong.
Recently, the Jet Ski Club Stavanger, posted on their Facebook page about all of the things their club has been doing since the start of 2019. They embarked on a 180km (111 mile) round trip ride to the Sandnes Fjord. On their way there, they were able to witness a group of Orca whales (killer whales).
Orca whales are the biggest mammals in the whale family with the males weighing anywhere from 8,000 to 12,000 lbs. While long hauls on personal watercraft with your friends is fun, being able to witness Orca Whales is what made the trip for the club special.
It is awesome to see the club rides groups are doing all over the world. Norway is an absolutely beautiful country with beautiful fjords, allowing the riders to capture their rides with GoPro's. Remember to be respectful of marine life and keep your distance. They truly are a magnificent animal. Check out their video and see the Orca whales.