Yamaha and Sea-Doo have taken radically different approaches to the flourishing PWC fishing market, but the results are the same: Both brands listened to their customers and responded with a variety of feature-filled offerings guaranteed to get any sport fisher excited about hitting the water.
The 2022 Sea-Doo FishPro Trophy ($17,799) is the brand's flagship fishing machine based on Sea-Doo's GTX 170 platform and ST3 hull. The 2022 FishPro Trophy holds 18.5 gallons of fuel, measures in at 12.2' long (146.8'), 4.1' wide (49.4"), and 3.8' high (45.3") with a dry weight of 858lbs.
Sea-Doo's ST3 hull is molded using BRP's proprietary CM-Tech process which combines layers of acrylic and ABS plastic sheets with chopped fiberglass matting. The benefit of the CM-Tech process is a hull that is lighter and does not require painting. The ST3 hull promises a stable ride at rest and confidence in a multitude of conditions due to a low center of gravity.
The 2022 Yamaha FX HO JetFish is based on Yamaha's flagship FX platform. To make the 2022 FX HO ($14,299) directly comparable to the 2022 Sea-Doo FishPro Trophy, the following genuine Yamaha accessories must be added: the Yamaha JetFish Premium ($1,199.99) package and a Garmin ECHOMAP UHD 6" Fish Finder/GPS ($913.89).
That means a comparably equipped 2022 Yamaha FX HO JetFish will have a base price around $16,747. With a fuel capacity of 18.5 gallons, the FX HO measures in at 11.7' (140.9") long, 4.2' (50.0") wide, and 4' (48.4") high, with a dry weight of 840lbs.
Yamaha made headlines for 2022 by announcing a switch from NanoXcel back to traditional heavy-duty SMC fiberglass hulls. A heavier SMC hull translates to better durability and handling in rough conditions due to the material's higher density and rigidity. Despite a return to a traditional SMC hull, the 2022 Yamaha FX HO JetFish still has a top deck molded from NanoXcel, and both the hull and deck are still painted.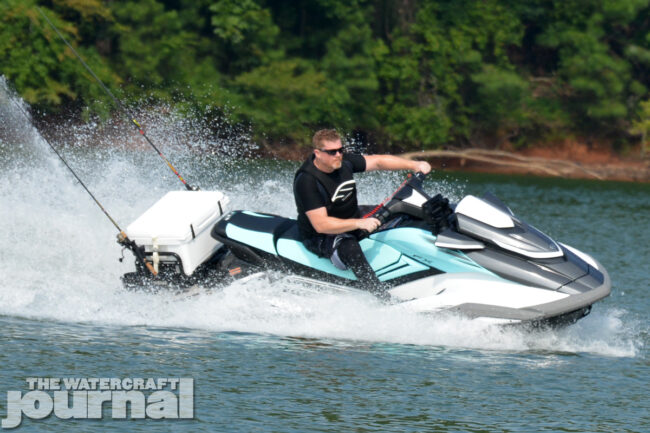 The 2022 Yamaha FX HO WaveRunners also feature self-draining footwells that prevent water from pooling while underway or out of the water. Other changes for 2022 include a revised ride plate that reduces drag and increases bow lift, and improved sponson positioning that improves tracking through turns.
Powered by Yamaha's four-cylinder 1812cc High Output marine engine, the 2022 FX HO produces an estimated 180 horsepower. Yamaha's marine engine features an open loop cooling system that relies on raw water to cool the engine and exhaust. All Yamaha skis include Yamaha's RiDE – Reverse with Intuitive Deceleration Electronics, which is operated by a secondary trigger on the left (port) handlebar. Only one hand is needed to engage and increase reversing thrust. Other standard features include no-wake mode, cruise control, and trim.
For 2022, the Yamaha FX HO comes standard with a 5" glare-resistant full-color glass touchscreen with Bluetooth & smartphone connectivity, Yamaha's Drive Control functions, and true GPS mapping (map card is $199) with geo-fencing capability. Operators can now make and receive phone calls through a waterproof microphone array mounted adjacent to the handlebars. For 2022, the FX HO is available with a factory-installed audio system featuring twin 4.5" 50-watt marine speakers and a low-voltage regulator to protect the WaveRunner's battery.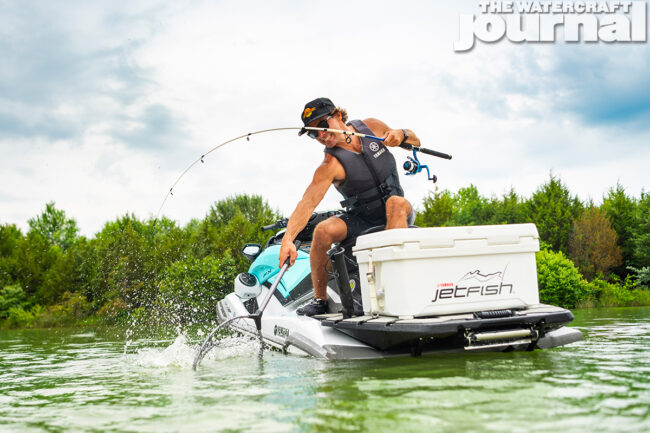 Comparatively, the 2022 Sea-Doo FishPro Trophy is powered by BRP's three-cylinder Rotax 1630cc ACE 170 marine engine producing 170 horsepower. The Rotax 1630 ACE features Sea-Doo's closed-loop cooling system (CLCS) reducing potential engine corrosion resulting from use in salt water.
All Sea-Doo skis include iBR (Intelligent Brake and Reverse). iBR is activated by a secondary trigger on the left (port) handlebar, but the operator must use the normal throttle trigger on the right (starboard) handlebar to increase reversing thrust, meaning two hands are required for controlled reverse operation. The 2022 FishPro Trophy also includes Sea-Doo's proprietary iDF (Intelligent Debris Free) pump system. This new system allows operators to clear a blocked jet pump with the push of a button.
The Sea-Doo FishPro Trophy comes standard with a 7.6" digital display with an orange backlight. When equipped with the factory-installed 50-watt audio system, however, buyers can opt for Sea-Doo's Panoramic 7.8" LCD full color display which includes audio integration, smartphone connectivity, and advanced fuel and speed monitoring.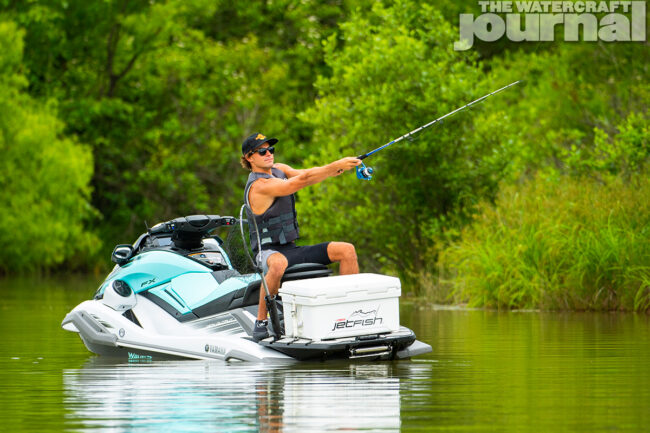 Both displays include the ability to switch between Sea-Doo's signature drive modes, including Sport, Eco, and trolling modes as well as various trim and speed-limiting functions. Finally, the 2022 Sea-Doo FishPro Trophy includes a dual battery setup with a 650-watt alternator.
With a total storage capacity of 39.6 gallons, the 2022 Sea-Doo FishPro Trophy has ample storage for all your fishing and riding gear. The innovative 25.3 gallon water-resistant front compartment opens by raising the handlebar assembly, giving riders direct access to their gear and stowed items. There is also an easily accessible 0.8 gallon glove box with waterproof phone storage and built-in charging ports. The 2022 FishPro Trophy also includes a 13.5-gallon LinQ cooler with convertible livewell.
On the other hand, the stock 2022 Yamaha FX HO offers 44.5 gallons of total storage capacity, not including the additional 12-gallons of storage provided with the Engel 45 cooler included in the JetFish package. That's a total of 56.5 gallons of total capacity for a 2022 Yamaha FX HO JetFish WaveRunner.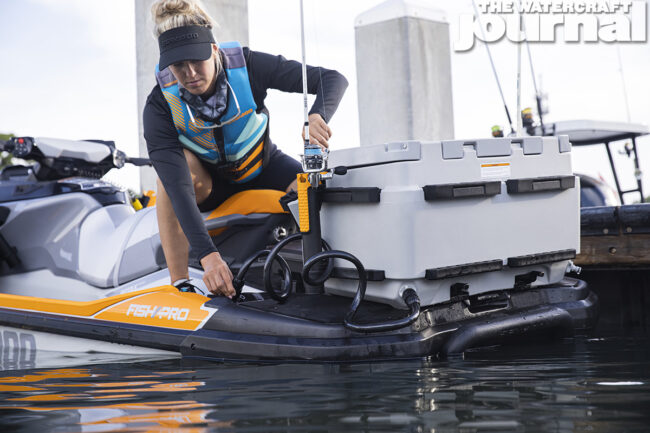 Yamaha's large 2.3 gallon illuminated water-tight glove box features a USB charging port as well as a 12v outlet, while Yamaha provides a water-tight modular storage compartment under the rear seat. The large front compartment has a storage capacity of about 35-gallons, while an additional compartment at the rear has room for dock lines and small accessories.
The 2022 Yamaha FX HO was not designed from the hull up as a fishing machine, but rather as a long-distance luxury cruiser. The transformation of a stock FX HO into a fishing machine requires the addition of Yamaha's FX RecDeck and JetFish packages. The FX RecDeck is a 6-square-foot platform covered in two-tone CNC-cut MarineMat carpeting.
The deck includes integrated tracks and four built-in fold-down cleats that are designed to accommodate a wide range of accessory configurations. The RecDeck also features a stainless-steel retractable boarding ladder. The standard JetFish package includes the aforementioned Engel 45 JetFish branded cooler, two track-mounted rod holders, two RAM cupholders, two fishing rod retention straps, and four track eyelet mounts.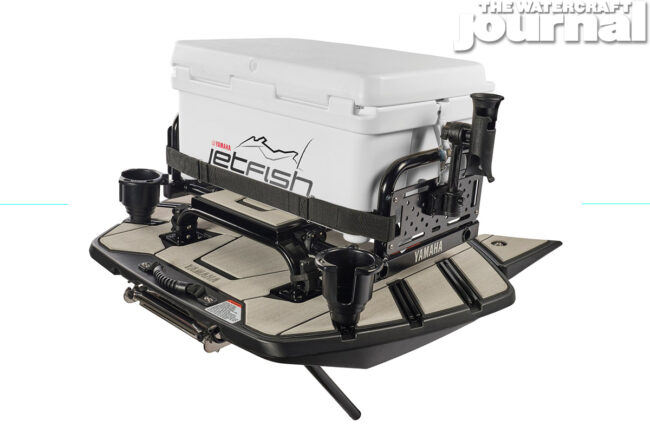 The JetFish Premium package include the same cooler, as well as Yamaha's multi-use rack, two track-mounted rod holders, two RAM cupholders, four fishing rod retention straps, and two track eyelet mounts. Neither JetFish package includes a Garmin fish finder, although multiple accessory options are available from Yamaha, including the Garmin ECHOMAP UHD 6" Fish Finder and GPS ($913.89) or the 2.9" Garmin Striker 4 ($279.95). Both Garmin fish finders include a hardware and installation kit with externally mounted transducers.
The Sea-Doo FishPro Trophy comes standard with a Garmin 7" touchscreen Fish Finder and GPS with a factory installed in-hull transducer (Sea-Doo includes a token for free upgraded regional maps from Garmin). The Ergolock modular two-piece seat transforms into a bona fide pedestal seat with a swivel base and backrest, while specially-angled gunwale footrests provide improved ergonomics.
A grapnel anchor, complete with line and a built-in storage compartment is conveniently located on the left (port) side of the watercraft within arm's reach. The FishPro Trophy comes standard with a 13.5-gallon LinQ Fishing Cooler that doubles as a livewell. The LinQ cooler is outfitted with a built-in cutting board and five rod holders that mount along the sides. A factory-installed pump (with continuous and intermittent functions) allows you to keep your bait or catch alive, while also doubling as a washdown pump to clean-up your ski.
Sea-Doo offers the convenience of the plug-and-play Sea-Doo FishPro lineup with many innovations not found anywhere else on the market. By offering the 2022 Sea-Doo FishPro in three different trims – the Scout ($13,899) the Sport ($15,899) and their flagship ski, the FishPro Trophy ($17,799) Sea-Doo is effectively catering to a wide range of budgets and tastes. If you intend to use your new watercraft only for fishing, the Sea-Doo FishPro line provides the "reel deal," complete with all the creature-comforts you would expect on a much larger fishing boat.
Yamaha, on the other hand, chose to offer the JetFish package as an optional accessory for their flagship FX line of skis rather than release a purpose-dedicated fishing WaveRunner. Since the RecDeck and JetFish packages are sold separately, this allows owners of 2019+ FX HO and SVHO skis to add accessories to their rides ad-hoc.
Serious fishermen will find the lack of a livewell or fishing seat disappointing, although Yamaha's switch back to SMC hulls will likely drive offshore anglers to the FX HO JetFish platform. Those who want more power and speed can easily equip their new or existing FX SVHO supercharged WaveRunners with the RecDeck and JetFish packages.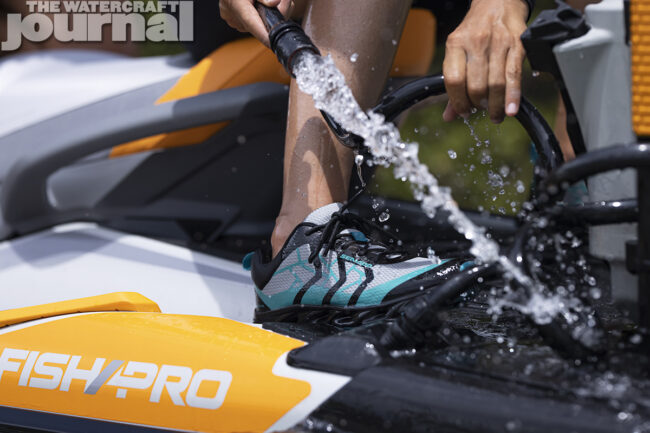 By the numbers, the comparison is tight: Yamaha's offering comes in just under $1,052 less with 10-more horsepower and extraordinary fuel mileage; nearly 20-pounds less in total weight; 17-more gallons of total storage (including the rear cooler tanks); just a few inches more desk space and identical fuel capacity. Yet, the Sea-Doo Trophy comes back swinging with a king's ransom of accessories, features and technologies:
The larger 7.6″ dashboard bests the Yamaha's 5″ touchscreen; the 60-watt BRP Premium Sound system outperforms the FX's 50-watts; a 1-inch larger Garmin touchscreen with an in-hull transducer versus externally mounted; a fixed grapnel anchor with 100-feet of line; a heavy-duty wiring harness and second battery; a functional live well and deck hose; a collapsible swivel seat; and true reverse-thrust jet pump-clearing system all far surpass the price difference.
While Yamaha's first entry into the PWC fishing market is certainly a strong one, it's hard for us at The Watercraft Journal to ignore the sheer avalanche of features and innovations included in the 2022 Sea-Doo FishPro Trophy that clearly indicates Sea-Doo's thoughtfulness in hearing and meeting enthusiasts' wants and desires.