I was early to the 2009 IJSBA World Finals when I met Lee Manvell. Technically, I met his dog first; a massive Rottweiler named Bentley came bounding up Body Beach before I could slide out of the driver's seat of my truck. Bentley's hulking paws landed squarely on my chest, happy to make a new friend. Arriving early earned me a sneak peek at many of the champion's pre-Finals machines and that's why I was there.
Craig Warner and Dustin Farthing both were piloting heavily modified Ultras that year, and what the two were capable of doing aboard the Kawasakis was mind-blowing. Warner was working closely with Joe Heim and the Team Green crew to push his modded Ultra with a prototype turbo setup from Bill Chapin at R&D Racing. Farthing was pushing more and more Vortech-spun boost down the 1.5-liter; pistons, valves and head bolts be damned.
Yet, the two shared one key ingredient: they both rode atop Lee Manvell-shaped hulls and there they were shredding the cove so famous to Havasu residents and racers. The British-born racer, tuner and hull shaper had moved to Lake Havasu, AZ a few years earlier. Manvell was tall, broad shouldered and kept his head clean shaven. He might've been intimidating were it not for his smile. He always seemed to be smiling, I noticed. Maybe it was because he was doing what he loved so much. He recently married and was expecting a baby girl. Manvell looked to have it all figured out, I jealously mused to myself.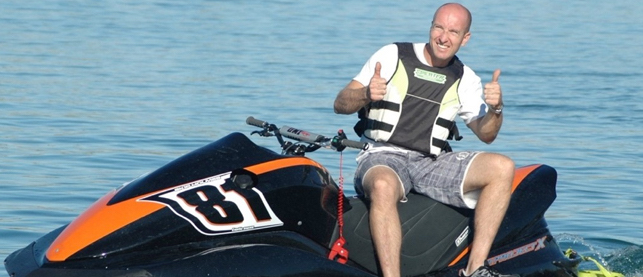 And then BAM!, the news hit a few months later: Cancer had spread aggressively and Lee was gone in less than a year. The loss to his young family, friends, loved ones and the community was devastating. I had only met the man once and even I hurt at the news… Now it's been 8 years since Lee's passing, and his impact lives on. The annual "Lee Manvell Memorial" award is returning once again. Awarded to the holeshot winner of three Pro Ski motos and two Pro Runabout motos at this year's World Finals, each recipient receives $100.
Shawn, Lee's widow, wrote: "The Lee Manvell Memorial Holeshot Races honors my husband who was an active member of the jet ski community for many years. I am excited to have a memorial race at World Finals to remember and honor Lee and his passion and dedication to this sport. It is also very important to me to serve as a nice way for our daughter, Ryan to know and learn about what her Dad was a part of for most of his life."