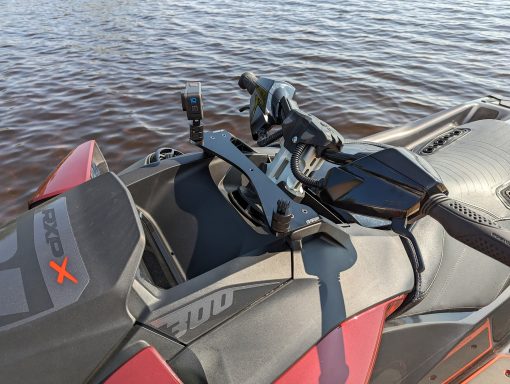 For those who love to document their adventures on the water, Active Jet Sport's new action camera and/or accessory mount for all 2021+ Sea-Doo RXP-X and GTI models is going to be your next favorite purchase.
Each mount is precision machined from aluminum and hard anodized in semi-gloss black to protect it from harsh sun and exposure. Amazingly, the mount takes just a minute or two to install, and comes with an included wrench. The mount provides super secure mounting of up to three accessories at once, all of which must use the standard ¼-20 UNC threads.
As mentioned, included is the necessary wrench and two 360-degree rotating mounts, allow you to rotate your camera wherever you want. Easily rotate the camera to any position while at speed – without having to let go of the throttle! One minute you're recording your friends on your left and instantly rotate to record on the right.
Lastly, the Action Jet Sport RXP-X mount is designed to open up your versatility: if you don't need an extra camera, consider using the mount for added gauges, GPS screens or any other accessory which uses the standard ¼-20 UNC screw thread mount mentioned earlier. Priced at $129.99, this is the GoPro/action camera/GPS mount you've been wanting!