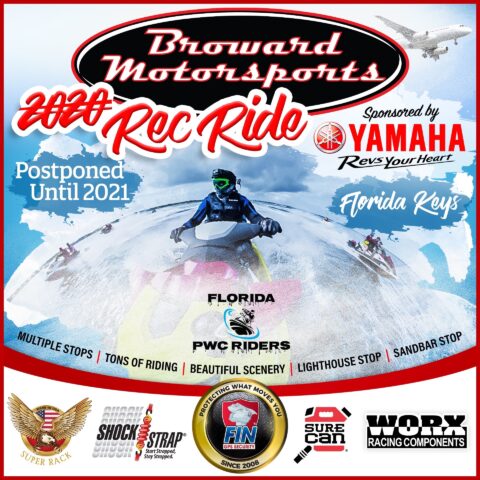 Great news! Broward Motorsports Racing is holding their annual Rec Ride on Friday April 2, 2021 at 9 AM-5:30 PM. Everyone is welcome, it's free, and kid friendly.
Pack a lunch and get ready to ride through the Florida Keys. The group will spend an hour or two exploring and snorkeling at the historical "Alligator Reef Lighthouse."
The area is amazing, and the snorkeling is fantastic, with all the colorful tropical fish swimming around the rocks.
From there, everyone will cruise to Islamorada Sandbar to eat lunch, relax, and hangout. This will also be a fuel stop if needed and then everyone will head back to their respective launch locations at around 5:30 pm.
When initially departing, you have three boat launch locations to choose to from. These are located at the Caribbean Yacht Club, Yacht Club Drive Marina, and John Pennekamp State Park, all located in Key Largo, FL. The groups will get underway at 10:00 AM and everyone is asked to arrive at least 1.5 hours prior to launch time.
Pack a lunch, anchor, snorkeling gear, sun block, and plenty of fluids to keep you hydrated.
Special instructions consist of listening for the air horns to let you know when it's time to launch and don't pass the lead skis. There will be a lot of out of riders from out of town on this ride, so it is important to stay together.
Florida PWC Riders are the ride group and Yamaha WaveRunners are sponsoring the ride. Let's hope pandemic times allow for the group to go without any issues. Everyone needs to get out and play with a fun group of riders. Check out the Facebook event page for the full press release. Have fun riding with Broward Motorsports and the Florida PWC Riders.