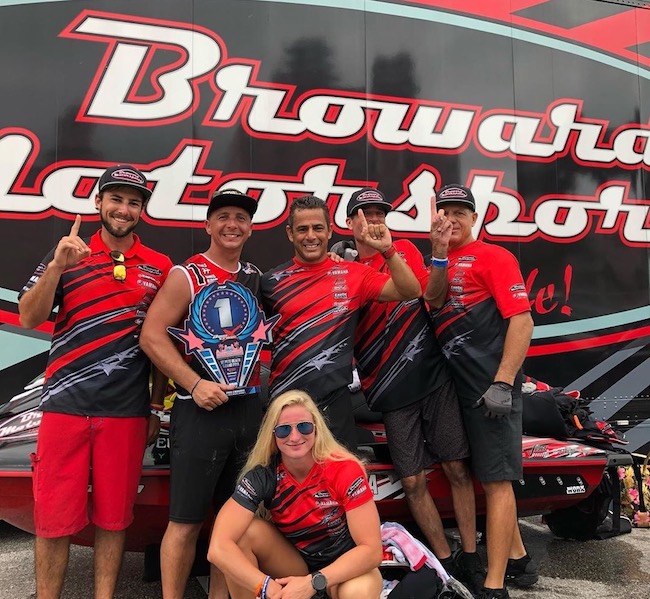 Sam Nehme, owner of Broward Motorsports recently made a post on Facebook thanking everyone on the Broward Motorsports Racing Team and everyone behind the scenes. There is an expression that goes like "it takes a village" to do anything. Setting up watercraft races is no simple task. There are usually dozens of individuals volunteering their time to help make the race ready for the riders. The riders are the ones in the spotlight but everyone running around on shore to make sure the event goes smoothly should also be in the spotlight. This is where the expression of "it takes a village" comes into place.
A special shout out is needed to thank Daniel Steele, Cody Tetreault, Rick MacClugage and Ken Waddle. These guys were seen running around all day doing whatever they could to make the Daytona Round 1 race a success. Again, these events require tons of planning and preparation and even on race day there are things that still need to be done. While all of this was taking place, David Cabrera was blasting the tunes on the beach. Everybody knows that adding music makes things better so David was the man for the job.
To make the day even better, Eric Francis, part of BMS Team earned the overall win for the weekend whereas Chris MacClugage was able to earn the win for the Round 1 in Daytona. Both of them have a rigorous training schedule and their ability paired with the backing of BMS allowed them to steal the show. BMS was able to walk away from the event with the overall wins in Rounds 1 and 2! Behind Francis and MacClugage was Christian Daly and Sophie Francis. Daly finished 2nd in Moto 2 and 1st in Moto 3 earning his 3rd overall for the weekend! Sophie Francis had her best race yet and was able to earn 4th overall. A great weekend of racing for the BMS Team and a great weekend for the Francis couple as well!