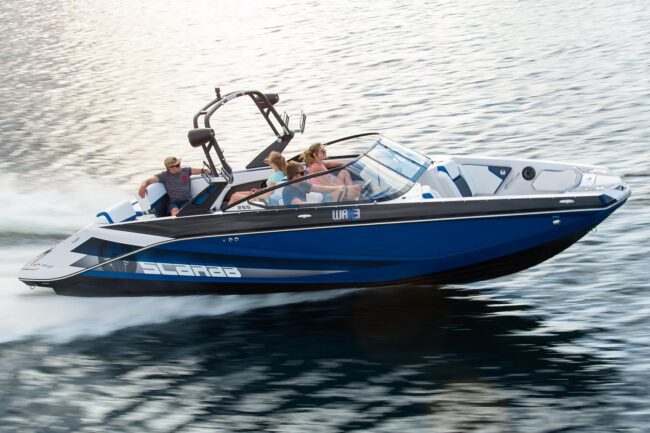 Cycle Springs PowerSports is now carrying those snazzy head-turning performance center console jet boats by Scarab. Twenty-five of these boats are available. Some are wrapped in radical eye-catching graphics and colors. Others come in black, blue, and a couple of other toned-down looks. Either way, they all go fast and look the part. Most of them come with 10 color options and Cycle Springs Lifetime Engine Warranty. A few of the boats are on sale while others are "Call for price."
Scarabs have numerous bells and whistles ranging from built in coolers to nicely tucked away heads. Rotax jet propulsion systems power these bad boys and make them easier to operate. The fiberglass modified Vee Hulls provide increased stability when zipping along the water.  Scarabs are all around neat versatile boats.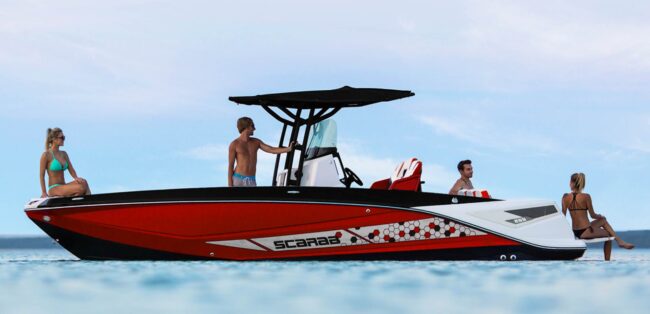 The 25 foot 2020 Scarab 255 Open ID is built for adventure. It seats 13 and includes everything one needs for a day on the water. Music, ski tow, and a T-Top with canvas round out just a few of the many features.
Once owned by Wellcraft, Scarab is currently owned by Rec Boat Holdings.  Though Wellcraft sold Scarab, it continues to produce Scarab's offshore elite line of fishing boats. Check out the Scarab Jet Boats that Cycle Springs PowerSports has on offer. One of those boats would make a nice alternative to a jet ski when many family members are in town and want to play on the water.