In the world of full-sized, 3-seater personal watercraft, the vast majority can do most things rather well. Be it tracking a straight, predictable line through chop; maintaining a certain level of balance while stationary or at low speeds; or offering enough operational features, accessories or other valuable gimmicks to give the buyer a fair sense of value. Again, most entries are competent, but there are very few who can show mastery in just one of these categories, and even less who can claim more. So that's why the 2020 Yamaha FX Cruiser SVHO WaveRunner is so impressive. It checks all of these boxes and then some.
Although sharing the same hull and deck molds as the naturally-aspirated FX Cruiser High Output (which is admittedly targets at a slightly more mature audience), the supercharged FX Cruiser SVHO is cast out of Yamaha's proprietary NanoXcel2 material. These uniquely-blended sheets of SMC fiberglass are thinner and lighter than conventional fiberglass sheeting yet retain their durable structure, giving the full-sized runabout its featherweight 820-pound displacement. Although sharing the same shape as the FX HO, the SVHO-powered sibling maximizes its power-to-weight ratio for optimal performance.
Powered by the now 6-year-old Super Vortex High Output 1,812cc four-cylinder, the centrifugally-supercharged 4-stroke produces an unofficial 260-horsepower through a 160mm two-piece high thrust jet pump, pushing the WaveRunner to a GPS-confirmed peak top speed of 69.1mph when we tested it on a hot June day in Georgia. Mind you, peak top speed isn't the same as sustained top speed, which hovered a hair north 68 miles-per-hour. Had our test unit this day been ran at an altitude closer to sea level with less fuel and a lighter rider, we're certain higher speeds could've been maintained over a longer distance.
Then again, the FX Cruiser SVHO offers so, so much more than just pinned-down top speed thrills. In fact, it's shining attribute is how naturally nimble this nearly 12-foot-long watercraft is. Regardless of water conditions, the FX Cruiser SVHO executes flawless corners thanks to a near supernatural inside lean more expected from a sporty two-seater musclecraft. With a flick of the steering and a vice of the throttle, the big FX rolls inside and carves a corner that a standup rider can appreciate. Snap the bars to the other side and squeeze the trigger harder, and the FX will rise up and roll back over, cutting an S-turn with surgical precision.
On the rider's left side, the electric trim controls give the FX five trim presets, letting you toggle the craft's attitude. If the water's looking a little rough, go ahead and bump that nose up a couple of steps. That elevates the bow, letting the molded-in splash deflectors keep you dry over the bumps. If you're thinking about an easy cruise, tap the arrows to neutral. But if you're looking at really carving up the lake, drop that nose down and get ready to tear it up. The FX – much like its meaner, nastier little brother, the GP1800R SVHO – likes to turn on its nose, so you're gonna want to let it get low and ready to pounce.
Aggressive handling takes a bit of body English to do it right. Although tapered and nicely covered in a two-tone grippy material, the factory bench seat is still a little wide when compared to the other guys out there. Scoot up forward, so you're shoulders are high up, almost directly over the adjustable-tilt handlebars, this way, you're using your shoulders to steer, not your arms. Next, slide over and drop your inside knee down into the footwell – y'know, almost right above the industry's only footwell drain. That lowers your center of gravity and it also keeps you from being flung out of the saddle from all the g's the FX Cruiser SVHO can pull.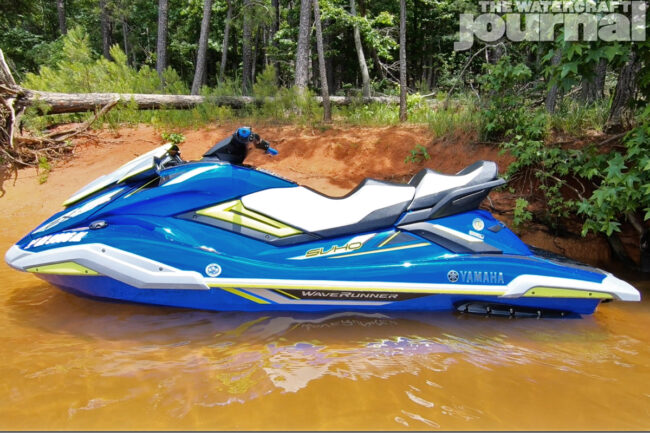 But wait! What if you're just looking for a fun watercraft that the whole family can enjoy that…well, still has enough oomph to play with the big boys? Again, the FX Cruiser SVHO does that excellently too. (I mean, c'mon. It's got the word "Cruiser" in the name and everything.) The seat is tiered, like the stadium seating at a movie theater. This means all three passengers can have an unobstructed view of what's ahead of them. Equally, Yamaha's easy-to-set Cruise Assist and No Wake Mode controls are found on the rider's right hand side.
When activated, No Wake Mode permits one mile per hour adjustment either up or down from the preset 5mph set speed. Cruise Assist is a little more forgiving, allowing for 5 adjustments of the set speed – again, either faster or slower. One more unique feature is the TDE (or Thrust Directional Enhancer) found on the left hand side of the handlebars. When the watercraft is idle in Neutral, the same up-and-down arrows used for trim, can be used to advance the WaveRunner literally one mile per hour forward or reverse – a helpful feature for those uncomfortable idling through a crowded marina or up to a dock.
All of these digital features are displayed prominently on the industry's-only full-color touchscreen dashboard, smartly named "Connext." Not only do you get all of the necessary display functions, but you can also toggle through various pages offering security mode, Drive Control and a live fuel consumption and miles-to-empty counter. Yet, given the Yamaha's industry-leading fuel efficiency and 18.5-gallon fuel tank, you're not going to be seeing very much action there. While underway, the dash's touchscreen smartly disengages, and a limited selection of pages are viewable by using the small panel under the handlebars.
We did find that given the FX Cruiser SVHO's lightweight and torquey throttle response, the dual-throttle RiDE system is a little over-eager, particularly when carefully pulling into a tight parking spot at the marina. For 2020, Yamaha did make a minor change from the previous year – and that was specifically to its Multi-Mount System. The cup holders, which our test unit came equipped with, now include new custom-designed spring-loaded prong to secure the all-new Wireless Bluetooth Speakers to them. No more ball mounts, the new speakers simply slip into the cup holders and lock in place.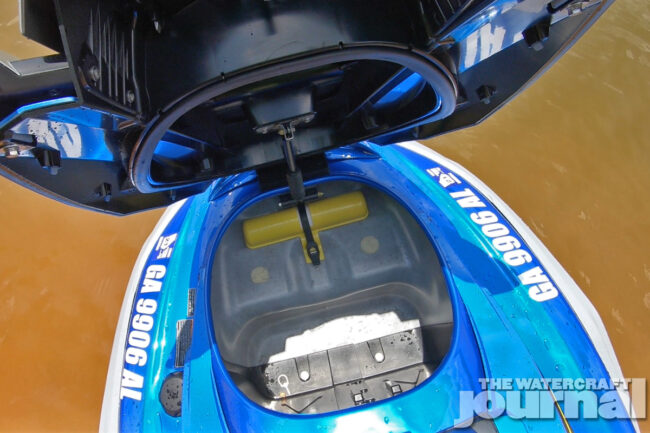 That's not to say that the ball mounts aren't still available. You can easily affix any number of accessories – be them a GPS Fish Finder, an action camera or even a smartphone mount. You'll have to peruse Yamaha's Parts & Accessories catalog to see what's available, as each are sold separately. Thankfully, with a massive 44-gallons of storage on tap, including it's massive watertight glove box, you've got all the room you'll need to bring all of them (and more) along for the ride. The front bin is wide and deep set, and requires quite a bit of doubling over if you're going to reach the bottom from the driver's seat. A screw top waterproof tub is also squirreled away under the third passenger's seat, as well as a "wet storage" cubby on the back.
While our test unit came to us in the racy Azure Blue with Lime Yellow livery, the 2020 FX Cruiser SVHO is also available in a really slick-looking Silver with Torch Red paint scheme too. As equipped, our Yamaha fetches an MSRP of $16,399, definitely not what you'd call entry level pricing. Then again, this is one of Yamaha's top-of-the-line full-sized runabouts, so you're definitely getting a superior machine here. And no, that's no exaggeration either. The FX Cruiser SVHO delivers – whether you're looking to throttle through a narrow channel of twisting turns, or sit back and leisurely cruise as the scenery passes you by. Either way, you're gonna love this WaveRunner as much as – if not more than – we do.