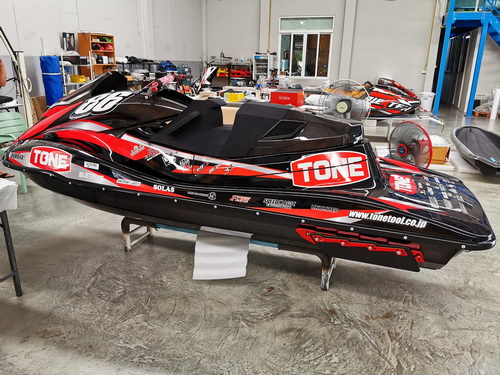 Travel in stealth mode on a sleek black VK Composites carbon Yamaha FX or wrap it like the one built for Yamaha factory rider, Jun Ikoma. VK Composites is a company that is based out of Thailand and shares a factory with Rickter RRP. That's one heck of a combination of mad scientists involved in killer PWC R&D!
VK Composites designed and manufactured the carbon boat for Ikoma a few months ago. The aftermarket hull includes, an aftermarket seat unit, bulkhead stringers with adjustable engine position forward up to five inches.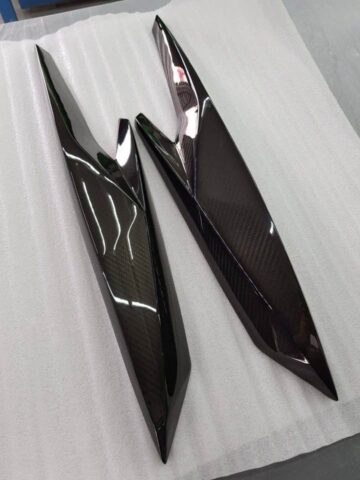 Also included are brass inserts for sponsons and ride plate, detachable second engine cover with waterproof seal, pre-drilled holes for steering, gas cap, half shaft alignment, and gas tank cradle.
The machine includes an aggressive looking hood, side covers, and breather. The top deck had to be slightly modified as well as altering the shape for the knee position. This allows the riders' feet to be angled properly while held in place with EVA for traction.
The top deck comes in at 48-pounds and the hull at 116-pounds. Add the installed stringers, bulkhead, and gas tank cradle and the machine's weight is 176 pounds!
The total weight of Jun Ikoma's finished VK Composite carbon Yamaha FX with a full tank of fuel is 630.5-pounds. This beast is a featherweight compared to the full-on factory Yamaha FX,which comes in at 818 pounds dry.
The carbon fiber Yamaha includes a quality Rickter finishing surface of a flashy carbon visual and the PWC can be ordered directly from VK Composites for a cost of $14,800.