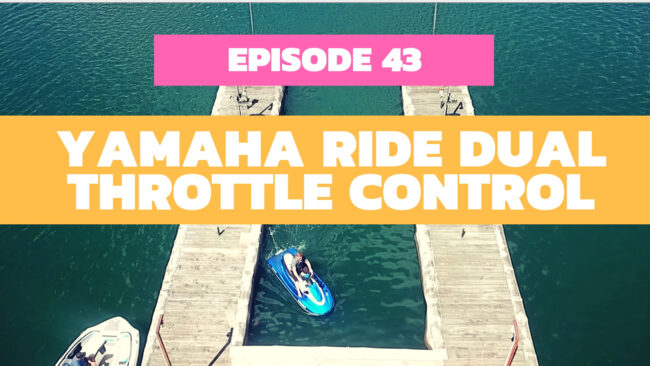 When one thinks of personal watercraft it's not often that functioning brakes and computer-controlled reverse systems come to mind. While not the first to offer a functioning braking system, Yamaha's RiDE Dual Throttle Control system provides the vehicle operator supreme control over their watercraft's ability to slow, stop and maneuver through tight confines.
Introduced for the 2015 model lineup, Yamaha's answer to Sea-Doo's iBR (Intelligent Brake & Reverse) features a unique approach to swiftly engaging reverse; safely and smartly bringing the watercraft to a halt; and operating the craft in small spaces like docks, launch ramps and more. Moreover, Yamaha added in new features like slowed acceleration to offer even more.
Unlike Sea-Doo's entry that uses the left trigger to toggle through Neutral and Reverse gears and the right throttle strictly as an accelerator; Yamaha's Dual Throttle system, RiDE allows the driver near-identical thrust through the left throttle (not "trigger") without ever touching the right-hand throttle. While Sea-Doo's iBR does offer some thrust when in reverse, Yamaha's RiDE control can aptly dislodge a ski from its trailer bunks or off of a floating dock all with the left-hand throttle.
Additionally, if the right-hand throttle input is greater than the RiDE lever input, the difference of the two inputs will be what is delivered in forward momentum. That means that you could have the right-hand (ie. forward) throttle maxed at 100-percent with the left-hand RiDE throttle at 50-percent, and only move forward at 50-percent; essentially providing means of drag, which we've used to slow down prior to making an aggressive turn around a buoy.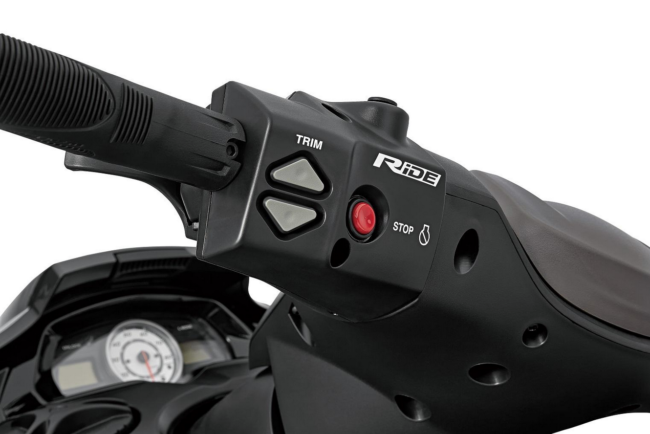 And similar to iBR, RiDE permits the WaveRunner to begin in Neutral, so that the craft won't leap forward when started. To exit Neutral, either squeeze the right-hand throttle to move Forward, or hold down the left-hand RiDE throttle to move in Reverse. (Releasing the RiDE returns the PWC to Neutral.) Because neither systems from Yamaha or Sea-Doo change how the engine operates, nor do they have transmissions, all changes of operation are actualized by the reverse bucket.
Yamaha took great care to shape its reverse buckets so that they could offer substantial drag sufficient enough to safely slow the craft from top speed to zero without jolting the rider or pitching the craft forward. Side ports offer outlets for thrust to be diverted left and right to swing the craft's tail deftly, enabling the craft to rotate in a near-zero point turn. These differences don't necessarily elevate one system over the next, but do help to delineate one system from the other.