Before anyone gets too excited, the vehicle you see before you is a concept vehicle. What it is not is a prototype or even a proof of concept. The unit is hollow, void of running gear, powertrain or little else other than that which is necessary to power the very attractive LED lights on display (that just so happen to be 100-percent illegal per maritime law). Now, with that out of the way, let's talk about the bomb that hydrogen-electric transportation (ie. trucking) manufacturer Nikola Motors dropped on the powersports industry on Tuesday night at a press event in Arizona, which we were in attendance.
What Nikola Motors CEO Trevor Milton called the "future of watercraft," is not what we had been expecting. Back in November 2017, Nikola bought Free Form Factory outright, including bringing on the upstart's innovative founder and CEO Jordan Darling on as Vice President of Nikola Powersports. Free Form made waves with its all-electric, zero-emissions Gratis X1 standup. In collaboration with the Lawlor Brothers, Darling designed and shaped a standup ski that could rightly compete in the surf as well as be playful and forgiving on flatwater as well.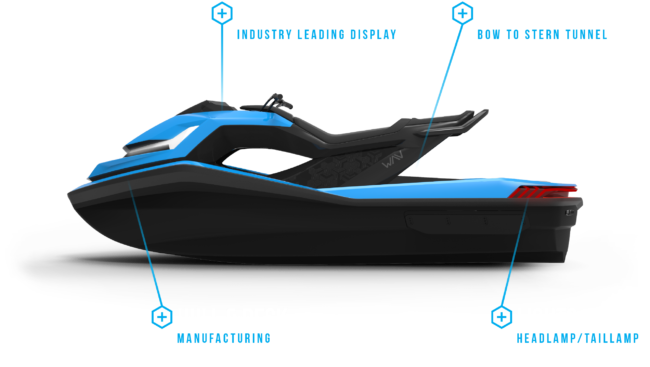 Above: Not to nitpick, but riding PWC at night, regardless of running lights, is illegal in most of the US per USCG. Moreover, headlamps and taillights are not in co-ordinance with proper maritime lighting rules, also a big no-no. While it looks like a sportbike, it won't be allowed on the water as-is.
Darling also brought to the table his "Hulklite" patent, a thermoformed plastic material three-and-a-half times stronger than fiberglass, of his own design. The 46-horsepower electric ski topped off at a respectable 46mph in flat, ideal conditions all with a battery life of 30-65 minutes (depending upon usage). Nevertheless, once Nikola bought up Free Form Factory, the Gratis disappeared. We had hoped it would return during Tuesday's reveal, but instead received the new WAV (pronounced "wave" but missing the necessary phonetic "ā").
The WAV concept revealed itself brandishing features like a waterproof 12-inch, 4K display in the dashboard, the aforementioned LED lights in the front and back, and cruise control. Venturing up close, the bars showed a left-hand reverse lever hinting towards an onboard braking system as well. Interestingly, the upper deck of the WAV is similar to that of a Sea-Doo Spark, made from an unpainted polymer plastic (which we presume to be Darling's Hulklite) in a three-point configuration, permitting a "bow-to-stern storage tunnel" for wakeboards or short waterskis.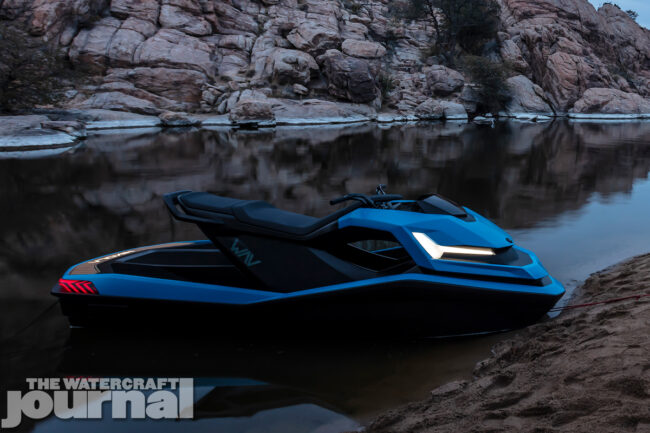 Above: These two images show a better look at the open top deck design and how the hollowed-out deck allows for open storage of wakeboards or skis, although we didn't see the necessary tow eye or tower to tow a skier.
Darling, vice president of Nikola's powersports division who limped out nursing a mending broken leg, boasted, "This watercraft defies the norm and creates a new standard." No information was given that night (or the next day or published on Nikola Powersports' website) pertaining to weight or dimensions, but Darling did speak towards "a completely new adaptable battery architecture that Nikola developed specifically for watercraft." What that specifically means is anyone's guess. Battery life? Power output? Top speed? Means of recharging? All of that was left unanswered.
Equally, no hints were given towards expected price; only that the company was already taking reservations and is supposed to arrive sometime in the early 2020s. This absence of pertinent information left us to speculate – primarily for the worst, particularly as Nikola's all-electric 590-horsepower four-wheeled side-by-side called the NZT was announced for 2021 with a starting price of …*deep breath*… $80,000. Sure it is equipped more like a luxury car than an off-roader, with an HVAC system and two big digital displays, but eighty grand? Yeah, that's going to be a tough one for folks to swallow. Given that exchange rate, we're speculating that the WAV could debut with a pricetag upwards of $40,000 – and that is just a bridge too far.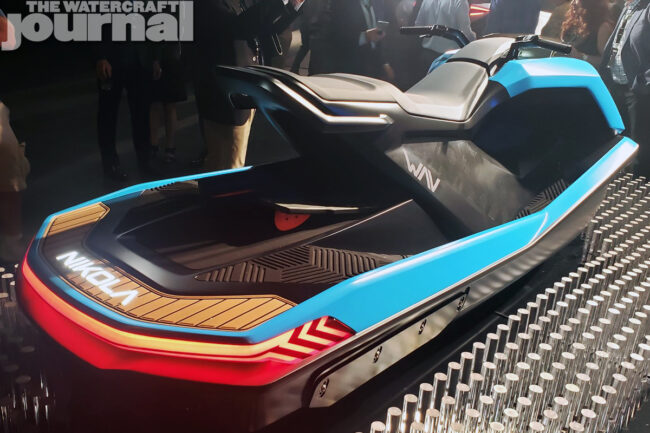 Final observations of the concept vehicle showed three-place adjustable sponsons hugging the hull far too close to be truly functional, a nearly chineless hull design with sharp leading strakes, and a low, nearly cushionless bench reminiscent of a sport bike. This pairs with the very low-set handlebars that reside below a chin pad making standup riding almost impossible. The nose shows no sign of being able to open for bow storage, and the aforementioned chin pad didn't look like it contained a glovebox beneath. We also noted the very Sea-Doo inspired, faux teak traction mat on the tail.
In its current form, the WAV is a two-seater at best. The footwells are wide and angled, ideal for positioning the rider forward, up and over the low-slung handlebars. Cursory glimpses at the hull looks somewhat similar to early WaveBlasters just in larger form. Again, there is just a gaping vacuum of needful information making Nikola's concept vehicle titillating for sure, but nothing to bank on. We're still years away from seeing the electric side-by-side come to fruition, so christening the WAV the "future" is still extraordinarily premature.