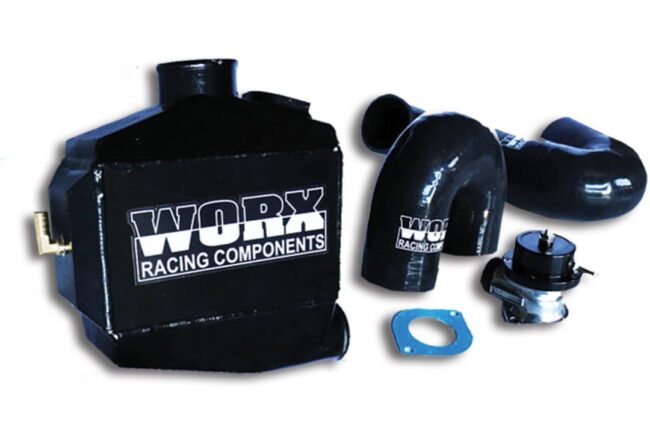 Attention all Yamaha WaveRunner owners: Broward Motorsports Racing is proud to announce that they are now carrying WORX Racing SHO/SVHO Intercoolers. This Worx Intercooler is made to help Yamaha's 1.8L supercharged motor gain more horsepower.
With WORX's new design offering much better flow than the OEM Intercooler, owners can expect to see an increase of 45 horsepower depending on the application. This intercooler was designed to handle up to 500 horsepower, so if you are thinking of going big, this is a must. The way this intercooler is able to increase the horsepower is because of internal core and the upright design. The internal core is about twice as big as the OEM intercooler which translates to a better flow of air. This is ideal in a high boost application as you want to increase the overall RPM of your motor but do it reliably without anything getting too hot.
In fact, Worx's claims that this intercooler can lower the intake air temperature by 72 degrees Fahrenheit. That is music to my ears. The upright design allows the water to come from the bottom and on its way to the top, cools the air making it more dense to help the overall performance of the motor. The denser air allows the engine to produce more horsepower.
The Worx Racing SHO/SVHO Intercoolers is offered as a kit with everything you need for $980.00. The kit includes a removable and adjustable Blow-Off Valve, silicone hoses that have been formed for their desired place in the engine bay, all hardware and brackets and the Cooling Upgrade Kit. The Cooling Upgrade Kit provides an additional water line to the intercooler and an additional line to the engine block for decreasing the engine cores overall temperature. While this is a steep price for a kit, the increase in reliable horsepower shows the true value of this kit. WORX Racing is a trusted company who has been around since 1996.
Broward Motorsports Racing is offering two deals right now. If you buy the WORX's Intercooler through their website, you will receive 10% off of your order and free shipping since anything over $125 from Broward's ships for free.