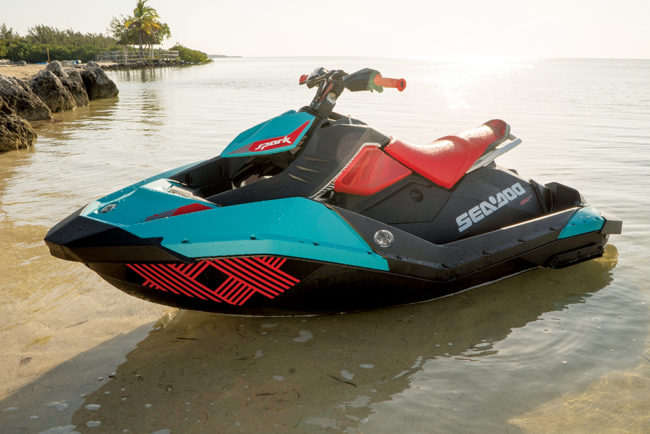 Cycle Springs Powersports goes big when Black Friday is on the calendar. Their huge sale began November 16, 2018 at 1:30PM and will not end until December 1, 2018 at 5:00PM. We saw that this sale was already happening when we checked out the Cycle Springs Customer Corner drop down menu on their website.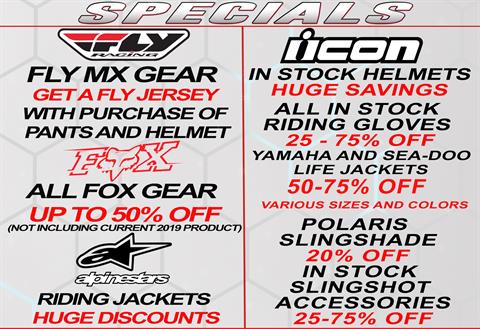 We had to see what this was about and found that there are some great offers to take advantage of. Whether you ride in the dirt or on the water, many useful items are marked down. Customers can score a free Fly Jersey with the purchase of a Fox Helmet. The breakdown of the Cycle Springs Black Friday Specials include up to 50% off Fox Gear. Prices are also slashed on Alpine Stars Riding Jackets. All riding gloves are 25-75% off.
Speaking of below invoice, Cycle Springs is also offering some nice water toys priced to sell. Pick up a brand new 2018 Yamaha EX Deluxe for $7,390. These bad boys are closeout specials. They're available in Azure Blue Metallic and Carbon Metallic with Electric Green. If you wanna be seen on the water, these colors are for you. Priced even lower is the 2018 Yamaha EX. It's available in Pure White with Deep Blue. The closeout price is definitely on point at $5,590. Yamaha's EX Sport is also on the closeout list. It's ready to move out at $6,680.
Quite a few models of 2018 Sea-Doo Sparks are priced to sell. They come in several colors and packages. Click the link to view all of them. You can also grab a Yamaha or Sea-Doo life jacket for a 50-75% discount. Grab a few to go with your new toys. The life jackets are available in several colorways and sizes. Head on over to Cycle Springs to get your new ride! Check them out online or visit the store located at 29703 US Highway 19 N. in Clearwater,FL.