It's official! The 12th Annual Mark Hahn Memorial Havasu 300 is in the books and it was nothing shy of exciting just like its predecessors before it! Over 50 teams of riders and their pit crews and families come from all over the world to race the "World's Longest PWC Endurance race" and to honor it's namesake, Mark Hahn. The race may be chaotic but it brings together long lost friends while making new ones along the way.
The event welcomed many familiar faces, some of them weren't behind the bars of a jet ski like everyone has been used to, rather, they were helping other racers in the pits. Chris MacClugage being one of the most popular and notable riders was holding up in #64's pit of Chad Zeman. MacClugage said, "I'm finding it's more fun and rewarding to help a rider than ride the race." MacClugage has helped Zeman train since around April for this exhausting enduro.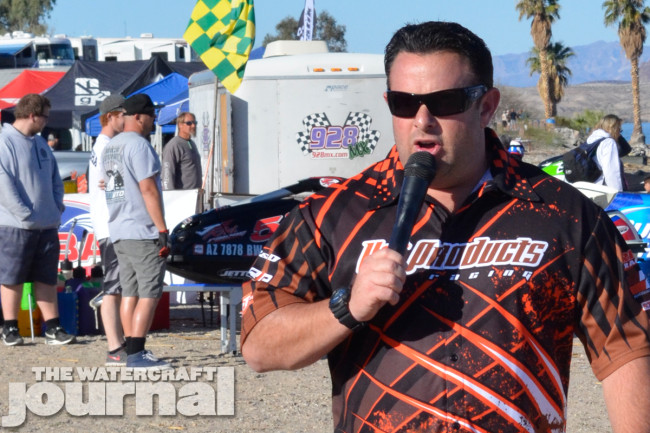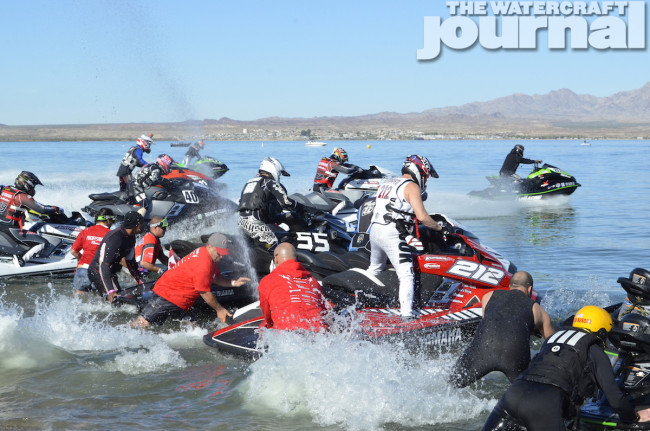 Zeman, 24, is new to the scene of racing, only starting last year. When asked why the Mark Hahn for only your second race and why Ironman, he stated, "I've been more of an endurance athlete, distance runner. I've done a couple triathlons. I don't have the skills to hold my own on a short course yet, but when I read about the Mark Hahn 300, it really sparked my interest. Even though I'd never seen it before, I decided to give it a go." Zeman's persistence got him second overall in ski and put him first in Ironman!
As is often with the Mark Hahn, weather and water conditions dictated the flow of the event. Clear skies, warm 80-degree temperatures and glassy water made for an ideal day on the water, if not a wide-open drag race. With it being so smooth many Open class-built skis couldn't handle the hours of wide-open throttle, and eventually let go. So much so, that several Manufacturer Stock boats filled the Top 10 spots at the end of the day.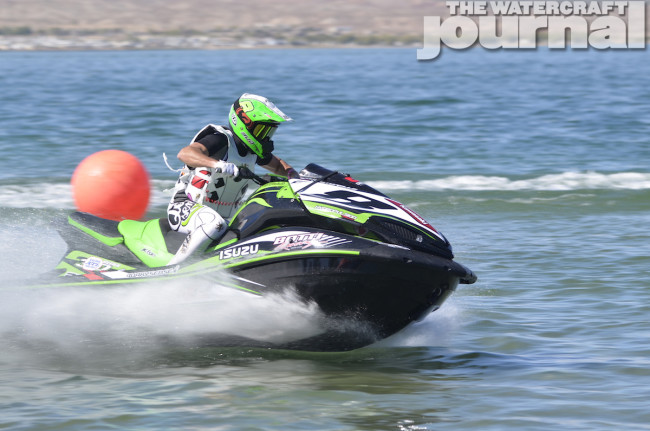 Riders and crews battled the usual: broken parts, not enough fuel and rider exhaustion throughout the day. Spectators were enthralled with the "Le Mans-like" race they were viewing. First-time Hahn spectator Greg Cobb said, "It's amazing that skis and the riders can hold full throttle for that long! I definitely plan to run a stand up in it next year. I can already see how much work its going to be and I plan to start training for it right away."
First place overall went to the team of Jean Baptiste Botti and Jean Bruno Pastorello making them multi-back-to-back runabout winners. Aaron Geweke and Kody Copenhaver took the ski class for a win and took their victory lap with a splashdown at the end. John Bonakouski (sp) put up a crisp hundred dollars to the first stand up to cross the finish, Peter Yauri took that prize and didn't look back.
Another first-timer, Rusty Wilson had this to say about the event, "I thought the event was well organized and has developed a history for itself as a true stand alone event. It gives participants an opportunity to see old friends and start those skis that might have been sitting all winter. Some riders came from places where their lakes are still frozen!
"The racing was safe and looked to be fun for both the riders and pit crews. It's definitely a platform of racing where the rider gets the trophy but the support crew deserves the win because if you don't have a solid crew behind you as a rider your chances of finishing are slim and your chances of a win would be impossible."
From every angle and everything overheard, this again, was an amazing and gratifying event that we hope continues for years and years to come. Big thanks go to Mike Follmer, Jim Russell of DSM and Ross Wallach of RPM Racing for hosting and organizing yet another stellar endurance race.
12 Annual Mark Hahn Memorial Havasu 300 Top 10 results: 1. Jean Bruno Pastrello/Jean Baptiste Botti, Kawasaki Ultra; 2. Sara Smith/Jon Ford, Kawasaki Ultra; 3. Filipe Truta/Carlos Truta, Kawasaki Ultra; 4. Aqsa Aswar, Yamaha SVHO: 5. Paul Pham/Cassius Sanders, Kawasaki Ultra; 6. Brian Baldwin/Mike Klippenstein, Yamaha SVHO; 7. Lee Phan/Tony Hoa, Yamaha SVHO; 8. Aero Aswar, Yamaha SVHO; 9. Santiago Kuan Jr/Fadi Sacre, Yamaha FXHO; 10. Tyler White/Doug White, Kawasaki Ultra