While many personal watercraft enthusiasts are focused on the top-end models from Sea-Doo, Yamaha and Kawasaki, not everyone wants to start out on some of the fastest machines on the water. Which is where these two come in. While the Sea-Doo Spark Trixx and Yamaha WaveRunner EXR are not direct competitors, they are closely priced once a few options on the Sea-Doo are ticked – and both deliver a heap of fun for the money.
The Trixx arrived in late 2017 as a 2018 model year as an addition to the regular Spark range that came out in 2014. Clever adjustment of the jet pump at the press of a button and the addition of some rear foot wedges enabled the Trixx to easily perform the jet ski equivalent of a "wheelstand."
Meanwhile, in late 2018 for the 2019 model year Yamaha added a model with a more powerful engine and a lighter hull to its EX range introduced in 2016. Yamaha called it EXR and added it to its performance line-up. While the Yamaha can't perform a "wheelstand," it likes to jump out of the water on take-off and can perform super-sharp U-turns.
The Spark Trixx costs from $7,599 as a two-seater and $8,199 as a three-seater ($8,749 when equipped with the BRP Audio-Portable System boombox), not including trailer and registration charges. The EXR (there is only a three-seater version) costs from $9,399, not including trailer and registration charges. While each has a seating capacity for up to two or three people, that's a lot of weight for these small craft. We reckon they're better off used solo or, at a pinch, two up. Here's how they compare:
The Spark Trixx comes with the 90-horsepower version of Sea-Doo's 899cc three-cylinder Rotax 4-stroke ACE 900 engine. The three-seater gets an attachment that lengthens the rear deck, comes with a slighter longer seat, and has a towing hook. The two-seater tested here has a shorter seat and no rear deck extension.
It becomes easier to climb aboard the Spark Trixx from the water once you master the one-sided folding knee-step, and how to best avoid the foot wedges. However, the Yamaha is the easier of the two in this regard thanks to its larger and flatter rear deck area.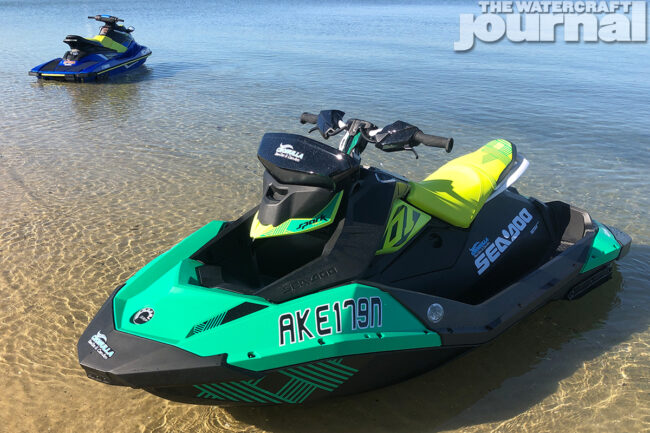 Being one of the lightest watercraft on the market makes the Spark Trixx easy to maneuver. The dry weight difference on the Trixx variants is modest: 423-pounds for the two-seater and 438-pounds for the three-seater (versus 405 and 421-pounds for the regular Spark two- and three-seat models).
Service intervals for Sparks are 12 months or 100 hours but there's no easy customer access to the engine bay; the top deck needs to be removed with tools for routine servicing. Popular accessories include a large portable and detachable Bluetooth audio speaker pod, a 7-gallon front storage bin, a rear re-boarding step, and a LinQ fitting to attach a soft dry-storage case onto the rear deck.
Another option worth considering is the security key which is paired electronically to your specific watercraft. On standard Spark models anyone with a Sea-doo lanyard can ride it away as it's effectively "unlocked."
The key to the Trixx's capability is the extended range variable trim system, or VTS. The VTS switch on the left handlebar and the software behind it add 10 degrees of movement to the standard trim settings (17 degrees upward and 6 degrees downward). There are nine positions in total, including a clearly marked neutral setting, for flatter riding.
In "wheelie" mode it points the jet pump further upwards. With your feet on the wedges near the rear of the deck the Trixx can stand nearly vertical if you get the balance right. The up and down buttons can be a bit too sensitive and you end up developing patience while you tap them carefully so you don't end up in the wrong mode.
The digital dash display shows the remaining fuel in the 8-gallon tank, your speed in MPH or KMH, and is a gateway to two driving modes: touring and sport. The sport mode doesn't deliver more power but it does change throttle sensitivity and makes it feel more lively. The 50mph top speed is modest compared to the big boys (and a little under 5mph behind the EXR) but it's extremely intuitive to maneuver, making it easy for novice riders to quickly build their confidence.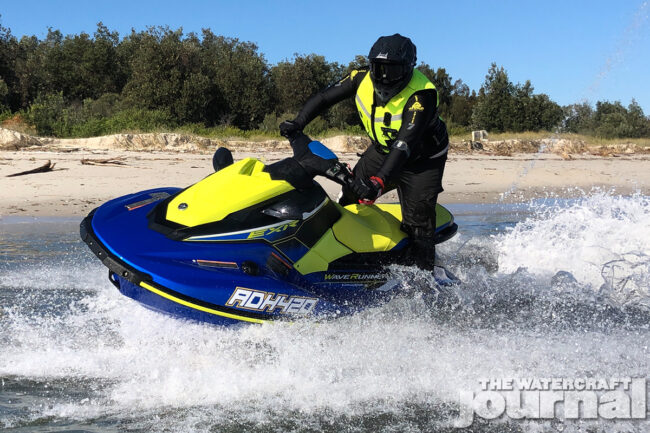 Room for improvement? The glovebox is too small to stow a large smartphone in a waterproof case (or a tube of sunscreen), so it's worth adding the optional front storage bin. Just be aware it's not waterproof, so carrying a phone or camera could still be tricky.
The EXR is powered by the same 1049cc three-cylinder from the rest of the EX range but it gets a power boost from 101HP to 110HP, due to engine calibration changes and a higher rev limit, from 7,300 to 8,000rpm. A jet pump extension and an added foil on the intake grate are designed to provide quicker throttle response.
The EXR also gains a lighter NanoXcel2 hull — which brings the overall weight of the craft down from 600-pounds to 540-pounds for an improved power-to-weight ratio. By comparison, the Spark Trixx has 90-horsepower and weighs 423-pounds (three seater is 438-pounds).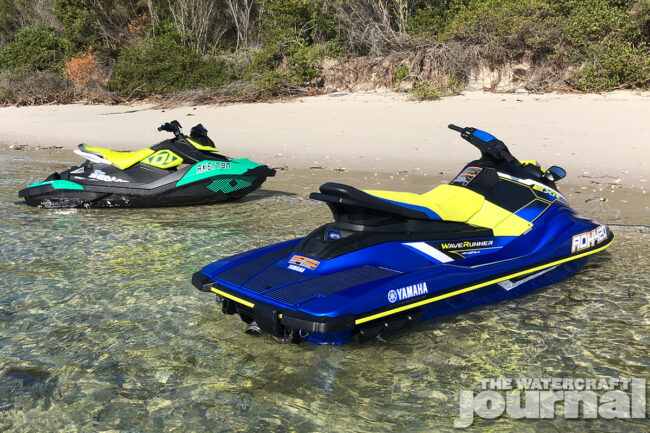 The EXR has more standard storage space than a standard Spark Trixx. The Yamaha EXR's glovebox can accommodate a large phone, a wallet and a tube of sunscreen, though we also used it to stow a long tow sling during our test. You can even fit a large beach towel. There's also a slim storage area under the nose cover, but it's not waterproof. In total there is up to 7.7-gallons of storage space versus half a gallon in the Spark Trixx.
The EXR offers incredible precision and control at your fingertips, although it is easy to put yourself in the water if you lean too far over and haven't grabbed enough throttle to get out of trouble. Fortunately, it's reasonably harmless when you fall off at low speeds, which you will inevitably do as your bravado increases and you challenge yourself to take tighter turns.
Performance-wise, earlier testing showed a top speed of 54.6mph at 8,000rpm (nearly 5mph higher than the Sea-Doo Spark Trixx) and accelerates with enthusiasm thanks to its newfound power to weight ratio.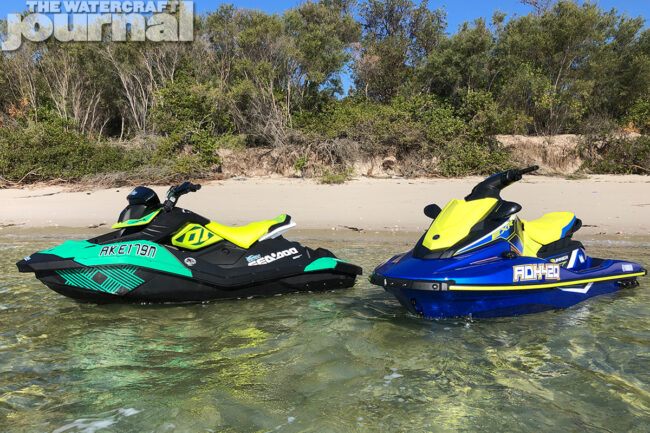 However, the Yamaha's fuel tank is 13.2-gallons, which gives the EXR greater range than the Spark Trixx's 30 litre tank. I ran out of energy before I could run the EXR empty. This is a lot of fuel capacity for a small ski – and it is very much welcome. The EXR hull is made from Yamaha's lightweight NanoXcel2 material rather than the standard EX model's stronger but heavier sheet molded compound (SMC).
No watercraft really like being beached (unless the keel has been fitted with a protective guard or coating such as those used by surf lifesavers) but it's probably best to avoid or minimize riding the EXR onto sand. Yamaha recommends routine maintenance every 100 hours or 12 months. For those who want to service the craft themselves, access to the engine bay is limited but not impossible.
Both of these jet skis are an absolute blast and a great way to get into the sport. If you want to perform "wheelstands" and listen to music as you ride – or unclip the optional speaker system and listen to your tunes on the beach – the Sea-Doo Spark Trixx is a great choice. The Yamaha WaveRunner EXR, while a touch more expensive, delivers a different level of fun and superior top-endperformance. Budget and buyer tastes will ultimately be deciding factors, but you can't go wrong with either of these watercraft.