The greatest achievements are often born out of direst of conflict. It is no secret that late last year's divorce of Pro Watercross Tour from the IJSBA was a messy one, with racers unclear as to which series to compete in, whether AJ Handler would have a rule book completed in time and if the IJSBA would even have a National Tour. By the first two Florida rounds of the 2015 Pro Watercross Tour, racers and crews alike had a pretty clear idea that Handler and his staff were putting on a quality series.
So when the 2015 Broward Motorsports Pro Watercross World Championships Presented by Yamaha were announced for Sugden Regional Park in Naples, FL, many arranged their schedules accordingly. Racers like James Bushell, much of the Kuwaiti race team, and Chris MacClugage, who was the tour's Pro Ski GP leader until Lake Hartwell, GA. Macc had fought back Dustin Motzouris until exacerbating a back injury while competing overseas, causing the 19-time World Champion to sit out the rest of the tour. For the Championships this past weekend, Macc returned to his hometown to snatch the Pro-Am Ski GP title and $5,000.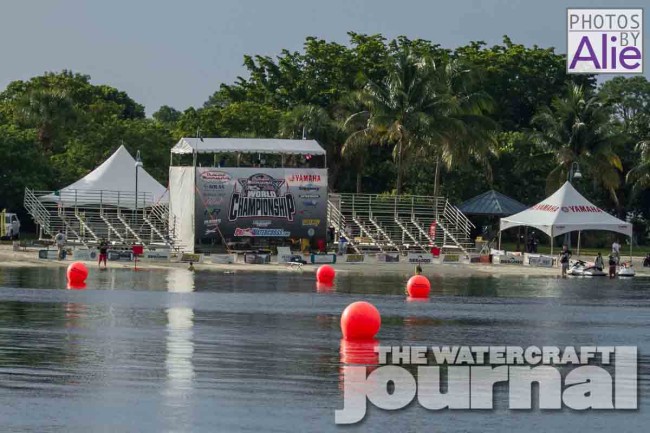 Understand that the inaugural event also saw the return of a substantial cash purse for the Pro-Am Ski GP, Pro-Am Runabout Open, Pro Freestyle and Sport GP classes – totaling $19,000. That with Sunday's "Pro Show" to air on CBS Sports, had racers vying for both big money payouts and telecast celebrity. Before then, the World Championships hosted Junior, Novice, Amateur, Veteran and Masters classes with hundreds of racers competing for a crack at a Pro Watercross World Championship title.
Beginning with a fresh sheet of paper, Pro Watercross' selection of Sudgen Regional Park, proved an immediate success. In discussing the location with The Watercraft Journal, 2015 Pro Runabout Stock champion Troy Snyder beamed, "I tell you what, Naples, Florida, has a great race site. [The] best spot we've been in many years. AJ made some great leadership additions to his staff and that really brought the other staff members to a higher level. With out a doubt the best pro weekend of racing I've see in years. The future looks bright for years to come."
Equally, Stan Hightower who won 2015 Pro-Am Super Stock championship echoed Snyder's praise of the venue, track and staff, "[The] race site [was] awesome, [the] course was challenging (technical on one side, fast on the other). The rules were used a lot. I had fun racing." James Bushell applauded, "It's great news [that] they will be racing there for the next 3 years, I look forward to next year when it will be bigger and better." And Motzouris' younger brother Tyron said, "I though the world championships were awesome and have a lot of potential. I really liked the venue and will definitely be back next year!"
Tyron flew in from South Africa to join his sibling and fellow Rockstar Energy/Kommander Industries/Burn/Villon teammates before charging the Pro-Am Ski Open class. He explained, "It was a really close race. We had a few less guys in Pro Ski Open but the level was really high with David Redinger, Brock Austin, and Dustin, and I was really happy to get the overall win in that class." Despite Sunday's flash thunderstorms that delayed a few motos, the talent on tap never wavered.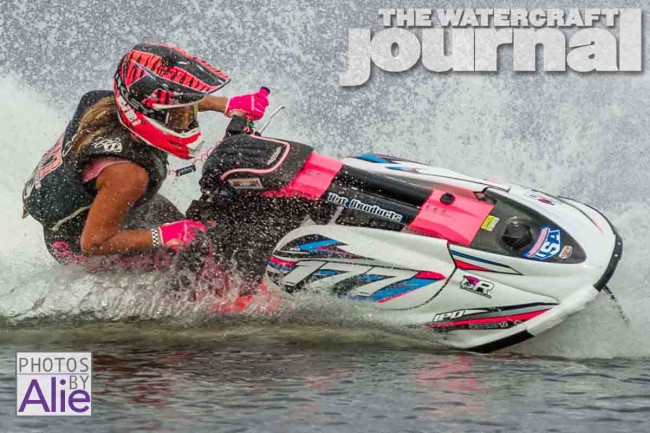 Hidden Trails Pro Watercross National Champion Erminio Iantosca was a shoe-in for the Pro-Am Runabout Open class. For the Sea-Doo/Jettribe/Hydro-Turf/RIVA Racing/Villon racer, the race was going well. "I hole-shotted Bushell, was out front and on the fourth lap, broke a steering cable," Iantosca lamented. "I really had a chance of winning but those are some of the things that happen when you start making more and more power, so we will get it sorted and be back stronger for the next race."
Those who were competing in both the World Championships and the IJSBA World Finals had to put in double duty. "My Dad busted his butt on my skis to make sure I had the best stuff I could possibly have," Iantosca said. Sea-Doo applauded his efforts and congratulated the Pro Watercross Tour on its first World Championship event in Naples, Florida this past weekend and X-TEAM riders James Bushell and Cameron Frame for claiming the Pro-Am Runabout Open and Pro-Am Runabout GP championships, respectfully. Frame was challenged by Stan Hightower who also participated in several classes on Jeff Dykowski's machine built by Kerry Hibdon.
"I had fun in Pro-Am Limited," Hightower explained. "I came down the front straight side-by-side with Cameron Frame (whose Pro Runabout GP class was combined with Limited) probably running 75mph and took the three reds [buoys] almost side-by-side for the holeshot. I [also] ran Pro-Am Runabout Open as a fill-in rider and finished 4th. I won Expert Limited but got docked for missing a buoy on the start."
Snyder, who struggled to juggle two racing series as well as with health problems throughout much of this year questioned whether 2015 would be his last. "I told Tim Judge and Bo Dupriest, 'I'm not quitting. That's not how I roll. The slugger is a fighter not a quitter.' We made some changes on my RIVA Racing/Judge Motorsports/Hydro-Turf/JetPilot 2015 Yamaha FZR with some new props I had been developing, and BAM! I'm the 2015 Pro Watercross World Champion in Pro Stock."
Those who arrived for the first annual Pro Watercross World Championships were also rewarded with some other perks. "It was cool having CBS Sports there. [It's] definitely going to help grow our sport," Iantosca concluded. "[We] had a sit down dinner awards banquet. [It was] nice." As each winner was presented with a special trophy and congratulated each one on their achievement, Chris MacClugaged echoed the sentiment shared by all in attendance, "[It's] how the awards should be."
All images courtesy of Alie Block's Photos by Alie and are available for purchase HERE.
Sunday, September 27, 2015: Pro-Am Runabout Open – James Bushell, Cambridge, UK, Pro-Am Ski GP – Chris MacClugage, Lake Havasu, AZ, Pro-Am Runabout Stock – Troy Snyder, Bradenton, FL, Sport GP – Billy Dearman, Madison, MS, Pro Freestyle – Jason Widdes, Chicago, IL, Pro-Am Ski Open – Tyron Motzouis, Empangeni, South Africa, Pro-Am Women's Ski Ltd – Bibi Carmouche, Phoenix, AZ, Pro-Am Runabout SS – Stan Hightower, Lindale, GA, Pro-Am Runabout BOX Stock – Billy Dearman, Madison, MS, Junior Ski 10-12 Stock – Haden Skellett, Port Charlotte, FL, Junior Ski 13-15 Limited – Matt Richuk, High Point, NC
Saturday, September 26, 2015: Amateur Freestyle – Jason Widdes, Chicago, IL,
Friday, September 25, 2015: Pro-Am Ski Limited – Bibi Carmouche, Phoenix, AZ, Pro-Am Ski Lites – Callaway Turner, Apex, NC, Pro-Am Runabout GP – Cameron Frame, Charleston, WV, Pro-Am Runabout Limited – Travis Zielasko, Lake Worth, FL, Women's Runabout Limited – Shante Bukes, South Africa, Sport Stock – Sam Nehme, Cooper City, FL, Junior Ski 10-12 Lites – Haden Skellett, Port Charlotte, FL, Junior Ski 13-15 Lites – Matt Richuk, High Point, NC, Junior Ski 13-15 Stock – Matt Richuk, High Point, NC
Thursday, September 24, 2015: Amateur Ski GP – Jordon Carroll, Fowery Branch, GA, Expert Ski Limited – Pete Kuncinski, Largo, FL, Expert Runabout Limited – Victor Nolan, Expert Runabout Open – Jeff Dyckowski, Rydel, GA, Runabout N/A – Rob Greenwald, Marietta, GA, Throwback Thursday Classes: Runabout 800 Superstock – Tim Ducat, Belleview, FL, Vintage X2 – Gary Burtka, Rolling Meadows, IL, Vintage Ski 550 – Clay Barbee, Houston, TX
Tuesday – Wednesday, September 22-23, 2015: Amateur Runabout Box Stock – Rashed Aldawas, Kuwait City, Kuwait, Amateur Runabout Stock – Juan Rada, Medellin, Colombia, Amateur Runabout 2-stroke Limited – Robert Sayah, Naples, FL, Amateur Runabout 1000 cc – Robert Sayah, Naples, FL, Amateur Ski Lites – Callaway Turner, Apex, NC, Novice Runabout Limited – Rashed Aldawas, Kuwait City, Kuwait, Novice Runabout Stock – Rashed Aldawas, Kuwait City, Kuwait, Novice Ski Limited – Laura Milone, Delray Beach, FL, Novice Women's Ski Limited – Laura Milone, Delray Beach, FL, Masters Ski GP – Kirk Britto, Bradenton, FL, Runabout Lites – Paul Green, Toronto, Canada, Veterans Runabout SS – Jeff Dyckowski, Rydel, GA, Veteran's Ski GP – Pete Zernik, Sacramento, CA