What a gorgeous weekend! Mother Nature didn't disappoint this year with the abundant sunshine and warm weather at the 2018 WaveDaze, which was presented by Torrent Pumps and the Virginia Beach Wavejunkies. For many people, WaveDaze is the first opportunity to test out the new mod or new winter build for the season. WaveDaze falls during a great time of the year where those who attend get a jump-start on their season without having to re-winterize their ski afterwards (hopefully).
Similar to the Daytona Freeride, WaveDaze provides an opportunity for like-minded PWC enthusiasts to come together, hang out, and ride in the ocean! According to Dan Swartz, the long-time organizer of this outstanding event, 114 people registered to ride at WaveDaze this year. The nice part about attending WaveDaze is that the proceeds, especially from the "waffle" (raffle) go to charity. This year, the WaveDaze charity was Spikes K9 Fund.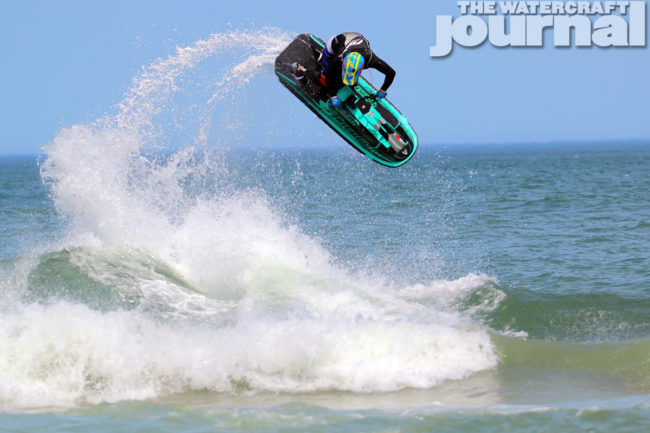 A notable item about this trip was the relatively large amount of children that also attended. We've always been shocked on how few women and kids join us at PWC events that are on these amazing beaches. The 2018 WaveDaze at Virginia Beach surely provided a great vacation for those who came out! They even got to watch the "Chicken Race", which took place mid-day Saturday. The Chicken Race consisted of an ocean race around buoys with Kawasaki SCs aka Sport Cruisers aka Super Chickens. The winners were Craig and Seth Hammond.
Torrent really stepped up big time this year as the title sponsor. Torrent donated a brand new Torrent 148 assembled pump with remanufactured SNL Industries driveshaft! The lucky winner was Matt Berridge who plans to use it in his ski. When asked about this years' WaveDaze, Torrent said, "2018 WaveDaze was the first time we were the title sponsor for an event, so this was a big event for us this year. We have been coming to WaveDaze almost since the beginning so we were thrilled when Dan Swartz offered us the title sponsor position this year. The last six years we have been doing the Torrent pumps, it has been a lot of work, so this was time for us to relax and enjoy the people there and the event itself. The 2018 WaveDaze was the warmest I ever remember. Temperatures of 80-85 degrees every day, I can only hope that every WaveDaze will be like that. Winds all along the east coast were high that weekend, but I'll take that for the warm temps."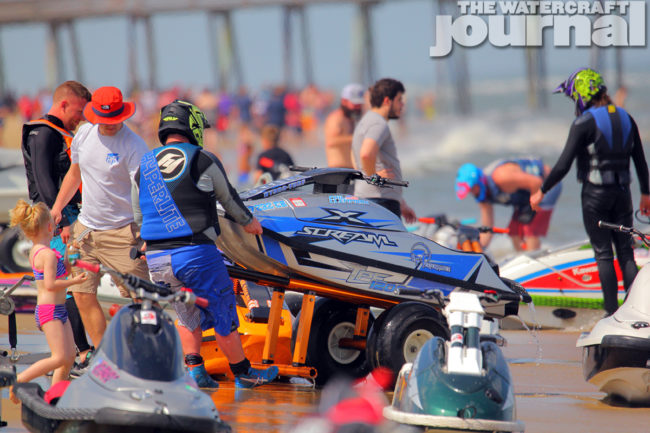 P&P Performance was one of the vendors in attendance as well. P&P Performance specializes in getting you the right parts the first time around. Phil & Penny (P&P) Clemmons build and tune some of the finest PWC's in our industry, specializing in freestyle and freeride. If you've ever had the opportunity to ride a P&P built ski, you'll know it is top notch, from the perfect fitting footholds built with Hydro-Turf, to the impeccable response between engine, hull, pump, carbs, and pipe to work in perfect harmony.
Many people think that you can slap a bunch of parts together and the ski will work great, but Phil has spent many years honing his skills with this art of the build and tune. One of P&P Performance's Pro Freeriders, James Juvet, had this to say about the event, "WaveDaze is the light at the end of another drawn out Northeast winter for myself and the TigerCraft crew. You can always count on Dan Swartz and the VB Wavejunkies to throw an awesome event. I'm always hyped to ride with the legends, the locals, and the up and coming riders. I can't think of a better way to kick off the spring sessions back home!"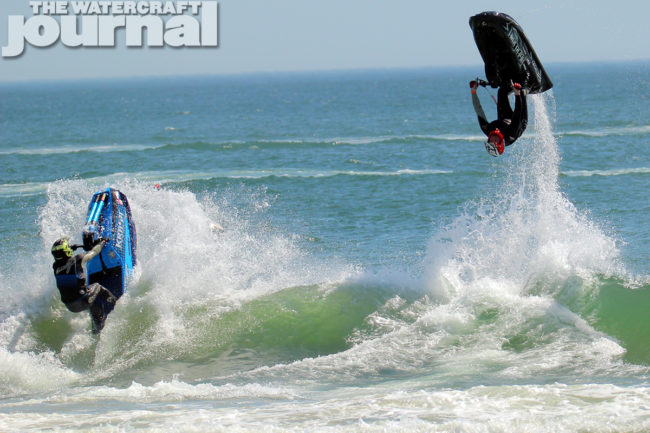 Speaking of "The TigerCraft Crew", they were well represented on the beach this year. They have really become a major player in the surf industry, using their motto of "major moves only." We had the pleasure of testing the new TigerCraft M1 hull in the Virginia Beach surf. It was a blast! We loved slashing waves, doing re-entries, along with a few backflips in the smaller surf on Saturday. It exceeded all expectations, carving really well along the waves, while still being nimble-feeling to boost off the waves for some enjoyable aerial maneuvers. We had a chance to interview TigerCraft about the M1 hull.
The Watercraft Journal: What is the inspiration behind this hull?
TigerCraft: The M1 hull has been on the planning board for quite some time. It came about in 2015 while Mick Anthony won the IFWA world championship with a set of aluminum rails bolted on his Aquabot v2.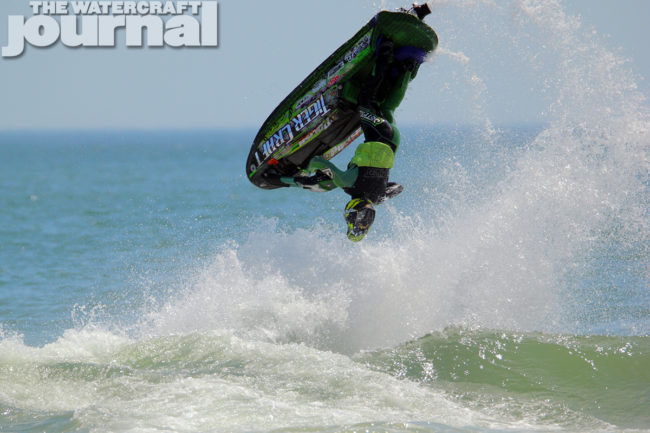 WCJ: What makes this hull special over other hulls?
TC: The rails, or often called death fins that Mick used to run. We incorporated them into the M1, along with a larger pump tunnel, different rocker, thinner nose… the list goes on. Mick has done the homework with hull designs, shapes and the pros/cons that each does. We feel this is a perfect balance for the top pro or the weekend shredder.
WJC: What's the target demographic for this hull?
TC: Since it is based off a v2, still our most popular ski, it is great in surf and flatwater. The larger pump tunnel hooks up better and the rails offer great stability and buoyancy from the large landings. We are constantly changing things and learn from each new model we produce. I'm not a big fan of cutting up existing shapes to then make them a running plug. So, we make new molds for every new concept we try. We have a lot of molds! There's not a bad ski out there but we are always innovating and looking for the slightest advantage we can get over the competition.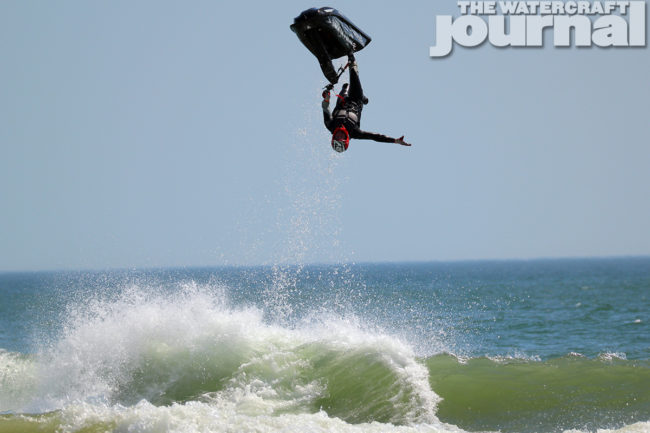 Wavejunkie and long-time legend of WaveDaze, Brian Sawyer, summed up this year's event very well. Brian said, "To go to a Moto Surf event with a crew or a family is no small task. We are pleased and grateful that so many of our friends from every direction would choose to spend time at WaveDaze with us. Over the past 12 years, we have hosted several thousand guests and it wouldn't be possible without the generous support from our partners and the city of Virginia Beach."
Keep a lookout for WaveDaze 2.0 which is scheduled for October 19-21st! We hope you enjoy the photos that were taken on Saturday by Ryan Doberstein, thanks greatly to a borrowed 150-600mm lens from #SigmaPhoto. Thanks Matt Juvet, of B-Team Productions, for sourcing this lens for us!