With the posting of official results from the Pro Watercross World Championships, the 2019 Pro Watercross season has come to a close after a long weekend filled with wire-to-wire racing, a good deal of trash-talking, a heck of a lot of hard-fought battles on the water, and even more scheduling and procedural stir-ups.
Sugden Park in Naples, Florida, serves as the host for the season-closing championship event for Pro Watercross and is a racer-favorite race venue. For several years, Pro Watercross has attempted to merge other sports into the World Championship weekend, most significantly stand-up paddleboading and motosurf. Those auxiliary sports were absent this year – an absence that was met with approval from several watercross racers who spoke with The Watercraft Journal over the weekend.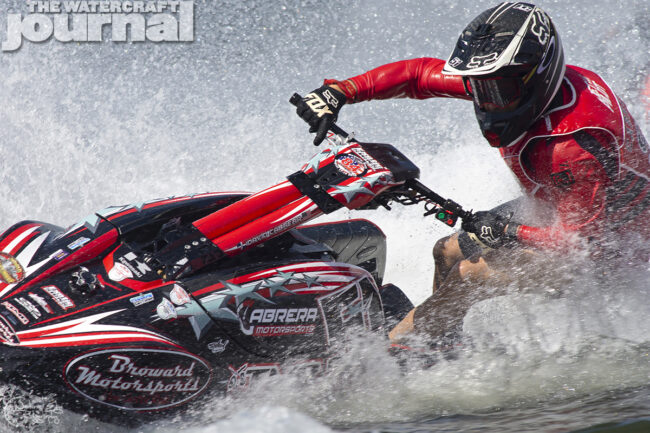 The 100-percent focus on watercross racing for the event led, in part, to a fairly significant change in the layout of the race course this year. Expanding the course, and adding in double splits, the course took up a majority of the lake. This course, with a split at each end, gave racers not only a highly-technical course, but a good long back stretch to open up the engines, making motos challenging to both a rider's talent, and a boat's power, handling and tuning.
"When I got to the Pro Watercross site, I couldn't believe how amazing the course looked. It was fast, technical and a decision-making course with there being two splits," explained Matthew Richuk, 2019 Pro Watercross Pro-Am Ski Stock World Champion. "My weekend racing was great but it was unfortunate that I got heat dehydration during the break. Thankfully I was able to recover and finish my motos. It was very nice to see my family come down all the way from Canada to watch my brother and I. One thing that I still cannot believe is all the talent and great attitudes the kids have. I can not wait to see what they are going to bring for the future."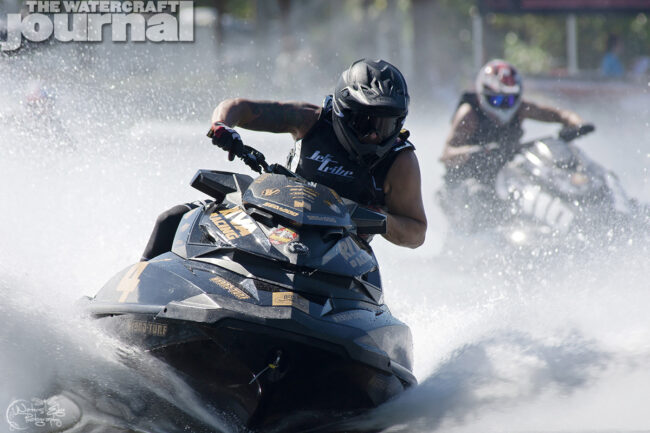 The weekend was not without struggles to go along with victories for Ryan Rasmussen, also. Like Richuk, Rasmussen, who also left Naples with championship hardware, faced some medical complications, but pushed through for the win anyway. Rasmussen, like quite a few of the Pro Watercross racers, makes a bit of a road-trip to get to Naples. For Rasmussen, it is a long haul from Lake Michigan to Lake Avalon – but one that he looks forward to each year.
"I'm so excited to get to Naples every year, I make the 21-hour commute only stopping for fuel. No sleep. When I got there this year I was pleasantly impressed with the larger, double split course that was designed for us to race on!" Rasmussen told The Watercraft Journal. "My races started on Friday and just as I was pulling my water scooter onto the stand, I twisted my right knee. I went out for practice on my Yamaha GP 1800 and just couldn't ride it to my potential. So I decided to drop the two classes on that boat. I did race my Yamaha EX with my knee all braced up on Friday and Sunday.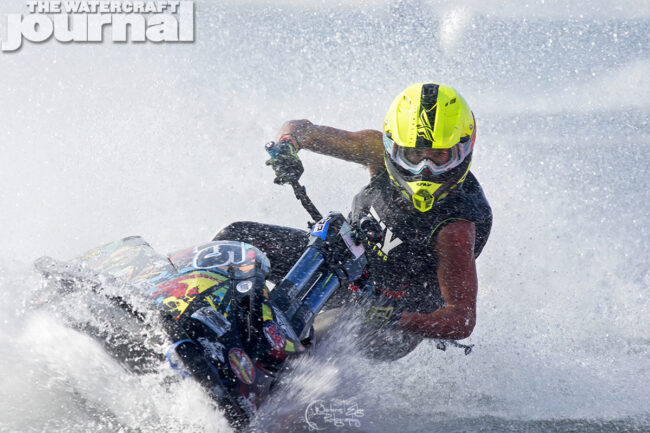 "The EX is a not as demanding on the body and I wanted to try to get a championship one way or another. I was able to grab a second overall Friday in IROC GP and I won the championship in veterans IROC on Sunday! I want to add that AJ really stepped up his game with the awards this year for the championship. They're awesome and I'm happy to have brought two home to Illinois! Now it's time to rest and recover. Next season will be here before we know it!"
Medical issues seemed to be the keyword of the weekend, and Jim Bennett, who left Naples with two championship titles, showed up in Naples with "pre-existing conditions" to overcome on his road to the title.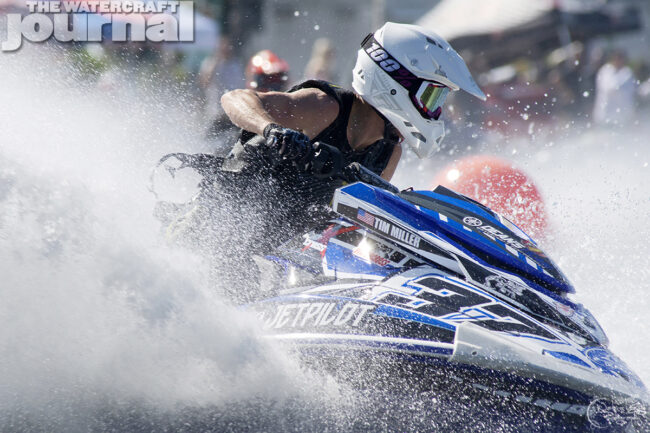 "A huge thank you to Rich Maley, Tattoo Rich Racing, and Dean Charrier, Dean's Team for the work they put in my boat. I was not sure if we were racing due to my upcoming shoulder surgery until several weeks before the World Championships," Bennett told The Watercraft Journal. "They started building the boat about a week and a half before the race and absolutely nailed it. It was fast and set up perfect for me. Robert with Pro Watercross designed an awesome track with double splits which made for great racing and opportunities to pass. God truly blessed us, winning all three motos in both the Veteran and Amateur Stock Runabout classes."
Another large change this year from previous Pro Watercross championships was the schedule. In years past, races were split with two Amateur motos and one Pro moto on Saturday, and a swap on Sunday. This year, all three motos in the Pro classes were packed into Saturday, with Amateur classes running all three motos on Sunday.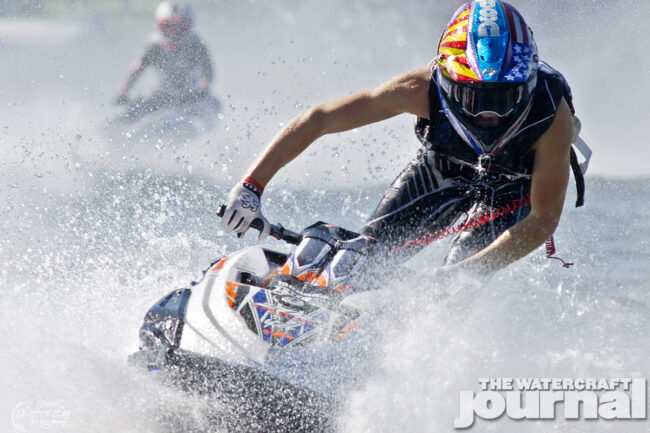 The Watercraft Journal reached out to Pro Watercross President and CEO, AJ Handler, for comment on the scheduling change, as well as the company's change to a non-profit organization, and for more details on the 2020 schedule, which, according to comments made during the awards banquet, is set and would be released soon, but Handler could not be reached for comment.
For results from the Pro Watercross World Championships, visit HERE. The full Waters Edge Photography gallery from Naples will be posted at HERE by this weekend, if not sooner!