The IJSBA celebrated its 40th anniversary last week in Lake Havasu City, AZ with the World Finals. Despite current issues with travel due to Covid restrictions, attendance was fairly strong, with claims of over 500 total skis being teched at the race site inspection and nearly 300 individual racers paying to participate.
The sun rose over Body Beach on Sunday morning, revealing a brand new tribute to the late Nedra Atwood, PWC Racing's #1 fan. Constructed out of steel to withstand the blistering Lake Havasu heat and occasional desert monsoon, her presence will always remain with the racers both on and off the course, reminding us forever that "World Champions [are] Made Here."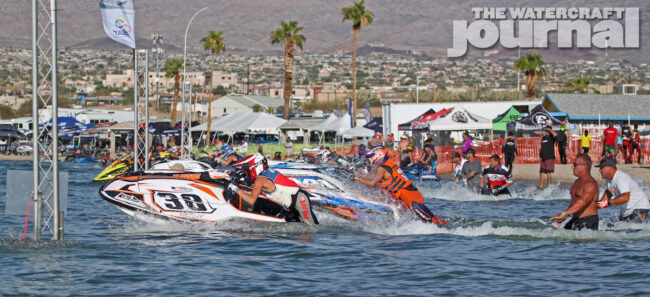 A celebration of life was held on the beach in front of hundreds, and her ashes were spread into the waters that she held so dear to her heart. A second memorial of her stands on the corner of Beachcomber Blvd. and McCulloch Blvd. near the entrance of Crazy Horse Campground, the popular venue for World Finals. With her silhouette facing the newly erected PWC monument and a fully-functioning cowbell fashioned into her hands, the statue makes for a fun way to honor all she did for the racing community.
The sun also greeted the future faces of our sport that is Jr. Stars "A Day with the Pros." This year the team at ProWatercraft organized the entire event with the help of numerous sponsors to bring a day of learning and riding to the younger generation. "Every year at the World Finals there is a day set aside to treat the kids to a special experience," explained the marketing manager for ProWatercraft. "We worked in conjunction with the IJSBA and Terri Gasperone and Canyon Coolers, and a slate of incredible sponsors to make sure that the kids had a great time."
As racers began to arrive on Monday and check-in to the race site, ProWatercraft was preparing for a night of jet ski shenanigans with their showroom and museum reveal. Guests enjoyed catered tacos and drinks while browsing the unlimited collection of vintage jet ski memorabilia. Did we forget to mention the live camera footage of Body Beach playing in their showroom? Yea, they had that too.
But the ProWatercraft team didn't stop there. Owner Chris Hagest also revealed the newly-crafted ProForce 3.0, a hull that offers enthusiasts a cost-effective yet high-performance handling package, but without the high-dollar price tag. Although demo rides were cancelled due to unforeseen circumstances, this new concept will definitely be one to keep your eye on next year.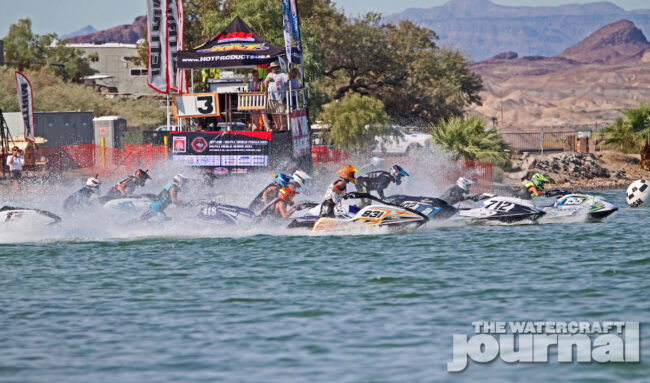 Tuesday morning proved to be a challenge for some racers and their teams as last-minute schedule changes and monsoons wreaked havoc through the pits. Staff worked overtime to work around the stormy weather and accommodate racers despite the delays. One class, Novice Ski Stock, was not only mistakenly left off the schedule, but almost faced a complete race-day cancellation due to the interruptions.
Racers got to the line-up only to hear that their heat was cancelled, but then moments later was announced that their heat "was back on," and to "come back" after all of them abandoned the starting line. Despite the time-crunch, the ever-resilient scoring tower and starting gate coordinator pushed for the heat to happen, and let them complete it just moments before the sun went down.
While there is no shortage of photographers at World Finals, livestream coverage is always a top suggestion from the racing community. With racers leaving families behind for an entire week, many relied on short video clips from Facebook live or texts. But not this year. Bobby Cardone, known for his unscripted and uncensored livestreams that are undoubtedly "in-tune" with the racing world, arrived late Tuesday night and provided livestream and drone footage for the rest of the World Finals week.
"I was honored to attend this year's World Finals in beautiful Lake Havasu," Bobby stated. "Once I knew I was in, I brought whatever equipment I had on hand, and with the help of many, streamed the event the best we could on extremely short notice." Although a few technical issues set him back, viewers hardly noticed them, and were ecstatic and grateful to have livestream available at World Finals for the first time. "We plan on coming back in 2022 with bigger and better ideas," Bobby mentioned. "The race week was a blast with some of the best race action you could ask for!"
Saturday was all about the pros with Pro Freestyle and Pro Ski GP being the highlights of the day. Pro Ski GP contenders battled it out in a four-moto format in rough and windy conditions. Kommander Industries continued to dominate the racing circuit, with many riders piloting the ever-popular Kommander GP1 to victory, and this weekend to the podium. Belgium native Quinten Bossche (#98), despite a leg injury two years ago, swept the field and was crowned champion, followed by Raphael Maurin (#44) and Dustin Motzouris (#50).
Freestylers from all over the world also congregated at the race site Saturday morning and under the London Bridge that night, wowing the crowds with stunning aerial acrobatics and technical combinations. Lee Stone took home the title for the weekend with his epic run which included a double back-flip and 720 spin, with Taiji Yamamoto in second and Gabe Jukish in third.
One notable team made the trip to World Finals and with the goal of holding their ground in the standings of the Triple Crown tour. Based out of Florida, the Miami JetSki team arrived with a fleet of highly-built machines and a determination like no other. "We came into World Finals with one goal of remaining in the standings of the Triple Crown tour," said Valentina Lezcano. "I'm first overall right now in the Pro 1100 Open class, so I just need one round in Thailand and I can possibly take the overall win for the tour!"
Teammate and brother, Juan Lezcano currently held 5th overall in Pro Runabout GP. Juan suffered a horrific accident Sunday which landed him in Havasu Regional Medical Center with a broken femur. "I am immensely grateful for all who dropped by to keep my spirits up," he states. "I underwent emergency surgery where they reconnected my femur with a rod and bolts in three places down my leg. […] My doctors are expecting a full recovery, and I have already been able to start moving my knee and foot."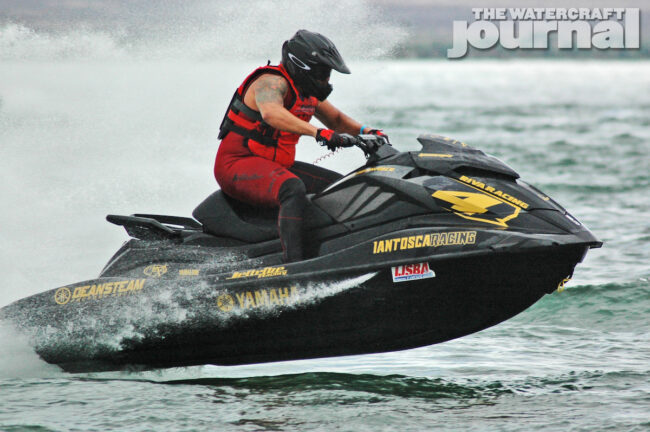 When it came to runabout racing, Sea-Doo had a tremendous turnout, grabbing first place wins in all except for one of the premier pro-level categories, including Pro Endurance and Runabout Limited, as well as complete podium sweeps in Runabout GP, Runabout Superstock and Runabout Slalom. Yamaha WaveRunners picked up sweeps in Pro/Am Runabout Stock class as well as Pro/Am Runabout 1100 Open and Women's Runabout 1100 Stock classes.
All results from the 40th anniversary Jettrim IJSBA World Finals can be found HERE.