Windrider's SOL Invictus Pro Fishing Shirt is a must for any waterman who wants the best in a technical shirt. The SOL features UPF50+, which is tops when it comes to protecting you from the sun. This allows you to spend more time on the water without getting crispy.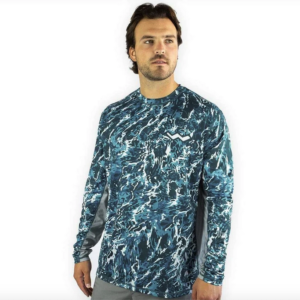 The shirt has back and side mesh, giving you some serious ventilation. This will come in handy while fighting a big fish or cruising around on your jet ski on a super humid day with no wind. The Sol shirts are made of a moisture wicking fabric and stain resistant fabric.
This an outstanding line of technical shirts will serve you well during your pursuits on the water and check this out, the Sol shirts have a 30-day money-back guarantee. If you buy one and decide you don't like it, send it back for a refund. That's a cool deal.
The Sol Invictus Pro Fishing Shirt is not only versatile, but it also comes in three great colorways. You will stand out in Rolling Sea, Caribbean Cove, and Snowy Tundra. They are five dollars off right now, so you can score them for $34.95.
At that price, you can grab all three. Windrider has sizes for everyone. They range from small to 5XL! With all those sizes and that low price, you can knock out some of your Christmas shopping. Head to the Windrider site and check out the Sol Invictus Pro Fishing Shirt.