After a one year hiatus, the 3rd annual RPM/Jet Jam Huntington Beach MotoSurf and FreeRide Exhibition returned for the first time since the pandemic, and it returned with a vengeance this past May 7th and 8th. With an average 4-to-6 foot surf report and a mighty strong rip current, the conditions were ripe for a weekend packed with excitement. As part of the Hot Products & Anderson Powersports "Best of the West" Series Presented by Hydro-Turf, this round was particularly anticipated.
The infamous Huntington Beach Pier served as a stunning backdrop for the event as tourists and locals packed onto it to get a better view of the racing and freestyle action. Many riders know that racing in the surf is no walk in the park. The ocean's raw and uncontrollable power is something that many forget to think about until they are face-to-face with that curling waves.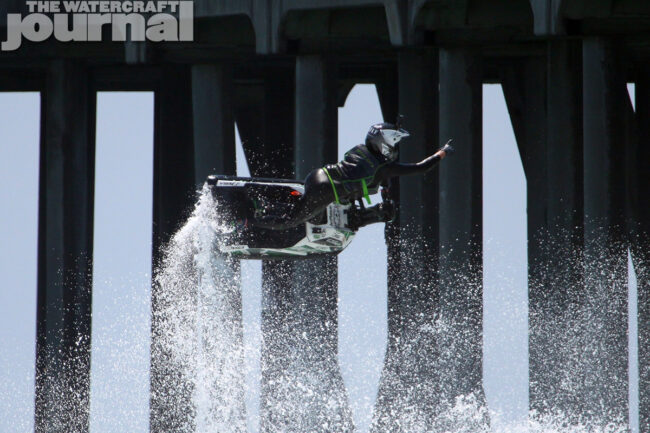 Timing is everything, along with being able to read and navigate the incoming sets. It didn't take long for the rumored injuries, both mild and severe, to make their way through the pits. Broken legs and wrists, bruised or busted knees, dislocated fingers, and chipped teeth were common ailments the entire weekend. Ron Kerkes wrote, "Gnarly conditions – tons of carnage. [I] wish all that suffered injuries a speedy recovery. [I'm] glad to come out of this one in one piece!"
Wyland Reden wrote, "Huntington was one heck of a race, multiple sunken skis, and rough racing. [The] surf on Saturday was about 5-to-7 foot with stormy-like conditions; [it] made it very interesting for a lot of people. I was able to take 1st in the Novice Ski Stock class. Hopefully we'll be back there next year!"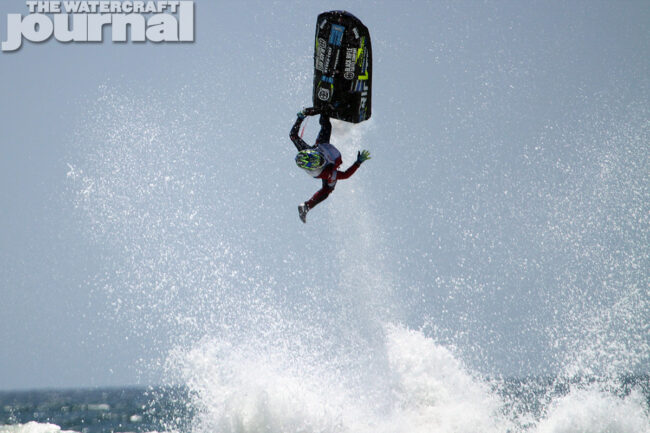 Havasu local Casey Quinn (23x) brought the spectators to their feet when he launched his borrowed Sea-Doo RXP-X off a wave, landing mere inches from the pier pylons. "All of a sudden this massive wave was in front of me, and I knew if I let off the throttle or turned a different direction it was only going to get worse, so I had no choice and went for it and did a full send towards the pier!" Casey managed to finish 2nd with his team mate David "The Leo King" Palmer (23) in 1st in the Runabout Stock class.
Another notable win is Hawthorne, CA native Andrew Cecere (#476) who swept the field in a stunning 1-1 moto win in both 550 Open and X2 Open. Owner and ski builder of Ace Performance, Andrew and his long-time girlfriend Rachel Cummings (#95) are no strangers to the surf, and they seemed right at home while they navigated the waves. Andrew even managed to pull off a barrel roll on his X2 in between motos. He wrote, "Epic racing in Huntington beach this weekend! [I] had a blast in the big swell! Big shout out to all the people that contributed!"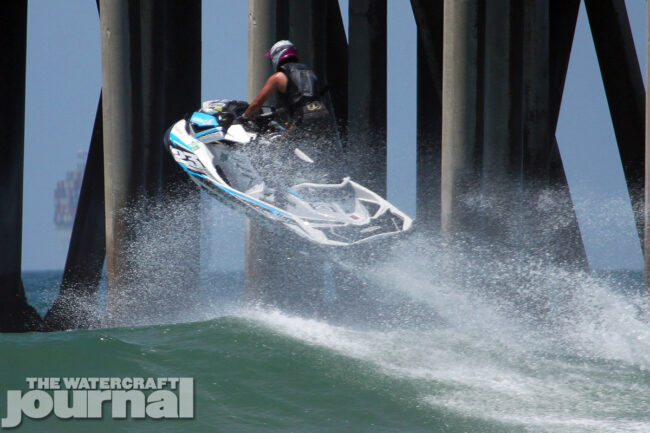 Overall feelings from the crowd were astonishment and awe. Many tourists had never seen or heard of jet ski racing before. The locals were delighted to see the event come back after the pandemic, and having it right in their backyard was something to behold. Local restaurant and shop owners were elated to have the event return, their establishments flooding with visitors drawn to the sights and sounds of the skis.
Dawn Carey of RPM Racing Enterprises who worked tirelessly to make the event happen, wrote, "Thank you to everyone: racers, families, friends, staff, etc for all your hard work with getting to and from the beach site this weekend. This event will go down in history as a tough one for everyone!" By all accounts, the weekend was an absolute success. Surf racing has officially returned to the West Coast!