Admittedly, we went into testing the new 2022 Kawasaki Ultra 310LX JetSki with quite a bit of trepidation. Although long awaited, the redesign and technological upgrading of one of our personal favorite full-sized personal watercraft was akin to hearing Hollywood had plans to update and revise your favorite movie. This could go either really, really good or well, yeah…OK. Let's not talk about recent Hollywood remakes. Nevertheless, Kawasaki USA knew that there was a lot riding on this latest crop of top rung performance watercraft and they didn't want to leave anything to chance.
Unfortunately, getting to this point was a bit of a rocky road. Inside knowledge reveals that the newest Ultra models were intended to be released for 2021's lineup; but supply chain shortages, rising material costs and some under-staffing at the Lincoln, Nebraska manufacturing facility made pushing the three supercharged models back a year to 2022 a wiser choice. Equally, amid the hubbub of the newly redesigned musclecraft, namely Yamaha's GP1800R SVHO and Sea-Doo's RXP-X 300 respectively, Kawasaki was best letting the dust settle a year before unveiling the new Ultras.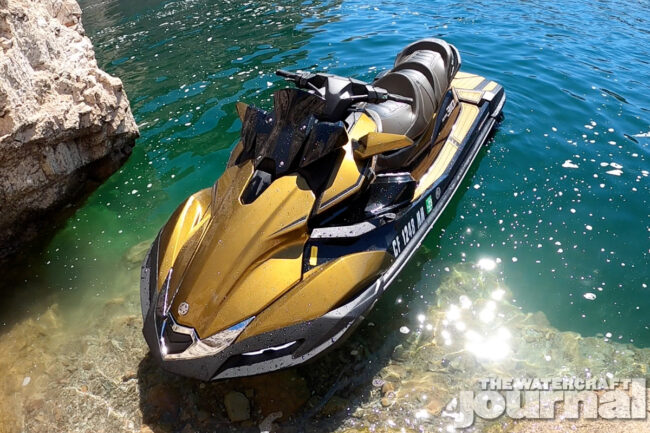 In heralding the new lineup, Kawasaki effectively swung for the fences when it came to its crème de la crème JetSki, the 310LX. Priced with an MSRP of $19,499, the Ultra 310LX offers not only an array of firsts for the manufacturer but also for the industry: the first being Jetsound 4S, a standard-equipment 4-speaker integrated audio system featuring a jog-dial control and Bluetooth connectivity; onboard running lights; a rearward-facing camera for observing towables; a 3-way adjustable Ergo-Fit LXury seat; dual glove boxes; and a thumb-controlled brake lever.
Specifically, the Jetsound 4S system raises the bar for onboard audio systems by providing 200 watts via two channel amps, and a quartet of speakers – the lower two rated at 60W x 2 and the upper two flanking the dashboard ranked at 35W x 2. Jetsound 4S is fully compatible with most all smartphone devices, as well as other Bluetooth compatible-players. And all audio data is viewable on the display. The new 7-inch wide TFT display offering three different display modes, black or white backgrounds, self-adjusting screen brightness, and various entertainment features.
The screen's additional functions include a GPS-based speedometer, tachometer, fuel gauge, drive mode, boost pressure, clock, power mode, compass, trim, Bluetooth indicator, phone call & mail indicator, cruise control; and a display bar that can be set to show a trip meter, total & trip time, oil & engine temperature, battery voltage, intake air temperature, diagnostic code, and external air and water temperatures. Equally, indicators for a GPS signal, low fuel, engine, oil, battery, engine coolant temperature, immobilizer, master warning, trim, and reverse flank the dash's sides.
All of this is easily navigated and managed using Kawasaki's new waterproof jog-dial knob and confirmation buttons. Fixed between the twin release tabs for the fairing storage doors (y'know, where you'd expect the glove box to normally be), the jog-dial scrolls through the various screens and features on the TFT digital dashboard. Well within reach and easy to navigate (even while underway) the control knob locks out certain dashboard functions above No Wake speeds to dissuade distracted riders.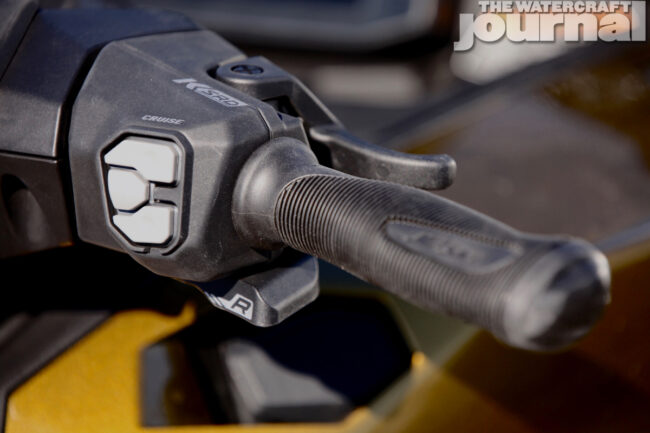 Above this are the 5-way adjustable tilt handlebars. Capped with pistol grip-style handgrips, both control modules feature new buttons sealed membranes with the best response and feel of any controls before. Kawasaki also lightened the pull on the throttle trigger for reduced fatigue. Connected to the throttle is the long-anticipated Kawasaki Smart Reverse with Deceleration (KSRD). Yes, the throttle trigger and brake button are one piece, operating on a single sprung shaft. The new reverse overrides the throttle, deploying the reverse gate and slows the Ultra 310 to a standstill.
Upon releasing the trigger, the drive mode returns to neutral. And if continued to be depressed, the drive mode will engage Reverse, and the JetSki will begin reversing until the trigger is released. The fluid motion between the thumb and trigger finger is different (particularly for those accustomed to competitors' brake & reverse systems) but not unnatural. To that point, 2022 marks the first time Kawasaki has featured drive modes; not only does the JetSki start in Neutral, allowing it to idle in place, but also allows the driver to toggle through three speed settings.
Selected by the Mode button found on the left-hand side, drivers choose from 3 power modes including Full, Middle, and Low (akin to using the SLO – Smart Learning Operation – key). Full mode accesses all of the potency of the Ultra's industry's leading 310 horsepower. Middle reduces the engine output to 80% of the Ultra– and is also the default setting when first ignited; and Low mode is 60% of full power. The One-Touch 5mph Mode is activated by a single button on the right-hand side of the bars when idling and is deactivated when the throttle is applied.
The cruise control can adjust up or down three levels for a little more speed (or to slow down) – as does the No Wake mode while operating in a specified zones. Through the TFT dash, the all-new Kawasaki Launch Control Mode (KLCM) allows for Single and Repeat launches. The KLCM automatically adjusts the trim for optimal acceleration. When set in Single mode, the Launch Control will only activate for the first acceleration shot, whereas in Repeat mode, the KLCM remains active until manually deactivated.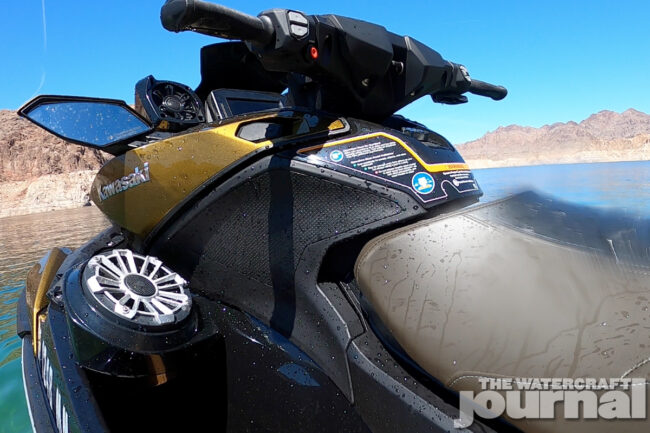 The 2022 Ultra 310LX JetSki retains the same 1,498cc inline four-cylinder DOHC squeezing out a true 310-horsepower from its roots-type Eaton Twin Vortices Series (TVS) supercharger generating a staggering 16.7psi at peak RPM. Back in 2017, Kawasaki revised the Ultra's pistons to include a V-groove at the second ring for greater oil retention. Dual under-piston oiling jets are fed by a dry sump oil tank built directly into the baffled and partitioned crankcase that also includes a closed circuit catch can, and high pressure blow-off valve – the same stuff hot rodders and racers use.
Dual cooling circuits feed fresh ambient water through the enlarged coolant passages in the engine as well as through the intercooler, condensing the compressed intake charge prior to passing through the throttle body. The Ultra's oil cooler circulates oil between two cooling jackets, mitigating heat soak and excessive internal engine operating temperatures. This allows the 160mm axial-flow, single stage jet pump to spin its 3-blade, stainless steel impeller enough to produce 1,890lbs. of thrust.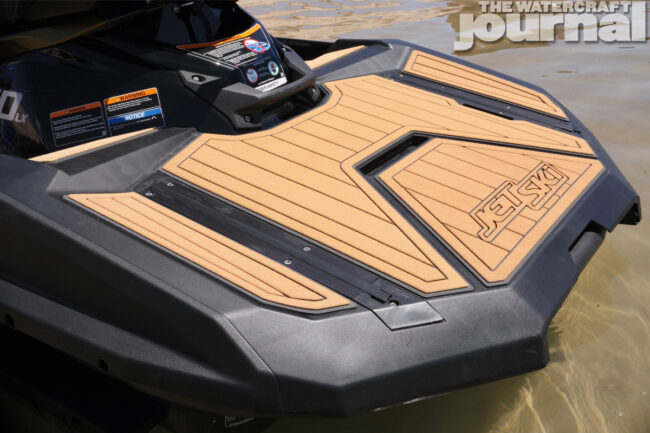 Although carryovers from previous models, 2022 marks the use of Kawasaki full fly-by-wire throttle control and engine management system. This allows for the multiple acceleration maps, smart engine monitoring and throttle response. While the sponsons and intake grate come unchanged from before, the aluminum ride plate has been recast with thicker bosses for the deployable reverse bucket.
Gratefully, the Ultra 310LX leaves Kawasaki's industry-leading, rough water and open ocean champion hull almost entirely unchanged. Featuring a 22.5-degree deadrise, the true Deep-V hull is molded in durable gel-coated FMC fiberglass with a newly reinforced bow. It's without a doubt the best design for sluicing through chop that we've ever tested and gratefully remains as such. Yet, above the bondline, the Ultra 310LX features an entirely redesigned deck that includes a few more firsts for both Kawasaki and the industry:
First, Kawasaki radically adjusted the Ultra's center of gravity by lowering the the overall deck height by 1.38-inches and widened and deepened the footwells, setting the riders lower and gifting them more leg room and greater foot placement. The overall ergonomics of the Ultra are lightyears ahead too, as Kawasaki narrowed the new bi-folding two-piece, three-person seat by an impressive 3.15-inches at the knee, allowing riders a more natural seating position as well as more clearance for riding stand-up.
In addition to the redesigned shape, the Ergo-Fit LXury seat is sculpted from a newly revised formula of urethane foam providing deeper hip support and improved jolt and vibration absorption from the advanced padding. Wrapped in black and brown heat- and UV-resistant materials with high-contrast white stitchwork, the three-tiered LXury seat offers three positions of adjustment spanning 2.75 and 1.4-inches apart.
Large inverted coves at the driver's knees bloom into colored fairings that open up to reveal twin glove boxes. Swinging upwards on gullwing-style hinges, the new fairing compartments hold a combined 10.6-gallons of storage with the right-side including a half-gallon sized watertight box for your phone or wallet, and a pair of USB ports. (Oh don't worry, the cup holders aren't gone. They've been moved up towards the TFT dash.) Ahead of these compartments is the 32.8-gallon bow storage. A molded-in open access pouch at the rear adds another 2.8-liters (0.7 gallons) of "wet" storage – ideal for a dock line.
All of this adds up to 44.5-gallons of storage, which is admittedly quite a bit less than the previous model's 60-gallons. Gone is the removable storage tub in front too. In relocating the filler neck, Kawasaki increased the 2022 model's fuel capacity by half a gallon – up to 21.1 gallons – which is nice. The redesign also includes built-in cleats for easy docking; KSD (Kawasaki Splash Deflectors) water disbursement channels, a raised rear bumper for less splashing; and enlarged rearview mirrors. And speaking of rear views…
The Ultra LX comes equipped with a rearview camera, which can be monitored on the TFT screen when docking or towing. Per Kawasaki, it provides "an impressive view range at 155° horizontally and 115° vertically (± 5°), allowing the operator to feel comfortable about what's behind them." And if increased visibility is something you're looking for, look no further, because the Ultra 310LX includes LED accent running lights built into the front bumper. No, these aren't headlights as they don't cast a beam, but are meant for increased visibility like daytime running lights on a motorcycle.
Kawasaki integrated a new Multi-Mount System featuring mounting bars for accessories like a GPS, phone, or action cameras, built into the handlebars and rear of the seat. On the 310LX this sits above a smoothly integrated Ultra Deck, an extended rear platform that increases the swim deck an additional 7.9-inches. An angled folding swim step tucks neatly up under the Ultra Deck, which also includes two Multi-Mount slide mounts providing accessible tie-down points to mount any number of Kawasaki's new accessories, like a stern bag, soft-sided cooler, dry duffel bag, rear storage rack and universal tie downs.
Sure, the new Ultra 310LX looks dapper in Ebony and Gold, but how does it run? Fully loaded with fuel and storage, we clicked off a respectable 66.9mph on the GPS at 1,044 feet and temperatures in the low 90's. But top speed was never the Ultra's bread-and-butter; rough water is. For those with lots of time on previous Ultras, this characteristic alone is the most significant. When it comes to how the new 2022 Ultra handles compared to before, it's nearly night-and-day.
The lower center of gravity permits the Ultra to progressively roll into an inside lean like never before. It does so naturally, fluidly and with a newfound talent. Dropping a knee and pinning the bars to its stops in an S-turn with the throttle vised is exhilarating. Yes, with a curb weight of 1,089.3 pounds (equaling a calculated dry weight of 958 pounds), she's a stout vessel – but again, that's what you want in a hull that soaks up vibrations, chop and chatter, and won't crack under pressure.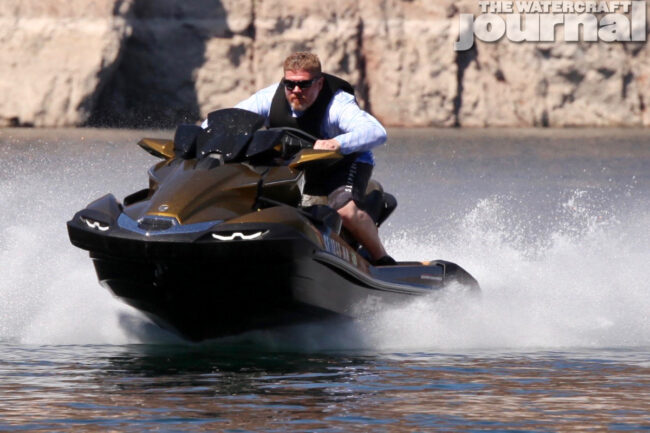 With the throttle clamped to its hilt, the 1.5-liter howls, it's twin-screw supercharger wailing through its blow-off valve. Nothing, and we repeat, nothing on the market sounds like this. The Ultra's deep draft and high-volume jet pump bites hard at the launch and pushes to its peak speed just under 5-seconds (4.81 seconds per our Vbox accelerometer). Again, conditions were pretty lousy for this kind of speed testing, but we definitely didn't want to leave anyone guessing.
What complaints we had were few: first, reducing the size of the bow storage access hole means larger bags or a helmet are now impossible to bring. Equally bad was covering the entirety of the engine compartment with an access plate with a tiny plastic window. Whoever thought of these ideas should be demoted to "truck stop bathroom attendant" for a year. We also fought to get the TFT to sync with our phone, and aren't terribly happy with the audio control knob being so far out of reach.
Otherwise, this machine is bordering on flawless. No really, it's that good. The industry's most capable rough water personal watercraft is now more stable, tracks more naturally and corners more intuitively regardless of the conditions. And for those who seek the finer things in life, it's now drier, more comfortable and far, far, far more technologically advanced. The end result is this: the 2022 Kawasaki Ultra 310LX JetSki is the most fully-equipped, high performance personal watercraft we've had the pleasure of testing in a long time. It does everything everyone else's skis do and more. If you're in the market and can wing the near $20,000 price tag, get one. End of story.