The 2022 race year has officially kicked off on the West Coast with the 19th annual Mark Hahn Memorial Havasu 300, a 300-mile long endurance race around the perimeter of Lake Havasu. Considered one of the most brutal races of the year, riders, pit crews, and their machines are pushed to the absolute limit to be crowned champion.
This year proved to be most trying for not only the 27 registered race teams, but the promoters and staff as well. Riders arrived to Crazy Horse Campground on Saturday morning and were met with bone-chilling 20-25mph winds. Crews were struggling to set the perimeter and chicane buoys. Safety patrol boats thrashed wildly in the surf-like conditions.
Local racer Mike Neuman told The Watercraft Journal, "Going into Saturday we all knew it would be windy and freezing. We started in the cover of darkness warming up trucks, layering up anything we could over wet suits: heated vests, neoprene jackets, gloves, waterproof socks, etc. The front gate guard informed us they might cancel the race. We all just laughed, "They don't cancel the Mark Hahn for bad weather!"
"Ross [Wallach] informed us they were going to postpone for 2 hours due to rescue craft not being able to launch," Neuman continued. Eventually, the promoters eventually made the call and postponed the race until Sunday. Many riders were outraged, stating they had made prior travel commitments and could not stay for the race. Others complained that the treacherous conditions were a key factor in making the race what it has become known to be.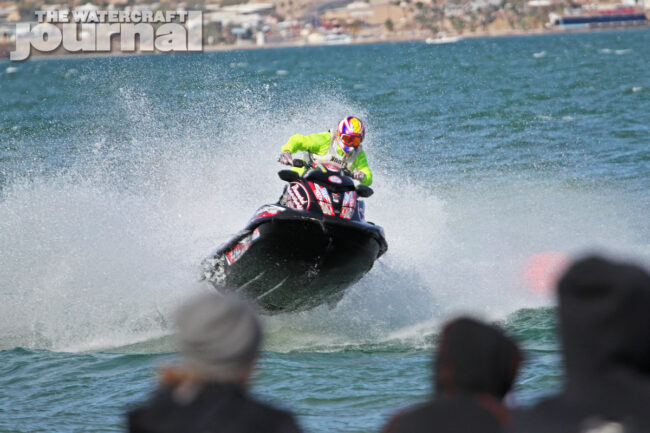 Some protested, repeating, "Mark would've raced in this!" Many of those we asked for this story repeated Neuman's sentiment, "Last year weather was even worse and we still raced. It was very sad, especially because several teams couldn't stay and had to go home." 
Nonetheless, safety was the staff's number one priority and a deciding factor in the result to postpone. Without correctly anchored buoys or properly staged patrol boats, not only would they run a risk of incorrect scoring, but a risk of life as well.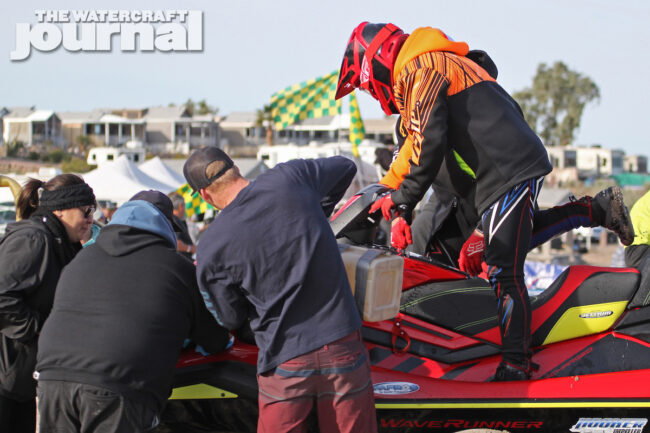 For Sunday, winds were predicted at 7mph and temperatures around 42°. As racers arose that morning, conditions fared even better – albeit pretty chilly. At the outset, water conditions were glass but began to "kick up" by the fifth lap.
Due to tight schedules with some race teams, the decision was ruled to adjust the race time to 3.5 hours plus a one lap format. This put more pressure on pit crews to time and counting laps so their racers were not left stranded out on the lake with the gas light on.
BRP Sea-Doo brand ambassador Anthony Radetic (#153 who competed in Manufacturer Stock class) had a strong and methodical strategy in staying ahead of his competitors, "My team and I focused on setting a steady pace and completing 5 laps between each pit stop, giving me some time to rest while the ski was being filled with fuel."
This strategy earned Anthony the podium in his class, with 24 completed laps. He also took home the coveted Iron Man Runabout award. Mike Klippenstein and Ryder Wildeboer (#212 – 4-Stroke Stock) were the first competitors to cross the finish line on their Yamaha FX SVHO WaveRunner, completing their 24 laps shortly before Radetic.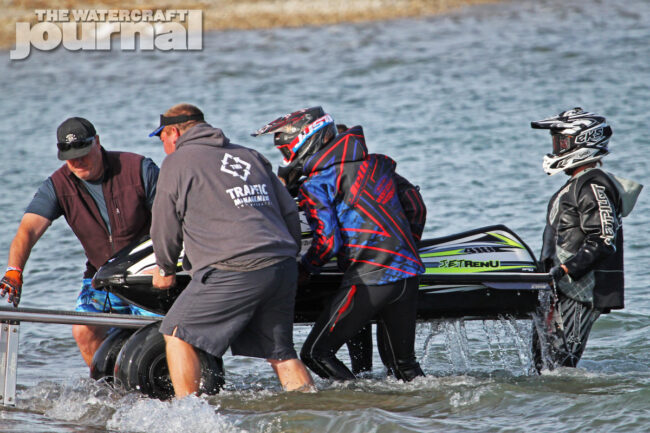 Another notable win went to Brandon Warner (#21 – Pro/Am 4 Stroke Open) who also iron-manned and finished with 20 laps completed on a fully-built 2021 Kawasaki Ultra 310X (earning second in his class against Arnold Martinez and Nicolas Rius who claimed first in Pro/Am 4-Stroke Open), stated:
"The whole reason I felt like I could Iron Man-it is because of the awesome team I had behind me. Performance Fiberglass prepared the hull, while Dan Silva built my motor. They knew my ski was prepped and tested, so I was able to focus solely on getting myself ready."
There was quite a variety of stand-up skis this year, from SuperJets to SX-Rs, and even a GP1 thrown into the mix. The first stand-up to finish was none other than an SX-R 1500 piloted by Justin Richey, Blake Wicklund, and Diego Urrea (#209 – 4-Stroke Mod). The 3-man team completed a stellar 15 laps.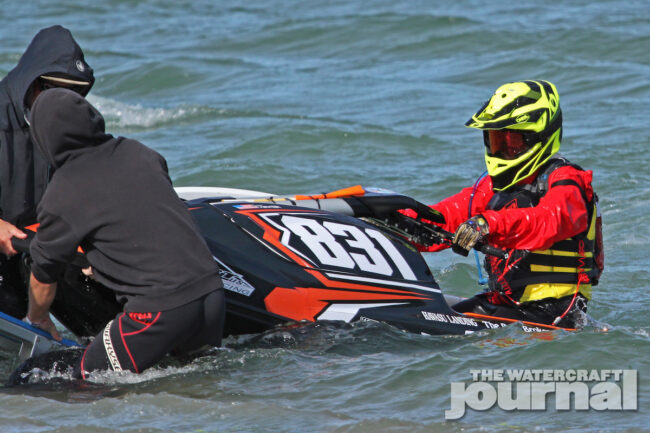 "None of our crew or riders had ever done this type of race before," Richey commented. "Planning and preparation started right after World Finals because none of us knew what to expect." The team had its own share of setbacks, including a trailer bunk slider that detached and became lodged into their pump tunnel.
Luckily their crew chief was able to free the obstruction and they were back on the water in no time. So what was their claim to victory? A solid pit crew, impeccable pitting system, and knowing when to adjust given the rough circumstances.
"The original pit structure was to switch riders and fuel every two laps," Diego mentioned. "After the first set of laps we quickly decided to switch riders every lap. The water conditions worsened to a point that keeping a fast pace was too fatiguing for two laps." The constant exchange of riders also meant more opportunities to fuel and check for mechanical issues, paving the way for a solid win for this outstanding team.
Event creator, Mike Follmer expressed his gratitude saying, "Eighteen years ago, while attending the funeral to put my good friend Mark Hahn to rest I made a promise to him […] that I would work diligently to see that his […] name and memory were synonymous with the type of endurance racing he and I had spent years supporting and competing. I know that Mark and Nedra [were] looking down on us Saturday and [that he] was feeling very proud that he was being remembered in such a grand fashion."

Sunday evening's award ceremony welcomed over 150 in attendance where trophies and accolades were given. Despite its minor setbacks, the Hahn was once again a successful event – and the announcement for the 20th Mark Hahn Memorial Havasu 300 was made only days after. So start preparing for 2023!