It didn't require much imagination to rightly predict what Yamaha's response to the swelling demand for a PWC fishing-capable WaveRunner would be. Rather than a single runabout to serve the multi-billion dollar recreational fishing market, Yamaha opted to equip its entire range of redesigned FX WaveRunners with the tools and accessories necessary to become a bespoke fishing platform.
As we at The Watercraft Journal rightly foretold, Yamaha's solution was revealing a two-part accessory system that any customer could custom equip their FX; the first being an all-new multi-function RecDeck platform, and the second being two optional JetFish packages, ranging in cost, equipment and accessibility (as well as two accessory packages for the recreational enthusiast).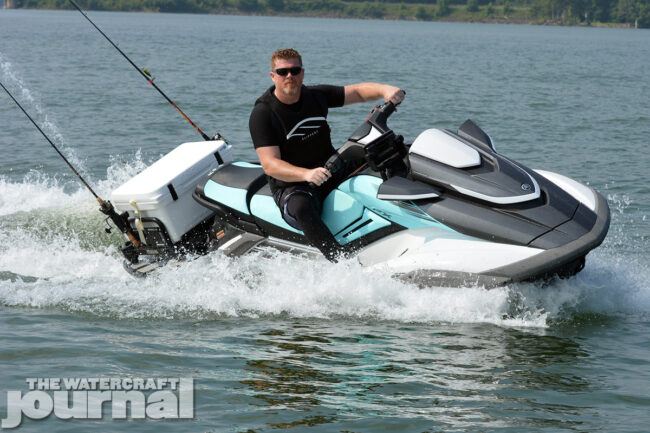 Bryan Seti, general manager of Yamaha's Watercraft Group, detailed, "Consumers are looking to use their WaveRunners in all new ways on the water, whether it's a touring adventure, all day cruising and lounging, watersports, or fishing. We wanted to create a WaveRunner line and related accessories that power our consumers' passion for the water. […] Our new FX Series pushes the bounds of luxury, tech and performance. And our all new RecDeck offers a new level of customization for anything our customers can dream of doing on the water."
Sold as a separate accessory, the RecDeck ($999.99 USD) is a 6 square-foot flat platform featuring molded-in tracks and four built-in, fold-flat cleats designed to accept any number of accessories with endless arrangement possibilities. Covered in two-tone CNC-cut MarineMat carpeting, the RecDeck also features a stellar full-length reboarding ladder that tucks up beneath the platform.
As mentioned, the first of two JetFish packages is the Premium Package ($1,199.99), which includes the Multi-Use Rack ($599.99), two rod holders, the Engel 45 cooler, straps and two cup holders. For those not needing the whole enchilada, Yamaha's standard JetFish Package ($499.99) equips you with the Engel 45 cooler, two RAM-mounted rod holders and the tie-downs.
The aforementioned Multi-Use Rack is used to rigid-mount the Premium JetFish package, as well as the Lounging Package's folding 25-inch wide rear-facing Folding Bench chair, cup holders and saddle bags ($499.99). Lastly, the Towsports Package includes a single-rider tube (your choice of yellow or grey), a 12V pump, towrope and bungee hold-down ($199.99).
For those with slightly older FX models, the RecDeck fits any 2019-and-up FX WaveRunner, and can be removed to return the FX to normal use in a few minutes (and no it won't fit your EX or VX). And although part of the accessory group, the massive Garmin ECHOMAP UHD 63cv 6" Fishfinder/GPS (with an Ultra High-Definition Scanning Transducer), and extra rod holders are sold separate from the two JetFish packages.
In testing the RecDeck as well as spending the day with the Premium JetFish Package, we were impressed with how rigid the whole setup felt – there was no rattling or chatter, which is great considering that everything is removable. Equally, the fold-flat cleats will receive any number of bungees or straps to tie down extra fuel, a cooler full of drinks or camping gear, so really, you could bring whatever you wanted with you.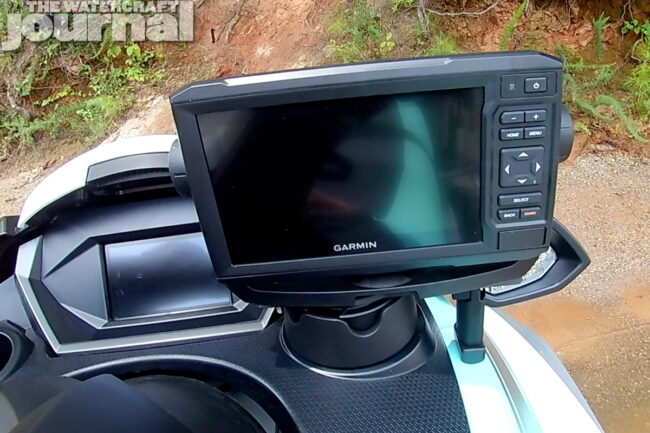 Of course, all of this is made even better now that Yamaha has refreshed FX lineup. While many won't be able to identify the changes made from 10-feet away, those who are "in the know" will definitely be able to spot a 2022 FX High Output (MSRP $14,299) from the previous models, and not just because of the "White With Mint" color livery.
Yamaha upgraded all HO-equipped FX runabouts touchscreen dashboard with a high-response, glare-resistant glass 5-inch display. This full-color touchscreen dashboard provides audio controls, phone and text notifications (when synced via Bluetooth to your smartphone), Yamaha's Drive Control functions (first featured on the 2021 GP1800R models), and GPS mapping and geo-fencing. (…and it also means a true GPS speedometer.)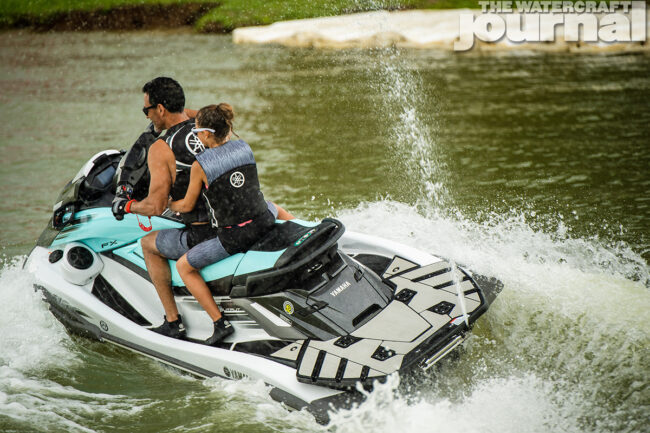 Geo-fencing means that with the optional GPS map card installed (each card is sold separately for a $199 one-time fee), you can input GPS waypoints, follow tracks, and mark a riding area where the watercraft can be operate. With geo-fencing activated, a virtual fence is created and will sound an alarm telling the operator that they have ridden too far – ideal for young or first-time riders.
After last year's redesigned VX and GP series, the FX too is available with a factory-installed, digitally-integrated audio system. Featuring twin 4.5-inch 50-watt waterproof marine speakers, an integrated two-channel amplifier, and a low-voltage regulator to protect the battery, the system is operated through a control pad fixed beneath the steering column. When synced, a visual prompt will appear on the the Connext touchscreen.
Additionally, you can also receive incoming calls and view incoming text notifications on the Connext screen. There's even a noise-reducing microphone (found above the audio controls) allowing you to make phone calls using the voice command button and your phone's assistant (ex; Siri, Alexa, etc.). Note that the audio package comes as a factory-installed option on all FX series models ($800 USD) – it can't be added later by the dealer.
The FX series inherited sleeker adjustable handlebars and control pods similar to the GP series, including the single On/Off button and relocated Cruise Assist control – as well as integrated dual hoops into the steering neck, making tying up at the dock easier. The FX also received a new waterproof glovebox. The lid is spring-loaded, rising up on its own with a sturdy hinged plastic latch. Inside the FX receives the same LED lights, 12V socket and USB port, and cell phone pocket.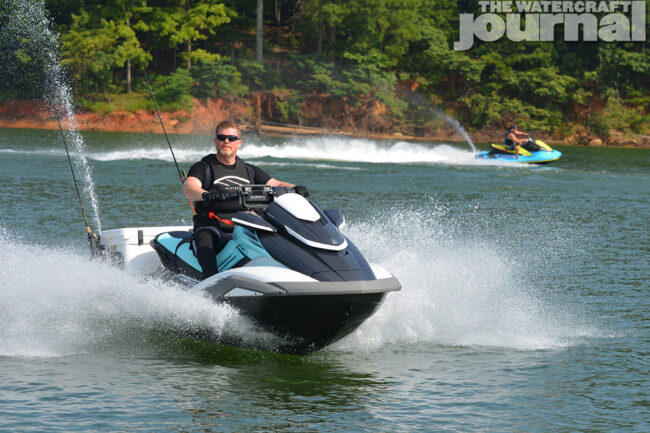 Below the bondline is where Yamaha's more subtle changes were made. First, Yamaha looked very closely at what aftermarket tuners were doing and radically tweaked the ride plate. The new plate has a center wetted surface angled up 3º on an extended runner that raises the bow, reducing drag. The plate's flanks are shaved down with deep skegs providing knife-like rails for added tracking.
On the sides, Yamaha moved the sponsons forward 50mm (nearly 2-inches) to reduce drag in corners and allow the sponsons to engage sooner in a turn. But here's the biggest change: no more NanoXcel hulls. That's right, all FX WaveRunners now have SMC fiberglass hulls. While the FX HO's deck remains cast in NanoXcel, all full-sized runabouts will ride on thicker, traditional fiberglass hulls.
Because SMC is heavier than Yamaha's Nano materials, the development team created a lighter inner liner to shave off a bit of the gain. Nevertheless, all FX HO models increased by 4-pounds (for example, the 2021 FX HO weighs 836lbs. versus the 2022 FX HO which weighs 840lbs.).
While some might bemoan the switch to SMC, the decision – in our view – is a homerun. SMC fiberglass is denser, which absorbs vibration and chatter better. It distributes the force of impact with far less damage. There's less flexing, cracking and overall failure to boot. And more importantly, it's easier (and far cheaper) to repair – all things which we should all appreciate.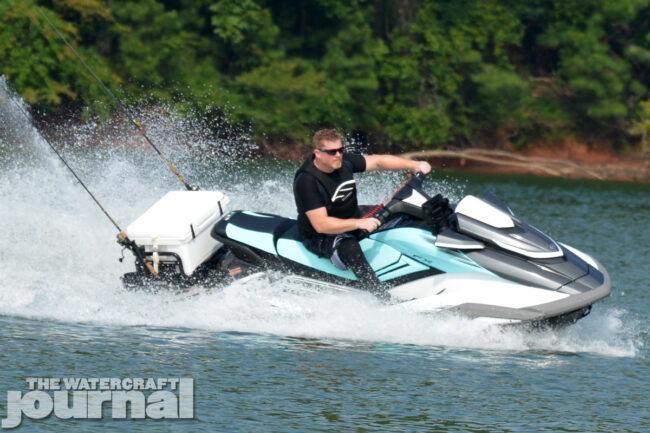 As our '22 FX HO was fully kitted-out with the RecDeck and Premium JetFish Package, we couldn't push past a top speed of 56mph. With less fuel in the tank and our transom cleared of the king's ransom of goodies we were packing that day, we'd easily see another 3-4mph. Regardless, the changes made to the FX HO radically improved the craft's straightline tracking, predictability and dryness of ride.
Easily one of the preferred choices by long-distance cruisers (and now PWC fishermen) the 2022 FX High Output (MSRP $14,299) stands apart from the previous models and the competition. As equipped, our JetFish-kitted FX HO came in roughly at $16,600 or nearly $1,200 below the highest-equipped fishing runabout in the closest competitor's lineup. With some extra cash in hand, more storage, 10-more horsepower and better fuel economy, there's no wonder Yamaha's FX High Output is looking like such a strong contender.