OK I'll just say it. This ski scares me. Not because it's soo fast or because it corners sooo hard. No. Not really. I've ridden plenty of faster, more aggressive race-built skis before. Instead, the 2024 Sea-Doo RXP-X 325 scares me because of what it means for the future.
The newest RXP-X is what happens when the world's biggest, most dominant powersports manufacturer directly targets the performance aftermarket; y'know, the guys pushing watercraft into the 90's and higher. That's who the new RXP-X is designed for.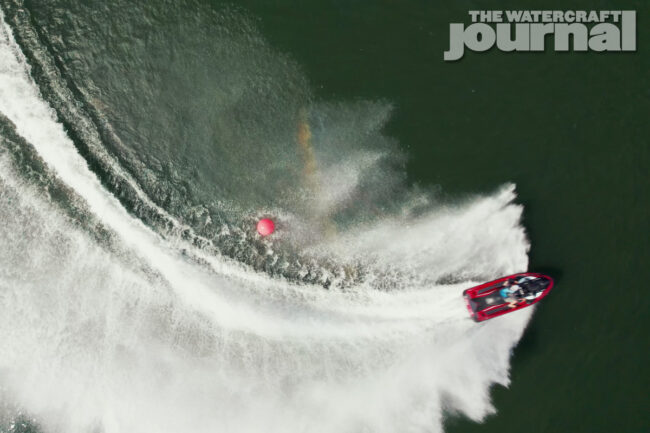 They're not looking to lure in you weekend warriors who spend your Saturdays trying beat your buddy to the next sandbar. Pfft. They've already got you. No, Sea-Doo is aiming their sights at the guys looking to set world records.
Three years after launching the redesigned RXP-X 300, the 2024 model somehow makes that ski look kinda boring. Yeah, the molded CM-Tech hull and deck remain unchanged. That's no big deal. The Ergolock-R seat carries over as well. I mean, what else would you change about a customizable race saddle?
They also integrated damn near ever single thing that made last year's mid-production APEX so snazzy – namely the carbon fiber hood and hydraulically-dampered adjustable steering. But that's all stuff we've seen before.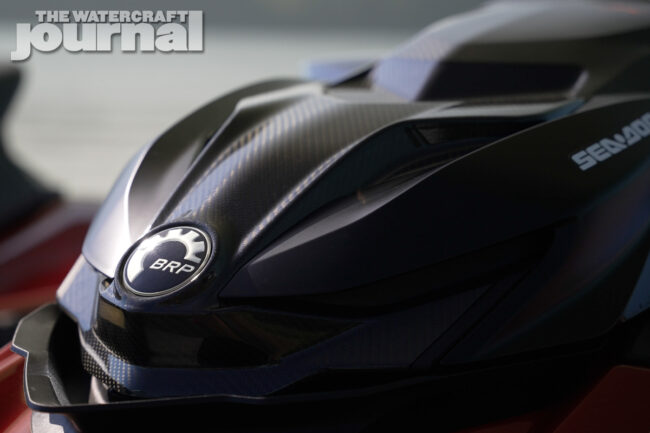 No, the changes from then to now are there – and they're BIG DEALS – but they're kinda lying under the surface. Most folks wouldn't see 'em or even appreciate them for what they are. Hell, even after watching this video with me listing every single upgrade and change most folks will just go uhh, Sea-Doo just upped the horsepower.
No, Sea-Doo seriously raised the bar for performance by producing an engine that you'd expect to get custom made for you from a shop like RIVA Racing's skunkworks or Gyrogy Khaza. First, the 1630 ACE 325 is much more – like so much more – than just a hopped-up tune. Nearly every major hard part was revised, redesigned or improved.
The cylinder block itself has been redesigned. Bosses are recast thicker, adding material to common stress points and webbing. Rotax added an additional piston oiling jet on the exhaust side, cooling down cylinder temps.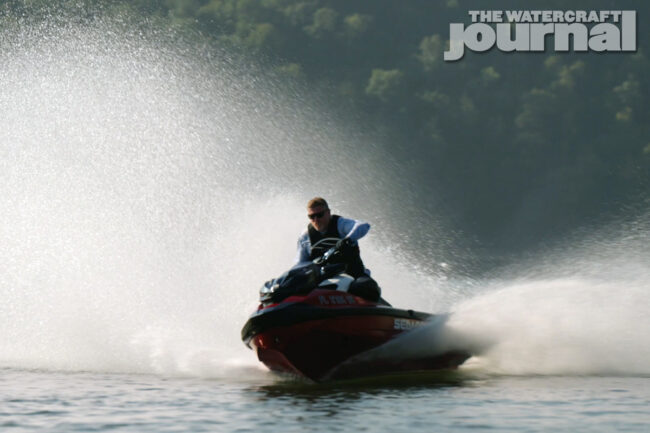 The connecting rods have stronger hardware because the pistons have been redesigned with tilted piston ring grooves and deeper valve pockets. They're also DLC coated for better durability. Y'know who also uses DLC coated pistons? NASCAR and top fuel drag racers.
Even the crank has an improved press-fit for the gear so it can handle all of the new torque band this thing produces.
See, the biggest issue with the previous 300-horsepower engines was the heat produced by the supercharger. As RPMs sped up, air intake temperatures rose. Higher intake temperatures means less boost and that means diminishing power as engines speeds climbed.
So Rotax dumped the conventional supercharger and started over with a clean sheet of paper. According to Rotax's Project Manager Norbert Schofbanker, they don't even like to call it a supercharger anymore. And it's certainly not a turbo, so what is it? They prefer to simply call it a compressor.
As the crankshaft spins at the new peak redline of 8,250rpm (which is 250rpm above the previous 300 ACE's redline), the lightweight hollow gear applies pressure to the three spring washers engaging the mechanical positive clutch – interlocking the two keyed jaws providing zero slippage and continual, unbroken force.
With the output shaft engaged, the positive clutch (or what some call a "jaw clutch") spins an all-new planetary gear that spools up the smaller, more aggressive impeller to a blistering near 100,000 rpm – or one-and-a-quarter times faster than the previous 300 ACE engine.
Not only is the impeller spinning over twice as fast, but it's doing so more efficiently and without super-heating the intake charge. In fact, it's almost 40% cooler. Heck, it's sooo good at building cool, dense boost that Rotax just left the intercooler alone. Yup. It's the same as last year.
Moving at those speeds, the planetary gear gets its own oiling jet. Additionally, Rotax upped the valvetrain to handle the load with new forged rocker arms, rocker shaft and heavy duty springs and tapered retainers – again, all stuff you'd expect to see on custom-built engines, not stock stuff.
But a couple of things needed to be improved to handle what the new 1630 ACE 325 is putting out: namely, everything else.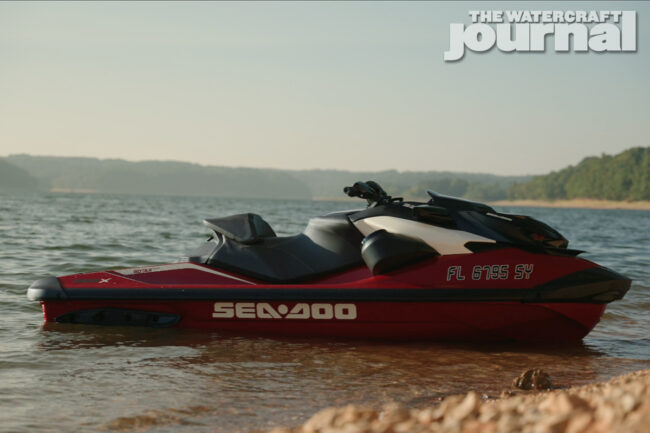 The air intake system is a helluva lot beefier. The intake tube diameter is so much bigger that the tube itself had to be made ovular like the exhaust of a NASCAR Cup car.
The plumbing into the supercharger includes a new blow-off valve to prevent excessive boost since there aren't any friction clutches in the supercharger anymore; without the blow-off valve regulating boost pressures, the mechanical jaw clutches would boost the engine into oblivion.
…and the intake manifold was redesigned to be a lot stronger with added webbing so it wouldn't split like they do with a lot of you hot rodders making extra boost.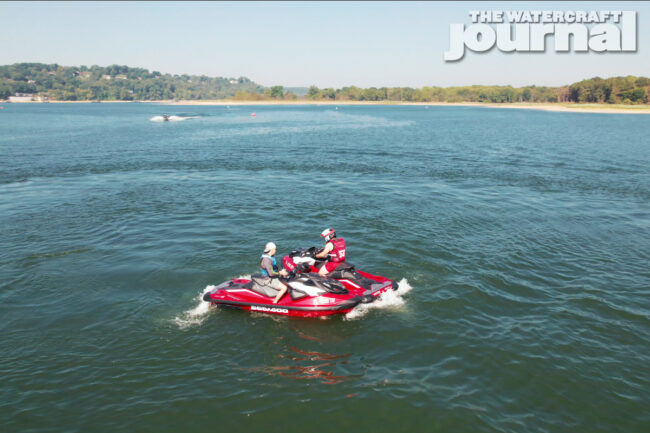 The 325 requires waaay better fuel management so it gets a new varying pressure fuel pump as well as a heftier fuel rail and connectors.
Lastly, Rotax employed its new BOSCH engine control module – the same one used on the turbocharged Maverick side-by-sides – to operate this beast. The new ECU also uses an all-new wiring harness that even includes an O2 for live air fuel data – the single-most overdue performance addition to a stock PWC since forever.
That required Sea-Doo to cast a new exhaust manifold with a permanent bung for the O2 sensor, so no more clunky aftermarket couplers for this bad boy.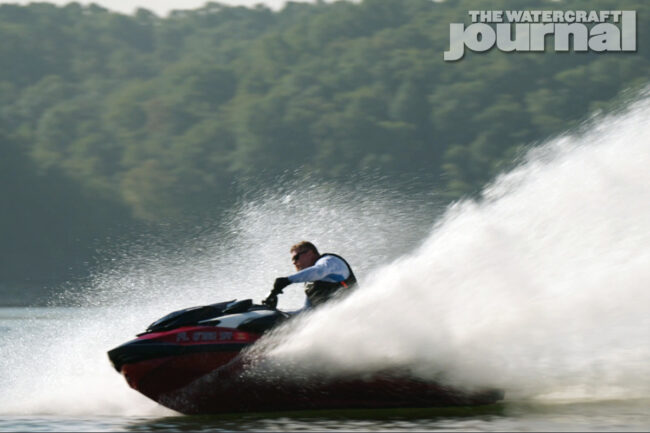 Again, it bears belaboring this point: this engine is so damn overbuilt for the stock enthusiast, it's bonkers. In our testing, we were hitting the speed limiter at 7,600rpm before backing down from 70 miles per hour. If redline is 8,250 and we're bouncing off of 70 at 600 rpm below that, this ski without a speed controller will hit 75 miles per hour without breathing hard.
And yeah, we've already received confirmation of unrestricted 325's hitting 78 miles per hour without moving the new redline. But, like I said, the speed limiter is still there so unless you're looking at voiding the snot out of your warranty, you're just gonna enjoy getting to that speed a lot quicker.
How quick, you ask? The previous RXP-X 300 hit 0-to-60 in 3.6-seconds. The new 325 does it in 3.4-seconds, two tenths of a second faster, or in drag racing jargon, a little less than two car lengths.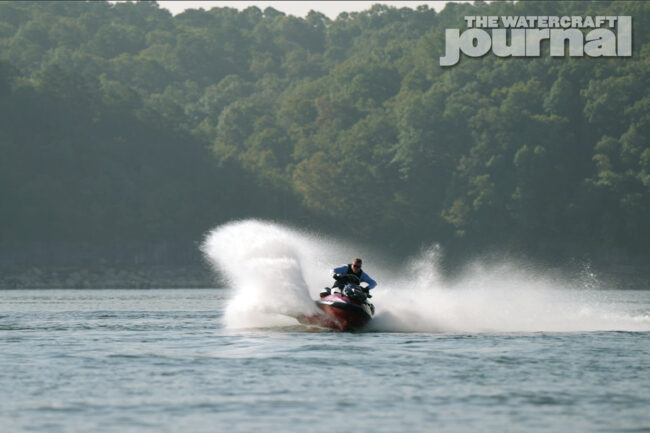 When playing with launch control mode, you'll feel it. The new ECU does a good job of not cavitating the snot out of polished 13/18 impeller. It comes on smooth and just pulls.
No, seriously. This thing pulls and pulls like you wouldn't believe. Most folks won't be able to feel two tenths of a second difference, but I sure as hell did. This thing will stretch your arms out of their sockets if you're not paying attention. And yeah, that's pretty cool but it's the mid-range that needs to be addressed here:
The one thing that puts the 325 above the 300 is how ungodly hard the ski comes on when you clamp the throttle open while cruising at 35-40 miles per hour. You're just cruising alongside your pals and BAM! you're at 70. It's so fast it's kinda stupid. Like, you're cruising at 40 aaand now your at 70. It's that quick.
Now, you know me. I like to break stuff and the RXP-X 325 just wouldn't let me. We had set up a buoy course to see how it pulled out of a hairpin. I mean, I already know how well the T3R hull corners in the soup – I've racked up plenty of seat time on it – but how well can it carry you out of a corner was what I wanted to know.
Without fail, the 325 stayed spooled. There was zero – and I mean ZE-ROH – surging. The power curve was linear, always on and fully charged. Corner after corner after corner after corner, the stinkin' thing never faded or heat soaked.
With the old 300's you could kinda feel it after a while. Not so with the 325. This thing was pulling like a big block buried in the red. So yeah, the 325 delivers. Like, hell yeah It delivers. But lets go over the other stuff.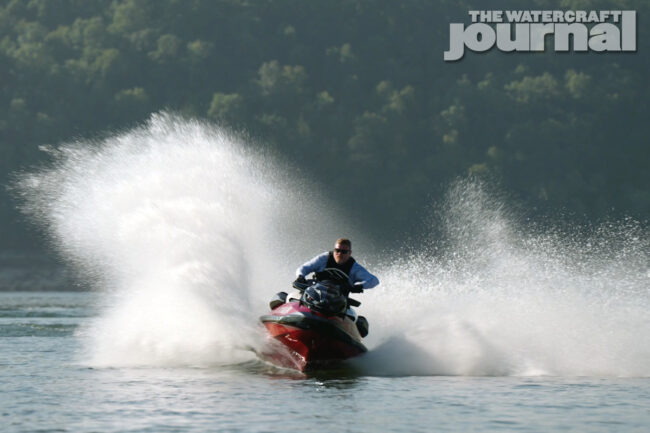 You might've heard but the 325-horsepower engines aren't available with iDF. If you didn't care, don't worry about it. But for those who were curious, the answer's no. Also, the 325's have a new impeller shaft that better closes up the carbon seal. Gone is the old floating C-clip and now there's a fastening nut with a lock washer.
You still don't want to start your ski in shallow water, run it for too long out of the water or beach it, but worries about the C-clip backing out are no longer a concern.
As a bonus, some of the upgrades made to the 1630 ACE engine – like the new starter, hose clamps, the redesigned PTO bearing, and new seal for the water pump shaft also make their way onto the other 1630 engines. Even the revised pistons, rods and valvetrain carry over. I guess BRP got a killer buy-in-bulk deal.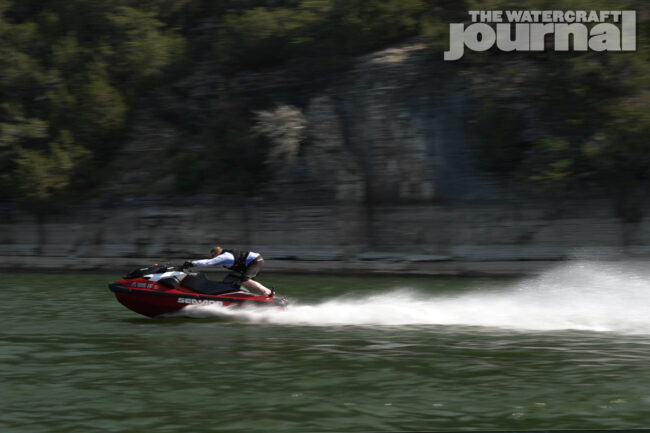 Moreover, changes to the fuel pump, rail and plumbing don't effect the fuel tank. It's still a max of 18-and-a-half gallons. Storage is the same as before too: 40-point-6 gallons, about one-and-a-half times more cargo room than the full sized RXT-X. Plus, it's got a huge glove box with a waterproof phone case. Sorry, it's just so much better than whatever the heck the RXT-X comes with.
As mentioned, the RXP-X comes with the hydraulically dampered steering. No, it's not a gimmick. It totally works, and it's one of my most favorite things that Sea-Doo has done in regards to handling and rider input in years.
The three settings are great – although every one of us who tested it wished their was a true ZERO setting. Even the number 1 setting has some resistance to it. The carbon fiber hood doesn't shave off any weight from before: it still tips the scales at 778-pounds without oil, coolant or a battery (what they like to call "dry weight".)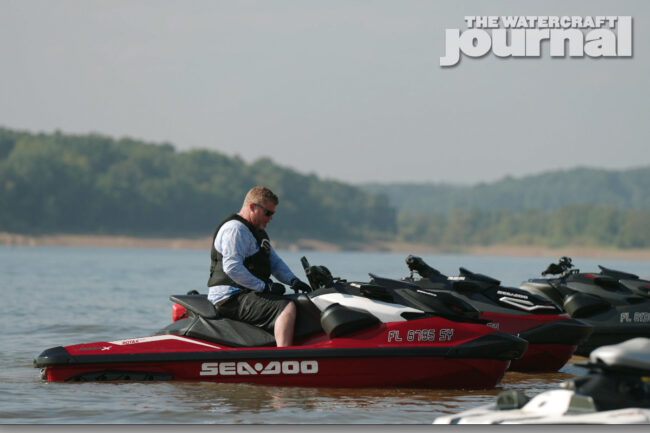 The RXP-X is available in two colors. But anyone who doesn't pay the extra $300 bucks for the Fiery Red livery and opts for the Ice Metal and Manta Green is out of their damn minds. It's friggin' gorgeous in the sun. And that's literally the only thing – besides maybe that underhood storage bag – that I would add on to the RXP-X's listed MSRP of $19,199.
It comes standard with a 7.6-inch wide digital display that lays out everything you need to know in a tidy, organized layout. Do not – and I mean do not – equip this machine with the BRP Tech Package. I don't care what you think you want. It's wrong. Don't saddle this racecraft with a bunch of extra weight you'll never need. Let this ski be what it's meant to be: lightweight, stripped-down and fast as $#&%.
I know most of you won't listen to that list bit of advice, but I don't care. Most RXP-X owners hardly ever ride half as hard as the skis they own are designed to be ran, and that's OK.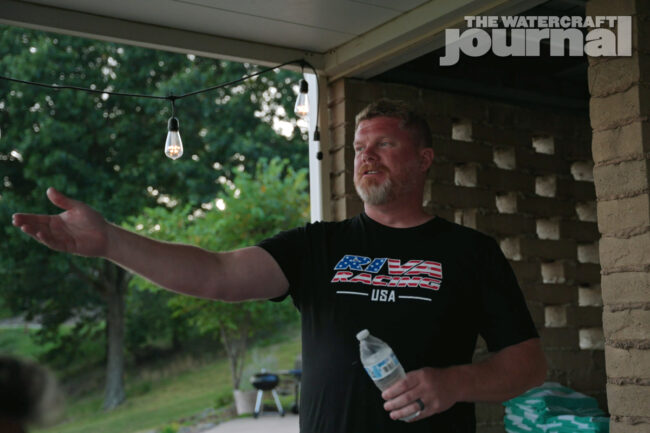 Listen, the 2024 Sea-Doo RXP-X 325 is not just a "race ready" watercraft. That's been said year after year since the 1990's. What I'm saying this is a tuner's wet dream. Once that ECU can be unlocked, you're going to see dudes pushing speeds well into the 90's without much more than a reflash of the computer.
This engine was designed to terrify the competition into submission. And damn if can do it. I wholly expect this machine to be the ONLY thing lining the starting lines of every race series next year. And don't be surprised if a few YouTube personalities become nothing but Sea-Doo test and tuning channels.
Personally, if I was 10 years younger, single and far more caffeinated than I normally am, this would be my pick from Sea-Doo's roster. No question. This ski is a weapon. Locked and loaded. So if you're eyeing it for your next purchase, make sure you wield it responsibly.