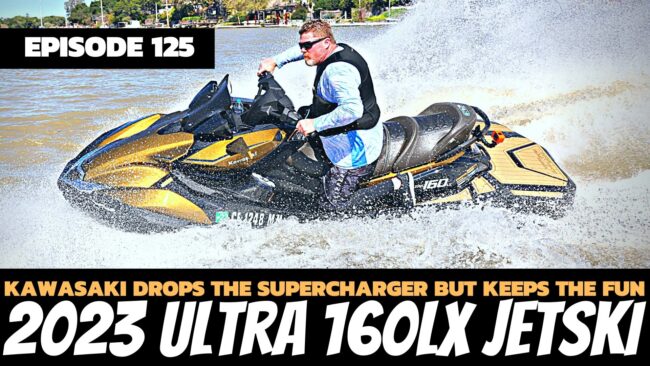 I've been vocally advocating for a fully-loaded naturally-aspirated Ultra from Kawasaki since the first supercharged luxury JetSki debuted in 2014. Until today, Kawasaki's offerings for a non-supercharged full-sized runabout were the solitary stripped-down-to-the-bones Ultra LX – and let's be really honest here, there was nothing all that "LX" about it. No brakes, no sound system, not even trim control. In fact, the LX also doubled as the brand's go-to rental unit, so yeah, Kawasaki has been lacking in the fuel-friendly, luxury market for a looong time.
So when they decided to unveil not one but two naturally-aspirated Ultras midway through the 2023 production run, my Spidey sense starting going off. Normally, you can set your watch to when Kawasaki rolls out its new units – typically, the first week of October. (They're pretty consistent in that regard.) So why a full-blown reveal on February 1st? Logistically, it was really unexpected: the countries in the Southern Atmosphere like Australia are pretty much wrapping up their summer, and us in the Northern Hemisphere hadn't even started Spring yet.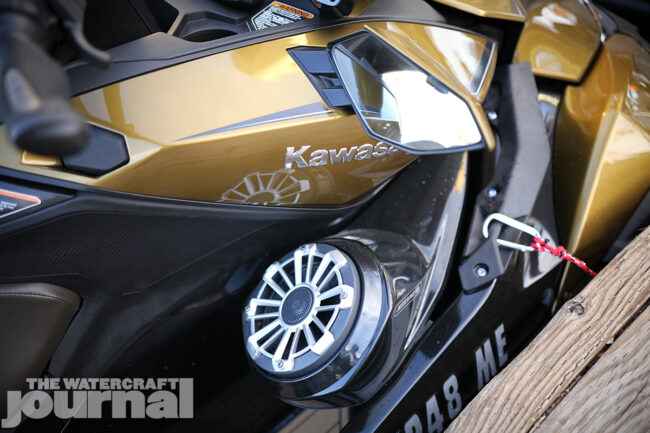 But what was happening was boat show season. Dealers across the country were seeing would-be customers wincing at Kawasaki's monstrously thirsty 310-horsepower Ultra and weighing that against skyrocketing gas prices. And it just so happened that Kawasaki had both the Ultra 160LX and 160LX-S warming up in the batter's box ready to be rolled out at any time. Knowing they had just the ski to satisfy customer's demand for a fully-loaded JetSki without the gnarly fuel consumption, the green light was given to launch the two 160's before summer.
Unsurprisingly, the formula was absurdly simple: take the loaded-to-the-gills Ultra 310LX (MSRP $20,299), yank the supercharger and intercooler and offer that up to the buyer interested in everything the 310LX had except the arm-stretching horsepower. While to some of us that may sound like heresy, to many, many others looking to enjoy the most out of their time on the water, miles per gallon is equal to smiles per gallon. For that, Kawasaki equipped both naturally-aspirated options with its tried-and-true 1,498cc inline four-cylinder 4-stroke making a solid 160-ponies all on cheapo 87-octane.
Now, I could just say that everything on the 310LX is found on the 160LX and call it a day, but I would be leaving a lot out of the conversation. YES! The 2023 Kawasaki Ultra 160LX JetSki $17,299 (MSRP) comes in the same Ebony/Metallic Shadow Gold livery (which just so happens to correspond with the JetSki's 50th "golden" anniversary this year) and includes more features than many entries from its competitors.
Right out of the gate, the Ultra 160LX includes Kawasaki's "Ultra Deck" adding 200mm of length to the rear deck (7.9-inches) and includes the brand's Multi-Storage mounting rails. The deck shares the same faux teak wood CNC-cut EPA foam carpets and includes an extended, deep-set folding swim step at the transom – making reboarding easy.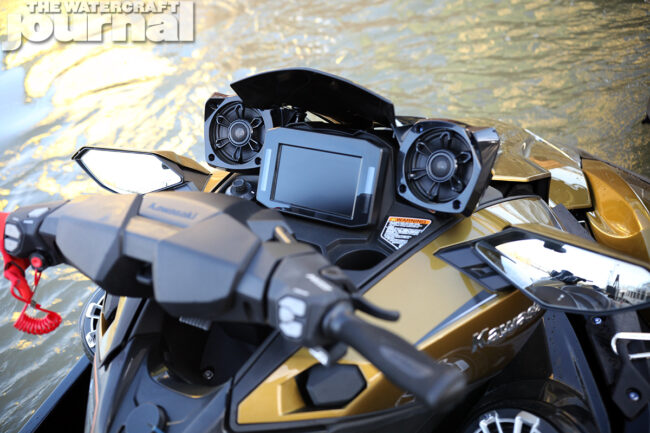 Perched above the Ultra Deck and "wet storage" pocket is another class exclusive: a rear-facing digital camera. Ideal for the driver keeping an eye on the wakeboarder, skater or raft that they're towing (that is of course to always be used with a spotter), the Kawasaki's TFT screen offers three zoom settings (155° horizontally and 115° vertically, to be exact) to keep a close eye on whose behind them.
To that point, the 160LX includes the 310's aforementioned 7-inch TFT full color digital dashboard. The dashboard and its many screens are navigated using a jog-dial and two buttons (back and select) found beneath the steering neck, although only when the drive setting is either in neutral or idling in forward. Access to any other dash page is understandably locked out when underway.
The new screen offers three different display modes, black or white backgrounds, self-adjusting screen brightness, and various entertainment features. The screen's additional functions include a GPS speedometer, tachometer, fuel gauge, drive mode, boost pressure, clock, power mode, compass, trim, Bluetooth indicator, phone call & mail indicator, cruise control; trip time calculator, oil & engine temperature, battery voltage, intake air temperature, diagnostic code, external air and water temperatures as well as indicators for a GPS signal, low fuel, engine, oil, battery, engine coolant temperature, immobilizer, master warning, trim, and reverse.
Flanking the TFT screen and at the front of each footwell is the industry's first factory-equipped four-speaker sound system – Jetsound 4S. Kawasaki provides 200 watts of audio pleasure via two channel amps, and a quartet of speakers – the lower two are rated at 60W each and the upper at 35W each. And yes, Jetsound 4S is fully compatible with most all smartphone devices and Bluetooth compatible-players. When synced to both the Bluetooth audio control and the TFT dashboard (there's two signals you'll want to pair with), all of your audio data will be viewable on the display.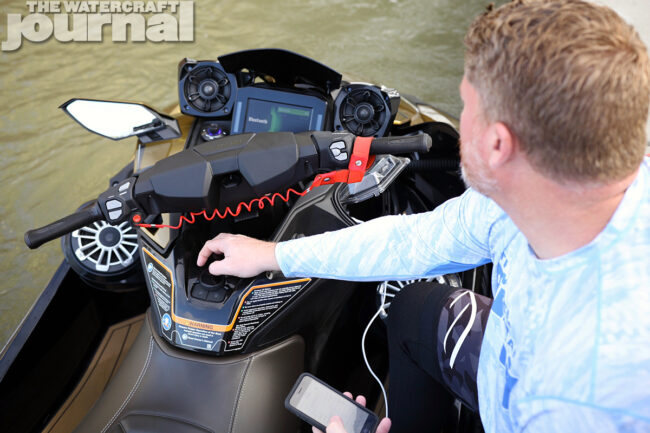 Near the dash is a similar jog dial that specifically controls the audio. The knob spins to control volume and toggles to search tracks. A press of the dial pauses or plays tracks, but the resistance is so light that skipping tracks or rapidly scrolling the volume can happen by accident, particularly while under throttle or on bumpy water. The dial was so sensitive that skipping or pausing tracks became a bit of a pill. It's not what you'd call a "deal breaker" but it sure grew to be annoying at times.
But let's talk about sound quality for a second. Most systems – speaking specifically of Yamaha and Sea-Doo – tend to drown out above 50mph. Not so with the Jetsound 4S. Now to be fair, the Explorer Pro's windscreen shields the speakers from wind noise better than anything, but you'd be damned to get that ski moving above 50 miles per hour especially with it laden down with cargo.
Rather, Jetsounds remains extraordinarily clear at wide open throttle (I fared a max speed of 55mph going down river and with a quarter tank of gas. I never broke 50mph going upstream, so take that for what it's worth). Obviously, sound quality varied depending upon whether you sat or stood, but all of us who rode the 160LX agreed that a lack of volume was never an issue.
The 5-way adjustable tilt handlebars are capped with pistol grip-style handgrips. They're not as flat as other brand's grips, and feel pretty natural whether sitting or standing. The control modules enjoy all-new buttons wrapped with sealed membranes that give a satisfying "click" with each press. On the right are the three buttons for Cruise Control that can adjust up or down three levels for a little more speed (or to slow down).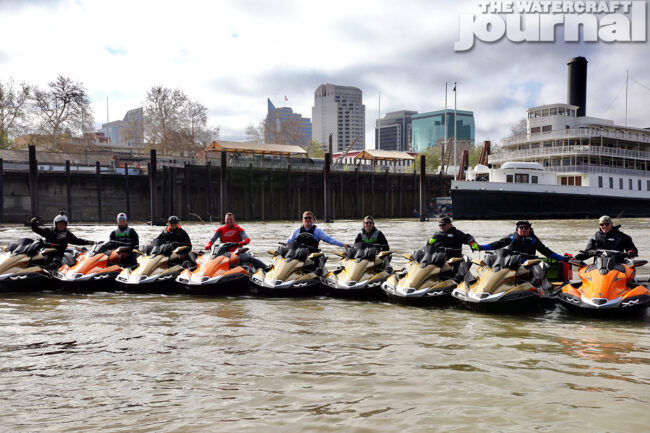 These also double for the No Wake mode controls while operating in a specified zones. Just press the center button while at idle and the JetSki will push forward at 3-to-4 miles per hour. Toggle up one or two bumps to get above 5mph and trim the nose up (using the electric trim control on the left hand side) to keep the nose from plowing and washing over the bow of the ski. Only at 6mph or above will the bow's sharp 22.5-degree deadrise begin to generate any lift and bring the nose above the waterline. (Just a little friendly bit of advice.)
Above the trim control is the Mode select button offering the choice of 3 power levels: Full, Middle, and Low (akin to using the SLO – Smart Learning Operation – key). Full mode accesses all of the Ultra's 160-horsepower. Middle reduces the engine output to 80% – and is also the default setting when first ignited; and Low mode is 60% of full power.
Even without being supercharged, the Ultra retains the Kawasaki Launch Control Mode (KLCM) feature, allowing for single and repeat launches. For the uninitiated, KLCM automatically adjusts the trim for optimal acceleration. When set in Single mode, the Launch Control will only activate for the first acceleration pull, whereas in Repeat mode, the KLCM remains on until manually deactivated.
2023 also notes the incorporation of Kawasaki's full fly-by-wire throttle control and engine management system for the naturally-aspirated model. With that also heralds the long-anticipated Kawasaki Smart Reverse with Deceleration (KSRD). The thumb trigger is part of the accelerator ensuring that one won't overpower the other. When depressed, the reverse bucket is slowly deployed, producing drag beneath the ride plate, slowing the Ultra to a standstill.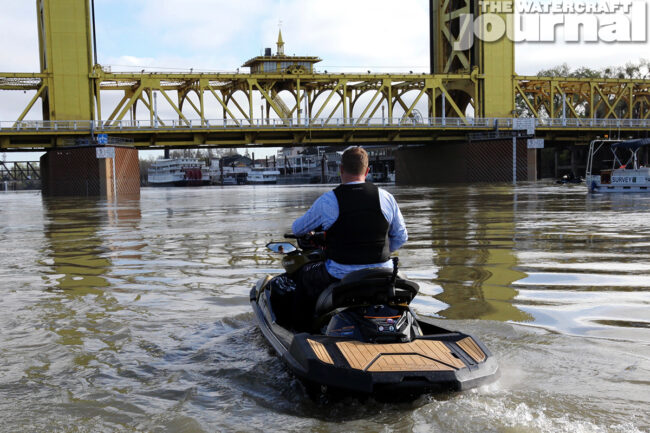 If you release the trigger at this point, the drive mode will return to neutral. If you kept the thumb depressed, the drive mode would automatically engage Reverse, reversing the JetSki until released. The dance between the thumb and trigger finger may take a little bit to acclimate to, but it's nowhere as complicated as may sound here.
After spending a day on the 160LX it was all too evident that the transition between forward and reverse was agonizingly slow. Whether inching up to a dock or having to slam on the brakes, the KSRD just lagged – and surprisingly so, considering that such a delay isn't found on the supercharged model. This is not a mechanical issue but one of tuning and can be easily remedied by a skilled engine tuner with a laptop whether by the factory or aftermarket.
Given that the 160LX doesn't tout the Eaton TVS supercharger, intercooler and catch can, it tips the scales at 987.8 lbs., some 101.5 pounds less than its supercharged sibling. While that certainly won't classify the Ultra as a "featherweight" in its class, it's still riding on Kawasaki's industry-leading, rough water and open ocean championship-winning hull.
For those familiar with The Watercraft Journal and my exhaustively long rants, you'll know I'm already a fan of the Ultra's hull. In my experience, I've found it to be the single best at sluicing through chop, absorbing chatter, jolts and vibrations. I credit this to the true Deep-V hull being molded in durable gel-coated SMC fiberglass – just like how everyone else used to make their skis.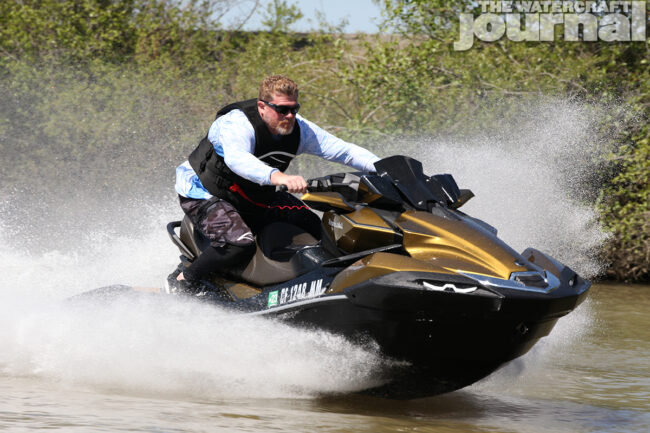 It's thick, durable, resistant to scratches and impacts, and stupidly easy (and not to mention cheap) to fix. The newfangled stuff is cool, but dang if its not been a headache for those who've experienced failures. For the guy looking for reliability and durability, Kawasaki is the only one kicking it old school. For the Ultra's redesign, Kawasaki radically lowered the Ultra's center of gravity dropping the overall deck height by 1.38-inches as well as widened and deepened the footwells, setting the rider lower and gifting them more leg room.
Ergonomically, the Ultra sports a narrowed two-piece, three-tiered seat. It's pinched 3.15-inches at the knee, eliminating that old Clydesdale-wide saddle feel and more clearance for riding standing up. This new seat – dubbed Ergo-Fit LXury – is sculpted from a new formula of urethane foam providing deeper hip support and improved jolt and vibration absorption. Wrapped in black and brown heat- and UV-resistant materials with high-contrast white stitching, the LXury bench offers three positions of adjustment spanning 2.75 and 1.4-inches apart.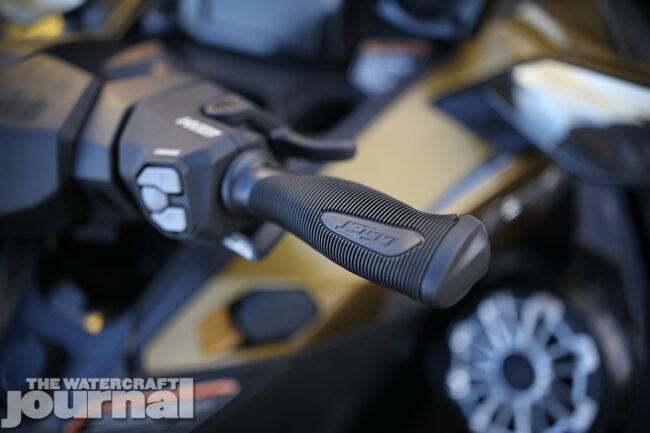 If that wasn't enough, the 160LX includes a class leading 21.1-gallon fuel cell and 44.5-gallons of storage broken up between the aforementioned 2.8-liter "wet storage" cubby on the rear for a dock line or tow rope; a high-walled 32.8-gallon front stowage bin; and 10-gallons of console storage shared between two gas-strut supported gull-wing doors.
This center storage is well-sealed beneath solid, smooth-locking latches, is very easy to access whether at a standstill or even underway, and includes a watertight phone pocket with two USB ports. During my day on the Ultra 160LX, I kept my phone plugged in – as I was using it paired to the Kawasaki's sound system – and a second plug to recharge a couple of GoPros.
The front tub is voluminous which is great, but makes reaching items at the bottom an acrobatic feat if not impossible, at least when out on the water. It's best to put stuff you don't think you'll need until to you stop in there. For everything else, I'd keep it in the center bin. Oh yeah, and Kawasaki molded in a pair of super-deep cup holders in the console. Even at wide-open-throttle across 3-foot white caps, my water bottle didn't bounce out – and trust me, I was trying to get it to eject with no luck.
On it's own merits, the 2023 Ultra 160LX is pretty much everything I had been begging Kawasaki to build. And frankly, it's a no-brainer. When compared to like models – say Yamaha's Cruiser HO ($16,699) and Sea-Doo's GTX 170 ($13,999) – the Ultra creams the competition in the way of standard features, but you're definitely gonna pay for it.
If you line the 160LX up against say, Sea-Doo's Explorer Pro 170 ($16,799) or Fish Pro Sport 170 ($16,499), the 160LX begins to see a little tighter competition in the way of features, capabilities and some tighter pricing. In all fairness, I came down pretty hard on the Explorer Pro, so for me to give the Ultra 160LX unfettered praise would be disingenuous at the very least.
As noted, there are a few teething issues: the control fob for the Jetsound 4S system is twitchy at best; the near non-responsiveness of the KSRD certainly calls for recalibration; and boy howdy, does the Ultra beg for a repitched ride plate to keep the nose from submarining. But the Ultra, unlike the Explorer, is still a fun, lively machine.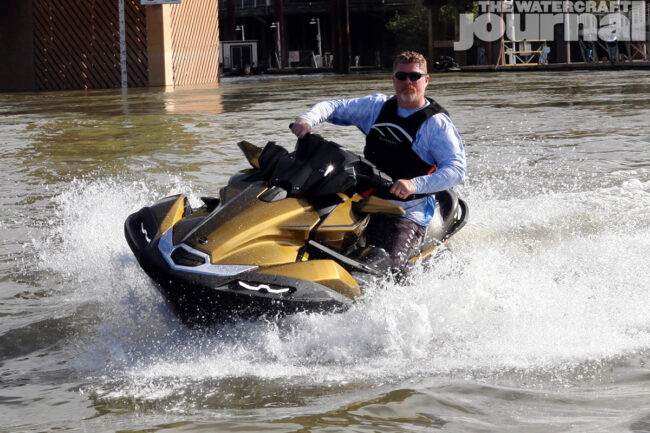 It can be slid hard into a flat slide with enough body english; it'll tuck down low and carve a full-throttle S-turn if you push it; she'll blaze over 20-mile-an-hour-wind-blown white caps like any offshore racer…but it'll also cruise comfortably, miserly sipping on 87-octane as every strum and pick from Lindsey Buckingham's "Never Going Back Again" resonates in peak clarity to your ears.
For the would-be buyer looking for a incredibly comfortable cruiser that touts a king's ransom in bells & whistles, won't drain the tank in 20 minutes' time and can still be sporty if you want it to be, the 2023 Kawasaki Ultra 160LX JetSki has our vote.