The AWSA rounded out their race season with their final event last weekend at The Nautical Beachfront Resort in Lake Havasu City, AZ. With next-to-perfect weather (including an early morning monsoon on Saturday) combined with the die-hard AWSA staff, the race weekend couldn't have been more successful or fun for both spectators and racers. Attendees also saw a fresh face to this event as Deegan Newton stepped in to not only make the weekend run professionally and smoothly. "The championships this weekend was my first race ever acting as a race director," Deegan mentioned. I kind of just went for it."
The class structure went through a complete overhaul before the weekend, making for "less classes and fuller lines." AWSA staff also decided to run a 2-day, 3-moto format which made for a more relaxed and efficient race schedule. "I loved doing the 3-moto format because if you have one bad moto, you can still come back and win the overall with two good moto finishes," Deegan states.
This also seemed to greatly appease the racers and families that arrived from out of state, some traveling as far as Alberta, Canada and Florida to come race. "I wanted to focus on making sure there were less classes, which means more racers on the line and more motos per class. Everyone likes seeing stacked lines, which leads to good battles."
With a background in both jet ski and motocross racing, Deegan knew the second most important aspect of making a good race event is track layout. "The biggest thing people complain about in regional racing is that the tracks are too short, and that we don't seem to get enough laps for the prices we pay. I wanted to change that."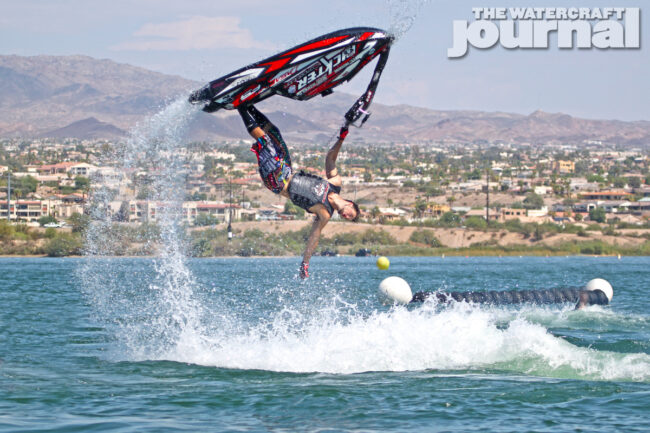 Complete with a right hand split section and a log jump in front of the boat docks, riders had plenty of opportunities for passing. "I wanted to design a cool track layout that was different than what most racers are used to, but also make it larger so that racers knew that they got their money's worth."
Riders of all ages seemed to thrive in this new and improved racing atmosphere, and the class results were the proof. Notable mentions from Saturday was the Junior 10-12 Lites class. These kids are not only the future faces of the sport, but also the most stacked class with 12 entries filling the line. Havasu local Ty Smith (#515) took first with Brody King (#411) in second and Long Beach native Weston Barre (#105) rounding out the podium in third.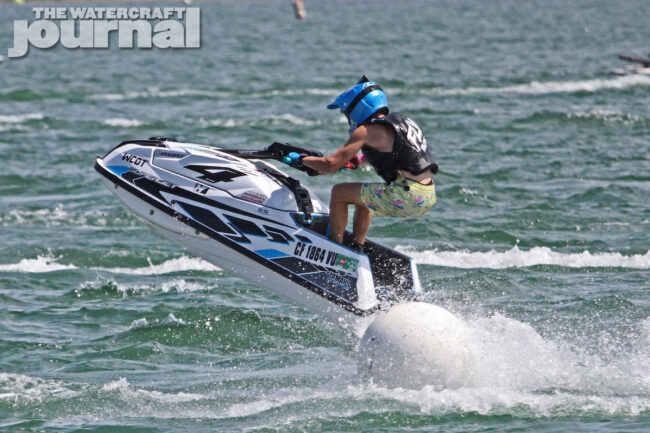 Another class worth mentioning that is slowly growing is the infamous SuperChicken class. A popular and hilarious class to watch, the beach quickly packed with spectators to see the go-cart like machines take to the course.
Freestyler Mark Gomez (#PINK) maneuvered his wife Kaley's bright pink ski around the buoys with ease, taking first, with Deegan's father, Jesse Newton (#619) finishing second, and Nick Giles (#521) finishing third. Sunday was an equally eventful day when a last-minute class, Vet Ski Lites aka "MotoDad" class, was quickly added to the roster.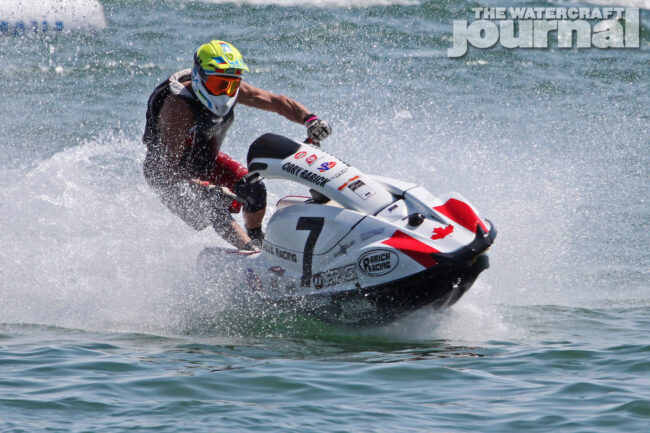 Eleven entries filled the starting line and settled their differences out on the track, with Tom "Tomski" (#712) leaving his competitors in the dust on a SuperJet, with Taylor Curtis (#155) and Raymond Barre (#5) finishing second and third. Novice Ski Lites was the largest class with 18 entries. Newport Beach resident Dane Duda (#712) battled his way to first, with Havasu natives Maddix Haynes (#555) and Ty Smith (#515) following close behind.
Overall the weekend finished with an awards banquet at the Nautical Convention Hall, where riders received trophies and other incentives. "We had some really cool trophies made, as well as five classes receiving cash payouts," Deegan mentioned. "I'm excited to see what the future brings for me as both a racer and a race director. The sport is started to gain momentum, and I'm seeing a lot of new faces. Bring on World Finals and the 2022 season!"