The Crazy Horse campground once again hosted racers and spectators for the JetJam rounds 6 and 7 in the  racing tour. Dubbed the "Race for Cure," this event donated proceeds to the local Cancer Association of Havasu, having raised $1200 to the cause. With over 150 pre-registered racers, and 27 classes to choose from, the weekend was guaranteed to be action-packed, and HOT!
Homegrown Havasu native Kyle Cameron (#40) battled his way to the lead in the Vintage X2 650 Limited class, finishing 1-1 on Saturday with eight other racers on the line. "It was fun racing this weekend! And a very tight group in the class made for awesome motos!" Kyle is currently 6th in the series points standings.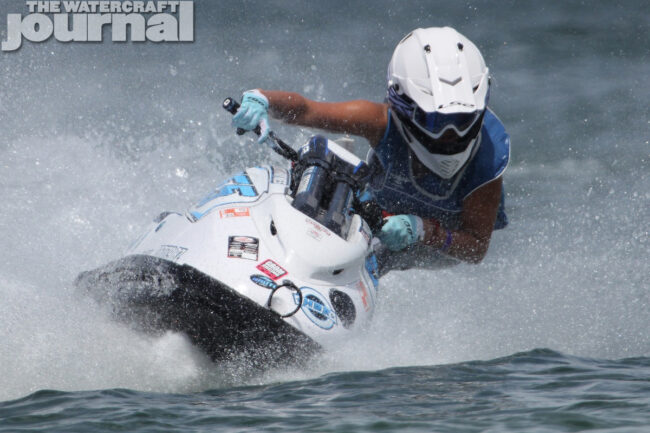 Palmdale's own Jim Alamillo (#222) had a spectacular weekend of racing, sweeping his class with 1-1 finishes on Saturday's Runabout N/A Stock, and 1-1 finishes in Runabout 1100 Stock on Sunday. With the likes of Renee Hill, Adam Jenner, and Wayde Bloedorn knocking on his door, Jim is really going to need to have consistent motos as he currently holds the top spot in series points.
Currently leading the series points in Junior Ski 13-15 Lites is Maddix Haynes (#555) aboard his Yamaha SuperJet. "Saturday was a little rough with a ski mishap during practice, but luckily I was able to use Mason Hayne's ski to help get me through the day. And with some help from Taylor Curtis, I was able to get my ski fixed for Sunday's race! Thanks TC Freeride!"
Despite ski issues, Maddix took 2-2 on Saturday, following with a 1-1 on Sunday. Did we mention he is also points leader in Ski Am Lites? This kid is a force to be reckoned with!
Havasu local David Zipperian (#508) is dominating the stock class this season, as he currently stands as points leader in both Ski Master Stock and Ski Am Vet Stock on his GoFast-built SXR1500. With a rough run at May's Huntington Beach race that sent him to the hospital with bruised ribs, David was glad to be back on the water and racing again.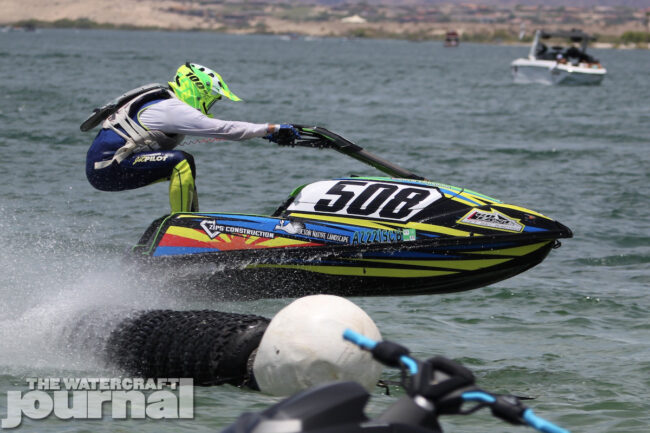 "Most of all I'm thankful to be healthy and had no setbacks. It's much more fun to go to the podium than the hospital!" David cleaned house both days with 1-1 in Ski Master Stock, and 3-1 and 1-2 in Ski Am Vet Stock.
With a little bit of a break from racing for the next few months, racers will continue their training programs and spin laps at their local watering holes until we head to Lake Elsinore in August for the next round of Best of the West racing series!