Certain words come to mind to many racers when they hear these three words, Camp Far West (or CFW) for short, located just about an hour northeast of California's state capital of Sacramento. Many may think, sun, some may think 1⁄4-mile cove, but one will prevail: red mud!
If you have ever been along the shores of Camp Far West, you'll know all about what happens when the Mother Lode Red Clay and water mix. Some say it's the secret ingredient for speed, the dust works with the race fuel for extra horsepower, others say the water, NorCal sunsets and a large bonfire are 75-percent of the reason many World Champions have practiced and trained here. All we know is AWSA's Hydro-Turf JetJam National Tour Rounds 7-8 was here for their second tour stop of California with fair, fun and family racing!
The infamous "Jet Ski Cove" along the northern shore of the lake saw teams set up their trailers, toy haulers and pits to get the best spot for the weekend. The Red Shirt crew had the cove set with Red, Yellow, Blue, Green and Checkered buoys and the Skat-Trak log jump was all set for those ski classes to challenge it!
As the motos were set up for the riders, Saturday's racing started off with the Junior racers. #88 Jake Pierce and the bright orange SX-R #7 of Dominic Cannady took 1 & 2 and did it again Sunday. Runabout 800 limited had some neck and neck racing with #3 Nick Lesesney, #222 Krissy Vaughn, and yours truly, #33 Doug Wolff atop the podium for Saturday.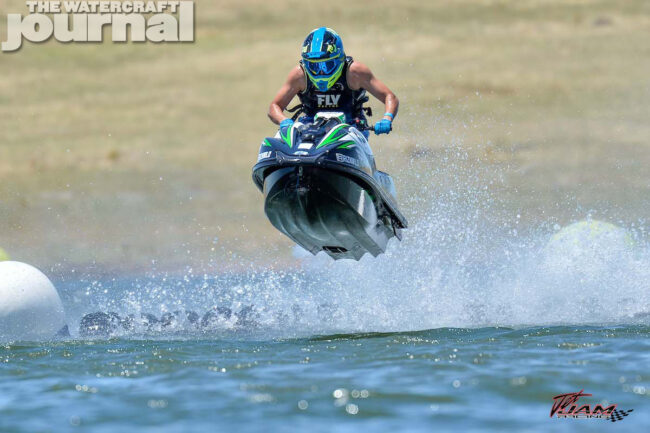 Vintage ski had two classes starting off with #SRB2 of Mike Prodanivich, #327 Ben Schembri and #27 Bryson Olson taking the top three spots. Bryson talked his girlfriend and three of her friends into racing 550's and creating a Woman's 550 ski class. #12 Kristen McCormack, #27 Bri Tate, #33 Krisdy Riddle and #910 Britni Tallerico showed the shore girl power tossing those 550's around the track.
Sport GP1 Open had 'Blasters and Hx's from all over the western United States. Chris Heppe's #73 'Blaster led Jackson Rod's #5x and Zack Martinez's #195 for the win! Coming down off the tower, Bill Austin jumped on his #771 SX-R 1500 and battled #149 Pete Zernik and #365 Duane Bascom for the win in Ski Vet Open. Coming all the way down to CFW from Lake Stevens, Washington, #723 Curtis Pitman swept both moto wins over #55 Bob Vassalo and Caleb Kile #26.
With the safety team on the water making sure the course was intact and the splits were timed to perfection, Sunday morning started off with a rider's meeting and a sermon by Caleb Kile of Walking on Water Ministry. A quick practice session was offered to those racers who wanted a little extra track time. The smell of race fuel started to fill the air and the view of racers gearing up to take the water.
Vintage X2 saw #16 Tyler Toline on the top step showing two former X2 world champions #505 Hayden Item in secon​d​ and #7 Tom Yamamoto taking thir​d​. Ski GP3 2 Stroke Expert was a class to watch with #605 Seth Furhman taking the win over #771 Mason Dietz and #812 Matt Rollings. Sport GP2 Spec had CFW regular #951 Norm Yee take the overall over #15 Josh Vidal and #23 Tony Parker.
Ski GP5 Stock Novice had some eye-opening racing but, overall #831 Tallon Chambers took the win with #7 Dominic Cannady on the second step and #298 Kyle Kreeger rounding out the Top 3. Runabout GP 800 limited had a first-time winner #51 Chad Campbell holding off #3 Nick Lesesney and #222 Krissy Vaughn.
Closing out the weekend we were entertained by Derrick Kemnitz Sr., Eli Kemnitz, Derrick Kemnitz Jr., and Kelly Heike throwing down some awesome freestyle for us. For full results, please log onto ​www.jetjam.racing​ and we hope to see you in Florida for the JetJam Surf Cup! Also, coming up is Rounds 9-10 August 3-4 2019 in Lathrop, Ca at Mossdale Lake.