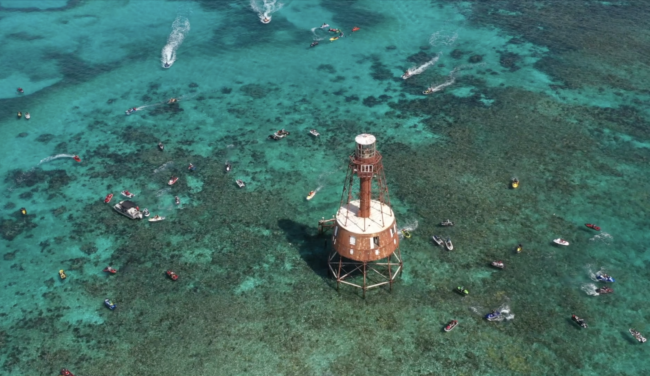 With a year of planning and preparations from Adam Williams, Parts Specialist Broward Motorsports Racing/Florida PWC Riders, Sam Nehme Owner Broward Motorsports, and Danny Ayala General Manager Broward Motorsports of Fort Lauderdale, hundreds of riders from all around the state of Florida and surrounding areas were able to experience the Broward Motorsports Rec Ride. The event took place in the beautiful Florida Keys, starting in Key Largo, riding North through the Card sound to North Key Largo, cutting across to the Atlantic to Carys Fort Reef Lighthouse and then back.
The festivities started on Friday with a Meet and Greet. More than 30 riders from various groups drank, ate, mingled, and won tons of giveaways from Broward Motorsports, including anything from Shirts, ShockStraps, Al3rt GPS, SureCan Gas Cans, and BMS lifejackets.
Once past Gilberts Resort, after respectfully honoring the No Wake Zone, now hundreds of skis were able to open throttle and start their journey on choppier waters toward the famous, and stunning Carys Fort Reef Lighthouse. Once there, they were given over an hour for exploring, snorkeling, mingling with friends, and meeting new people. Then it was time to return. But not before grabbing some grub! Riders now made their way back to Gilberts Resort Tiki Bar where they tied up to other skis, enjoyed some seriously good food from Gilbert Resort Tiki Bar.
Safety was of the utmost priority for this ride. Broward Motorsports supplied an aid boat that provided extra fuel, first aid kit, water, and a film crew to document the historic event. There was heavy United States Coast Guard and Florida Fish and Wildlife presence throughout most of the route. This was thanks to the collaboration between Broward Motorsports and both agencies, who seamlessly worked together in the best interest of public safety and the protection of Florida Keys National Marine Sanctuary.
With close to 100 skis and over 100 people have participated in this unprecedented ride, it can be safely said that the 2019 Broward Motorsports Rec Ride was a huge success. The event was an amazing opportunity to bring riders together to explore new areas and bring commerce to the Florida Keys. PWC riders from all over Florida participated and experienced the beauty, and wildlife the Florida Keys have to offer.
Adam wrote, "Aside from the groups' hard work and dedication, this event was also possible thanks to our main sponsor Tony Tarell from Al3rt GPS. We also wanna thank Krash Industries, Strong Island Jetski, SureCan, And ShockStrap for their contributions to the Broward Motorsports Rec Ride. To those that attended to the 2019 BMS Rec Ride, Broward Motorsports and Florida PWC Riders, hope you had the time of your lives. And mark your calendars because we will be back again in less than 365 days!"