Can you believe that it's October already? Where has the year gone? And while the leaves might be changing to ambers and ochers, that doesn't necessarily mean you've gotta pack up your PWC – you just gotta start dressing a little warmer. Thankfully, The Watercraft Journal loves you, appreciates you and thinks you're perfect just the way you are. And that's why we thoughtfully considered your needs and whipped up this super comfy premium hoodie for you.
Available in four different wintry color options (black, charcoal, azure and navy) you can wear it to and from the dock, or heck even while you're riding if you're not planning on getting too wet. With thick white drawcords you can cinch up the hood over your ears, and the thick, open kangaroo pocket works great to warm up your hands after a few hours speeding around the lake. Priced at $39.99, you can pick up your The Watercraft Journal hoodie exclusively at our new TeeSpring apparel store HERE.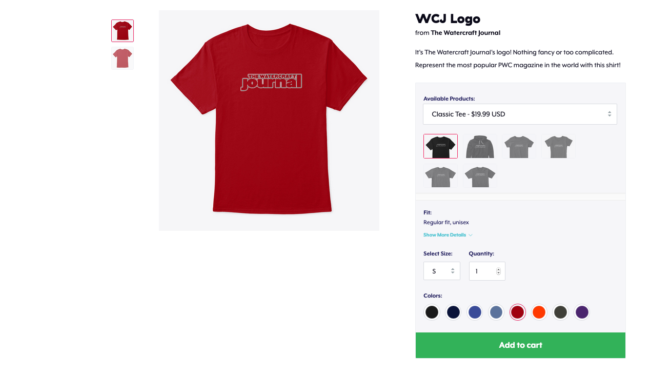 And if you're still enjoying warm temperatures and want to support your favorite personal watercraft magazine that slaves day-in and day-out to provide you the best industry news, reviews, event coverage and more – all at zero cost to you – then try out one of our new WCJ T-shirts. Available in two men's cuts (Classic and Premium), two women's cuts (Women's Classic and Women's Comfort Tee) and even kid's sizing, it's offered in nine colors and priced between $19.99 and $24.99 depending on your choice. They too are sold exclusively HERE.
These make for great gifts too! Shipped directly from TeeSpring, you don't have to wait for EIC Kevin to get off of his butt to pack 'em into an envelope and drive over to the post office anymore! And they're made exclusively to order, so we won't run out of sizes or colors either! Just click the one you want, and there you go! Oh yeah, and we ship internationally without any stupid penalties! We're international, baby!