With over a year of planning and preparations due to Covid 19 Adam Williams of Florida PWC Riders/ Broward Motorsports Racing, Manny Arroyo of Jet Rider Nation, and Bassil Alrubaie of FL River Riders, hundreds of riders from all-around the state of Florida and surrounding areas were able to experience the Broward Motorsports Rec Ride. The event took place in the beautiful Florida Keys, starting in Key Largo, riding South through the Gulf side to Islamorada, cutting across to the Atlantic to Alligator Reef Light and then back.
The logistics of launching over 180 skis in the Florida Keys was one of the biggest challenges for this ride. Therefore, for Saturday, riders were given a choice of three marinas to choose from including John Pennekamp State Park, Caribbean Club, and Yacht Club Drive. Although riding was officially set to start at 10:00 AM, some riders were lining up at the ramps as early as 5:00 in the morning!
This undertaking would simply have not been possible without the local knowledge of organized groups such as Florida PWC Riders, Jet Rider Nation, and FL River Riders. All aforementioned groups had team leaders staged at each ramp location to help guide riders to the initial meeting point.
From the meeting point, the epic ride began. Riders would wind south hugging the Everglades National Park boundary, through beautiful mangroves, narrow channels, and the iconic Toilet Seat Cut. As the Rec Ride approached the Islamorada Sandbar, you could see skis stretching for more than a mile.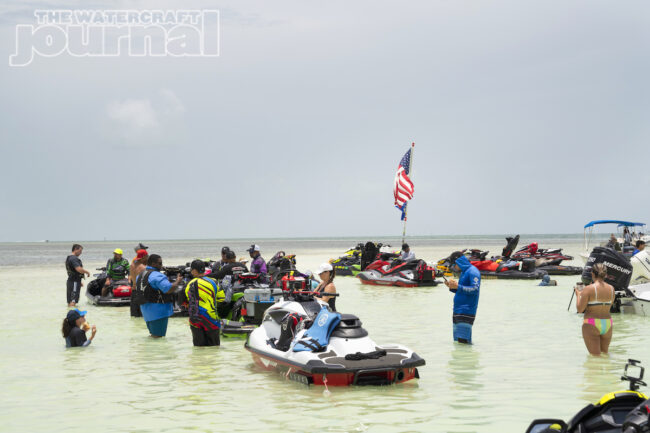 Once past Channel Marker 1, after respectfully honoring the Islamorada Sandbar No Wake Zone, now hundreds of skis were able to open throttle and start their journey on choppier waters toward the famous and stunning Alligator Reef Light. Once there, they were given over an hour for exploring, snorkeling, mingling with friends, and meeting new people.
Then it was time to return. But not before grabbing some grub! Riders now made their way back to the Islamorada Sandbar where they anchored or tied up to other skis, enjoyed some seriously good food from The Pincho Barge, got more giveaways, from the ride.
Safety was of the utmost priority for this ride. Broward Motorsports hired local law enforcement to help aid with the safely of the ride.This was thanks to the collaboration between Broward Motorsports and both agencies, who seamlessly worked together in the best interest of public safety and the protection the Florida Keys National Marine Sanctuary.
With close to 200 skis and over 400 people having participated in this unprecedented ride, it can be safely said that The 2021 Broward Motorsports Rec Ride was a huge success. The event was an amazing opportunity to bring riders together to explore new areas, and bring commerce to the Florida Keys. less than a year after being battered by Covid 19. PWC riders from all over Florida, and surrounding areas such as Georgia, Tennessee, Pennsylvania, North Carolina, New York, and even Canada participated and experienced the beauty, and wildlife the Florida Keys have to offer.
Aside the groups' hard work and dedication, this event was also possible thanks to Sam Nehme, the owner of Broward Motorsports. And to those that attended to the 2021 Broward Motorsports Rec Ride, Broward Motorsports, Florida PWC Riders, Jet Rider Nation, and FL River Riders hope you had the time of your lives. Huge thanks to our sponsors of this ride: BRP Sea-Doo, FINN GPS, PWC Brackets, and PWC Doctor!