Behind closed doors there's a race towards sales supremacy that goes unseen by the typical personal watercraft enthusiast. Dealers vie for territories, expanding their reach to larger markets. Equally, deals made behind closed doors permit special pricing, unique discounting and breaks wherever possible. Anything to shave a few dollars (or cents) from the dealer's expense and lure more potential buyers in through their glassy front door.
It's the nature of doing business and it can be a little cut-throat at times, especially when it boils down to the biggest, most fertile market in the continental United States: Florida. Time after time, Florida has remained the leading consumer marketplace for PWC sales and there's no sign of it slowing down. Of all of dealers and distributors in the state, two are in hot contention for first place: RIVA Motorsports and Cycle Springs Powersports.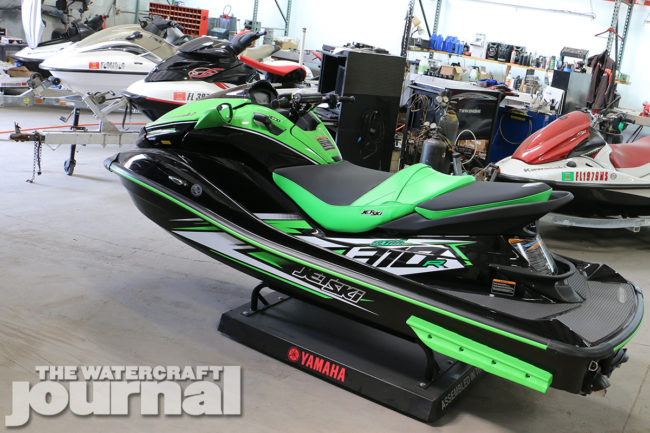 Despite RIVA's three locations and brand recognition through RIVA Racing, the solitary Cycle Springs store manages to move several hundreds of watercraft a month. To the untrained eye it might appear to be another "David and Goliath" story, but the right perspective would reveal David to be toting an AK-47. Cycle Springs' Clearwater, FL location gives the dealer a centralized advantage, allowing easy access to enthusiasts more readily throughout the state, with water close enough for sales staff to escort buyers to the dock and walk them through the many features of their latest purchase. In fact, Cycle Springs' hands-on post-sale treatment is a key attribute to so many customers' return business. With the sale of every ski, the buyer is carefully guided through the launching and docking process, how to use the various features of the unit and how to properly flush and care for their new purchase.
Equally, in addition to selling the latest watercraft from Yamaha, Kawaski, and Sea-Doo (as well as Polaris, Quadski and Flyboard), the family-owned franchise dealership offers both OE and its own parts, which are not only available through their online store, but also through Western Power Sports (WPS) and other outlets; including their own pop-up cleats (which come free with the purchase of any PWC) and spray-in engine oil fogger kits to better preserve the engine's longevity.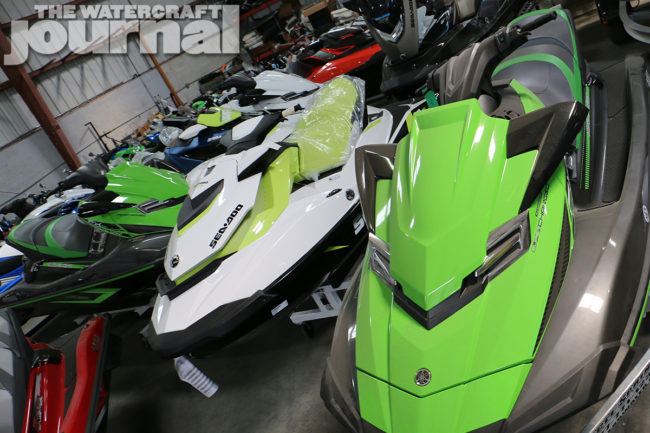 Started by Noel Hughes and Marty Skapik out of a small garage in 1989 on the Dunedin Causway, Cycle Springs has risen to the top by their commitment to personalizing the customer's purchasing and service experience. To whit, Cycle Springs' industry-leading self-maintained Lifetime Engine Warranty, Money Back Guarantee and 50% Pre-paid Maintenance Plans have not only earned their place in the Florida market, but nationally as well.
So it only makes sense that their service department is expanding at an exponential rate. When we last visited Cycle Springs, construction was well underway for an all-new (and massive) service center. Guided by Cycle Springs' Kenny Gore, we toured the current service center and storage facility that the dealer had simply outgrown; "See all of these crates here? In a month's time, they'll be uncrated, prepped and sold, and replaced with more units. We'll move over 300 units in some months."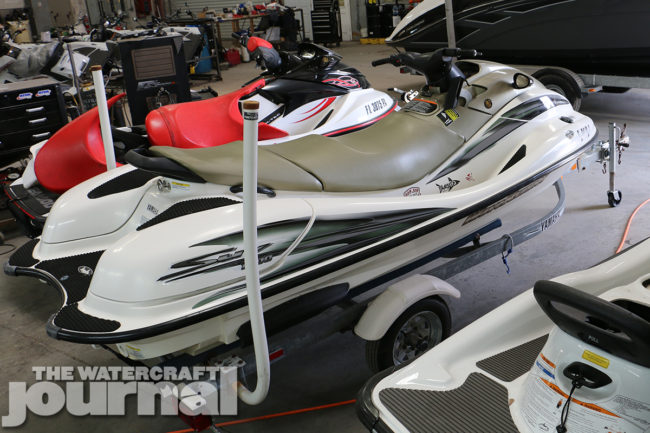 Service techs rushed through the melee of a busy workday and maneuvering through the storage units. But clearly, they're doing something right: "Cycle Springs is one of our top dealers," explained Yamaha Motor Corp.'s Andrew Cullen, listing them among mega-stores like RIVA and Walt's in Southern California. "They're the utmost of professionals and are fantastic representatives for us. If there's something they need from us, we work to make it happen, because if they're happy, we're happy. It's reciprocal."
With the new facility to open up shortly, plans for radically updating the main showroom in Clearwater are already on the table. "We really want to focus on the customer's experience. If they enjoy their time here, then they'll always want to come back." And by emphasizing on the customer and their needs, Cycle Springs Powersports has shown its mantra works, even when poised against some of the biggest dealers in the nation.