Change. Whether it was to the skis, to the scenery, or to the chilly weather, it was in abundance in the third round of the Hidden Trails Pro Watercross National Tour. The beaches of Florida from Rounds 1 and 2 turned into the beautiful mountain backdrops of Sparks, Nevada. Sparks provided an amazing stadium style lake venue for the Pro Show to amaze the locals who showed up to support our sport. High elevation caused many competitors to scramble on the days leading up to race to find the correct set up to make the most power, almost everyone found the correct set up and it made for some very exciting racing.
On Saturday, the Pro Show kicked off with a stacked field in Pro Ski Stock class. A familiar face, and team Kommander rider Derrick Helm, who was absent from the first two rounds of the tour took the big Moto 1 win in exciting fashion. This set up a great battle between himself and Broward Motorsports rider David Cabrera that went back and forth for all three motos. Cabrera ended up taking his first moto win of the year in Moto 2 with Helm regaining the top spot and the overall by winning Moto 3. Cabrera finished seconnd overall for his best finish of the tour. Curtis Pitman edged out Mark Gomez to round out the Top 3.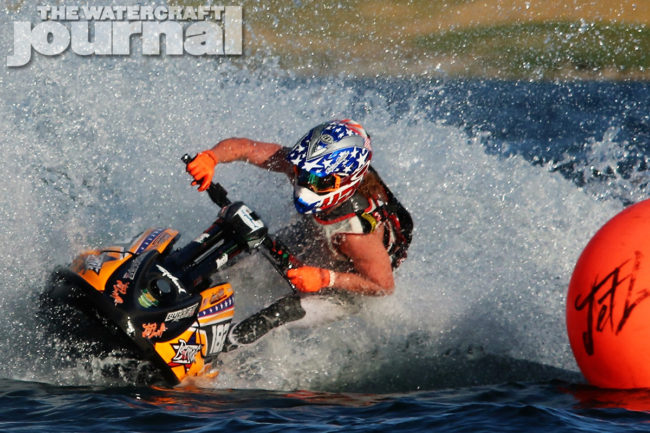 Sport GP and class favorite Broward Motorsports owner Sam Nehme was up next on the schedule. Moto 1 started off with quite the surprise though with newcomer to the tour for this year, Denny Janeway pulling a huge holeshot over Nehme's Tim Judge-prepped 'Blaster. This set up for a very exciting Moto 1 win for Janeway. Nehme made a mistake while going for the pass that actually put him back to third allowing Team Faith rider Kelly Smith to grab the second spot. Nehme quickly made up for the Moto 1 finish by following it up with Moto 2 and 3 wins to seal the overall for the weekend. Janeway just missed out on the top spot by losing the Moto 3 tie-breaker finishing second overall. Kelly Smith, last year's champion, closed out the Top 3 with three consistent finishes.
Pro-Am Runabout Box Stock class has been owned by Monster Energy, Mountain Motorsports rider Dustin Farthing aboard his Sea-Doo RXP-X but this weekend Judge Motorsport's rider Troy Snyder made him work for it. Snyder pulled three huge holeshots this weekend but it wasn't enough to stop Farthing and his dominance. Farthing once again won all three motos but the battle for second really heated up between Snyder and Hidden Trails Motorsports rider Tim Ducat. Ducat bested Snyder in all three motos after some great battles to finish second behind Farthing. Snyder finished third after some bad luck in Moto 2 for his first podium of the year.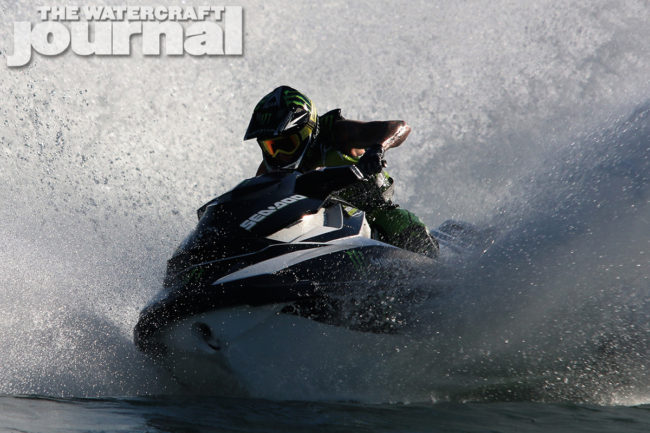 Once again top to bottom, the most talent filled line of the weekend was Pro Am Ski GP, and once again another theme rang true, Team Kommander showed up in full force. In Moto 1, Dustin Motzouris was dominant aboard the new 2017 Kommander K1R hull. Tyron Motzouris may have lost the brotherly battle taking second in Moto 1 but that set him up to win the war by winning Motos 2 and 3. Dustin stalled off the line in Moto 2 and had to come through the pack to finish second. Consistency earned Team Jettribe rider Brock "B-Rock" Austin third overall. This is setting up to be a great year-long battle between these three to see who sits on top of the mountain at the end of the year.
The fastest class of the weekend Pro-Am Runabout GP was Sea-Doo RXP-X 300 showcase. Dustin Farthing aboard his Monster Energy Sea-Doo put the "Show" in showcase. His nearly 700-horsepower Sea-Doo pulled all three holeshots and never looked back, dominating the class. After two hard luck rounds, Hidden Trail Motorsports owner Trey Frame righted the ship with three huge second place finishes to lock up second overall. Tim Neff aboard Dustin Farthing's backup ski finished third in all three moto's to lock up a very respectable third place overall.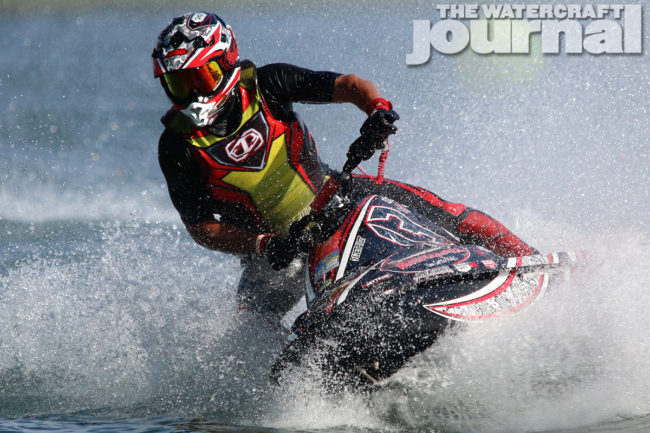 The Sparks, Nevada Pro Watercross Tour stop was a success with it's flat water and huge high speed race course. It will be exciting to see what St. George, Utah brings next weekend when we get to see these national championship races take shape.
All images courtesy of Traci Cottle. Originals can be purchased HERE.
Hidden Trails Pro Watercross National Tour, Round 3 Sparks, NV
PRO-AM RUNABOUT GP: 1. Dustin Farthing, 2. Trey Frame, 3. Tim Neff, 4. Tim Ducat; PRO-AM SKI GP: 1. Tyron Motzouris, 2. Dustin Motzouris, 3. Brock Austin, 4. Ian Roberts, 5. David Redinger, 6. Aaron Gewecke, 7. Derrick Helm, 8. Pete Zernik, 9. Jordon Carroll, 10. David Cabrera, 11. Thomas Pagen; PRO-AM R/A BOX STOCK: 1. Dustin Farthing, 2. Tim Ducat, 3. Troy Snyder, 4. Jesse Wilson, 5. Jeff Dyckowski, 6. Billy Dearman; JUNIOR SKI STOCK 10-12 YR: 1. Tallon Chambers, 2. Sammy Nehme, 3. Dominic Cannady, 4. Devin Farthing, 5. Seth Fuhrman; SPORT GP: 1. Sam Nehme, 2. Denny Janeway, 3. Kelly Smith, 4. Zack Martinez, 5. Billy Dearman; SPORT STOCK: 1. Sam Nehme, 2. Gage Schoenherr, 3. Rod Bigman, 4. Donny Miller, 5. Eddie Clavel, Brandon Miller, 6. Hunter Dunn; VINTAGE X2: 1. Greg Sommers, 2. Doug Wolff; PRO-AM SKI STOCK: 1. Derrick Helm, 2. David Cabrera, 3. Curtis Pitman, 4. Mark Gomez, 5. Gage Schoenherr, 6. Michael Prodanovich; PRO FREESTYLE: 1. Mark Gomez; AMATEUR SKI STOCK: 1. Gabe Hooper, 2. Carson Hughes, 3. Matt Rollings, 4. Aj Luinstra, 5. Branden Edwards, 6. Maxson Carter, 7. Dawson Newbie; VETERAN SKI GP: 1. Pete Zernik, 2. Kevin Redinger, 3. Dan Masters, 4. Ian Benson, 5. Bob Vassallo, 6. Ronald Jones, 7. Bill Austin, 8. Craig Thorsteinson, 9. Chuck Evans, 10. Brian Edwards; JUNIOR SKI STOCK 13-15 YR: 1. Gabe Hooper, 2. Carson Hughes, 3. Aj Luinstra, 4. Trinity Klecker; AMATEUR SKI GP: 1. David Vitale, 2. Jordyn Jones, 3. Mitch Jonas; RUNABOUT N/A SPEC: 1. Cameron Frame, 2. Bill Wilson; VINTAGE SKI: 1. Kristen Mccormack, 2. Bryson Olson; WOMENS SKI LIMITED: 1. Trinity Klecker, 2. Jones Morgan, 3. Jodie Evans, 4. Kori Zabala; AMATEUR SKI GP: 1. David Vitale, 2. Jordyn Jones, 3. Mitch Jonas; RUNABOUT REC: 1. 1. Sean Miles; RUNABOUT 1000 CC & UNDER: 1. Thomas Pagen; VETERANS R/A BOX STOCK: 1. Jeff Dyckowski; BEGINNER SKI STOCK: 1. Bryson Olson, 2. Kristen Mccormack