"You can't always get what you want," Jagger swooned into the microphone that brisk November afternoon in 1968 at Olympic Sound Studios, London. "But sometimes, you get what you neeeed." Backed by the London Bach Choir, the 'Stones recorded the 100th greatest song of all time (as published by Rolling Stone magazine in its 2004 list of the "500 Greatest Songs of All Time"). Its message was clear, the words sublime: need will supplant want at the cost of desire – yet satisfy both.
So, what did Sea-Doo need this year? The past three years have witnessed remarkable gains, with explosive sales of the Spark contributing directly to industry-wide growth: 25-percent worldwide, and 30-percent in North America alone. In fact, had Sea-Doo spun off the Spark into its own brand back in 2013, it would have more market share than Kawasaki. With 48 different iterations (due to its modular assembly), the Spark is unequivocally the best selling PWC in the industry.

And there wasn't much missing from the company's portfolio of 15 units; from its entry-point Rec Lite (ie. Spark) group, through its Recreation, Sport, Luxury and Performance lines, Sea-Doo looked to satisfy every kind of enthusiast. But what many wanted started to be too loud to ignore: more horsepower. Kawasaki's Ultra 310X truly reigned as the horsepower king, and Yamaha's SVHO models shined these past two years both in the closed course and in the larger AquaX offshore arena.
Quite frankly, Sea-Doo needed to do something quick to climb back up the horsepower ladder. It was The Watercraft Journal who first published inside information that Sea-Doo was up to something big for 2016. Sifting through chatter from multiple sources and asking a lot of the right people the right questions, we soon knew the truth from the fiction; namely tales of mystical 2-liter four-cylinder (although Rotax owns zero patents on four-cylinder engines), a fanciful 1200cc "Spark X," or even a new offshore hull.
And what was later unveiled was that we were nearly exactly spot-on with our predictions. The answer to Sea-Doo's need was not found in dumping gobs of additional horsepower at their current models, but smartly striking the proper balance of performance, weight distribution, and rider control. "Performance is more than just a number, but a combination of how you use those numbers," Sea-Doo's marketing frontman, Tim McKercher explained.
For 2016, Sea-Doo has radically improved its S3 hull-based 3-seater runabouts, the RXT, GTX and Wake Pro 215. Redesigned ergonomics compliment not only a new 300-horsepower ACE 3-cylinder engine, but all S3-based units. The new S3-hulled machines also feature improved weight distribution, storage and in the case of the three 300HP units (RXT-X, RXP-X and GTX Limited), improved pump components as well. And all 2016 Sea-Doos feature a new faster-acting "second generation" iBR system and new handlebar grips.
Martin Lachance, BRP's Engineering Director for the new Rotax ACE 300 personally walked The Watercraft Journal through the efforts made to bring the outgoing 1503 4tec Rotax (although still found in all non-3ooHP 2016 models) up to snuff: "Measured at 1630.5cc's, the new engine features a 100mm bore and 69.2mm stroke, providing 9-percent more displacement, and 15-percent more power," he outlined. The pistons are 20 grams lighter and feature longer, coated skirts, and spin on lighter albeit shorter connecting rods.
Gone from the motor are the heavy, pressed-in steel cylinder sleeves, replaced with a new plasma coating applied via a proprietary thermal spraying process. Similar in its purpose as Nikasil, the plasma coating technology was developed by Rotax's Gunskirchen, Austria team to replace the steel liners while retaining (and improving) surface durability, minimize friction, improve heat transference, and reduce total engine weight.
The engine also features an additional cooling circuit, a heat sink that has doubled in size, a hybrid dry sump oiling system, and is fed by a new intercooler that is 2.2-times more efficient, producing over double the cooling capacity. RIVA Racing's own Dave Bamdas, praised it saying, "We think Sea-Doo did an outstanding job [on the new intercooler]. We really had to step up big time to try to improve it." Made from new, long life alloys for both weight savings and corrosion protection, the new intercooler, circuit and coating is responsible for 33-percent improved engine cooling.
Unlike other ACE (Advanced Combustion Efficiency) engines found in the Spark and Can-Am snowmobiles, the 1630 ACE 300 retains a single-camshaft valvetrain configuration. The cylinder head though, has been improved beyond the 1503 as well, with a new combustion chamber quench, new larger injectors, and new ignition coils that produce double the ignition energy for a hotter, cleaner and more efficient burn.
Obviously, the big and final change was the dramatically improved supercharger. The new centrifugal blower produces an impressive 30-percent more boost (18psi) thanks to a more efficient (albeit smaller) wheel that spins 8-percent faster. The new wheel features an aggressive 32 blades – or double the blades of the outgoing design, and features 8 steel washers and two composite bearing packs at either end of a near inch-thick shaft. As per Lachance, all superchargers are individually tested prior to assembly ensuring that this supercharger is 100-percent "maintenance free."
Backing all 300-horsepower models is a revised pump setup, with a new venturi that has been cast thicker at the ears to thwart any potential breakage, and a thinner wear ring to accommodate the larger, more aggressively-pitched prop, growing slightly from 159mm to 159.5mm.
Improvements not exclusive to the 300-horsepower models, but noteworthy nonetheless include the aforementioned "second generation" iBR (Intelligent Brake & Reverse) system, comprised of a new actuator motor, a redesigned bucket and beefier mechanical harness that straddles over the pump. The setup allows for an impressive 20-percent shorter braking distance – 48.75m (or 160-feet) top speed-to-zero stop without the submersing nose-plowing of the outgoing units.
Moreover, the iBR motor now sits above the pump tunnel between the waterbox and intercooler, with the battery mounted fore of the engine, thus centralizing the craft's weight distribution and removing the need for the removable deck panels found on previous RXT and GTX models. Additionally, Sea-Doo continued its charge towards superior ergonomics with the incorporation of its Ergolock seating system (with the accompanying foot wedges) on all S3-hulled machines (including all suspension-equipped units as well).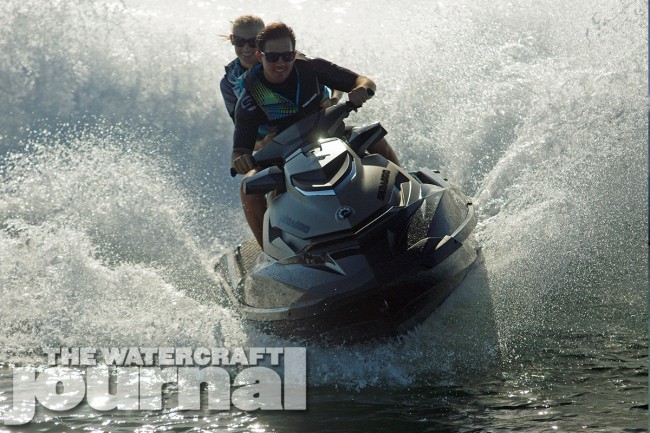 In expanding the fairings to accommodate the hourglass Ergolock seat, Sea-Doo drastically expanded the glovebox, making it nearly a foot deep and as wide. That, together with a new, completely finished and sealed "wet" storage under Sea-Doo's removable watertight bin equates to three times more total storage capacity than before (42.8 gallons). One final touch is the across-the-line inclusion of Sea-Doo's palm rest hand grips. The grips' flared surface and pistol grip-styling is intended to ease strain and supplement comfort during extended riding.
Besides the 300-horsepower RXT-X and RXP-X, which can be had in either Lava Red and Monolith Black Satin livery, or a very James Bushell-inspired White and Dayglow Yellow combination, new colors (or accent colors) can be found on 80-percent of the 2016 units. The rest of the Performance segment wields a brilliant bumblebee yellow-and-black combination (save for the RXT-X aS 260, which shares the Lava Red and Black Satin coloring).
The Luxury group gets a makeover in a deep black metallic deck capped with graphite fairings and seat – all highlighted with the familiar Maldives Blue decals. Although all S3-based models get the new Ergolock treatment (with larger storage capacity and contoured hand grips), only the Luxury models get a new three-tiered stadium-style bench for improved second and third passenger seating. Sharing its platform with the GTX, the larger Wake Pro 215 also receives the Ergolock revision and new aggressive satin blue/green coloring. All other features are carried over from the previous model year reviewed here.
The Recreation segment carries over the successful Maldives Blue packaging for the GTI 130 and 155, both in standard and SE configurations as well as a black/white color option. For the Rec Lite group, the Sparks get the new handlebar grips and iBR system (although it was hinted that the Sparks always had the second generation motor), and bids adieu to three colors: Cotton Candy, Licorice and Orange Creme, replacing them with Key Lime, Chili Pepper and the much anticipated Blueberry. Carryover colors Vanilla and Pineapple remain.
Additionally, 2016 Spark models will also have color-matched seats. For those wishing to trade-in their Sparks for a new color, don't fret! Sea-Doo's Parts & Accessories department is making the color panels available as an available kit. Not only can you swap colors with ease, but even mix-and-match various panels for a personalized look. Additionally, BRP is offering a Tow Pro towing package for the Spark as well as 20 new graphic kits to match the new coloring.
The machine that is 35-percent more affordable, offering 35-percent better mpg and 30-percent better power to weight ratio than its nearest competition, Sea-Doo has little sign of Spark sales slowing down. With an average buyer of 40 years old (6-years younger than the average PWC buyer), the Spark satisfying the market's need to appeal to first-time and second-unit buyers in a big way.
For 2016, Sea-Doo has found a way to meet the needs of several segments while over-delivering in others many didn't anticipate. The Watercraft Journal will have exclusive hands-on reviews of the RXP-X 300 and RXT-X 300 shortly, as all of us here are very excited for Sea-Doo's 2016 offerings. But don't take our word for it. Go to Sea-Doo's website or your local dealer, and who knows? You just might find you'll get what you need.