To all who were witness to it, Jean-Baptiste Botti's performance at the 2014 IJSBA World Finals was nothing short of masterful, comparable to an accomplished violinist beautifully performing Bach's "Adagio" before a reverenced amphitheater. The Frenchman's black-and-red Rotax Racing RXP-X never once faltered, consistently outpacing its Pro Open Runabout challengers, the whine of the centrifugal supercharger whistling over the cacophony of pursuing turbos.
Yes, Botti bested a field populated by runabouts built by some of the best minds and technicians in the sport, and to add insult to injury, did so on a RXP-X employing impressively standard equipment. According to a report by Vasilis Moraitis, the factory Rotax runabout rode on a slightly modified and lightened RXP-X hull assisted by a pneumatic trim tab and drop nozzle system. Likewise, the hood and seat were also lightened but maintained much of the factory appearance.
Beneath the hood, the modifications were kept equally as minimal: Rotax Racing's engineer Franco Dettori described the engine as built around a Rotax stroker crank slinging forged steel rods and lightweight pistons, increasing the factory displacement to 1,600cc, a note which Moraitis extrapolates in late 2014 as being "the future of the OEM boats."
Equally, the cylinder head is also a Rotax Racing unit featuring lightened exhaust valves. A Rotax Racing camshaft received a custom grind, with modified ignition timing and bumping machined rocker arms. Mated to the high-flow head is a Rotax intake manifold, fed by large 60-pound injectors and a massive 61mm throttle body. Most important to the package is the factory watercooled centrifugal blower housing a 140mm supercharger wheel. Together, the engine produced an impressive 420 brake horsepower.
Backing the race craft's powertrain is a new 18-vane set-back 159mm pump with an adjustable pump cone and Rotax reduction steering nozzle. All of this equated a final result of 84.5 miles per hour top speed clocked a few days before the World Finals' main event. The combination proved an unmitigated success naturally, and performed under the hardest conditions imaginable but more importantly, as The Watercraft Journal was recently informed, Botti's craft was purportedly a "trial by fire" test mule for the new engine and pump arrangement that would eventually become the template for Sea-Doo's 2016 Performance line.
Our sources affirmed the change citing the addition several new powertrain part numbers as well the replacement of several other SKUs, particularly for the RXP-X. Likewise, sponsored X-Team racers have been reportedly alerted to "hang on to their current units" as the new engine and pump components will be issued according to their consignment programs.
As described, Sea-Doo is expected to challenge Yamaha's SVHO and closing in on Kawasaki's Ultra 310X with a revised Rotax-powered X-Series of Performance craft. Rather than leapfrogging in technology from the current 1503 SC 4-tec SOHC to a larger displacement derivative of the Spark's ACE 900 as we had hoped, Sea-Doo will likely opt for the safer alternative, employing tactics proven by Rotax Racing's latest foray with Botti.
By offering a revised intake manifold and cylinder head, and increasing overall engine displacement to 1.6 liters (from 1,494cc), fuel injectors (from 48 to 60lbs.) and throttle body size, the supercharger housing and wheel (from 137mm to 140mm), as well as a revised intercooler similar to Botti's set up, Sea-Doo could safely and effectively offer the world's first 360-horsepower personal watercraft.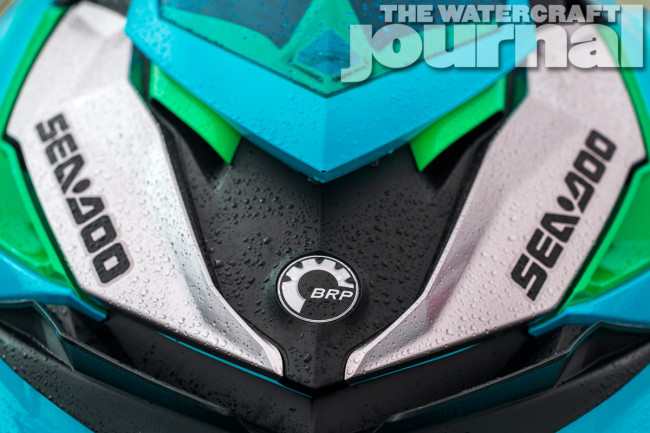 Alas, this is an unlikely scenario; it is doubtful BRP will unload both barrels at once by offering a Rotax Racing cylinder head and intake on a showroom stock vehicle (at least, for now). Rather, we anticipate that wiser minds are sure to prevail, likely reserving the new X-Series Sea-Doos to a more manageable 315 ponies – just enough to eke past Kawasaki as the King of the Horsepower Hill.
As we've stated previously, Sea-Doo is never one to sit idly by allowing their competitors to jockey too far ahead. And from all that we've received over these past three days, we have a lot to anticipate from one of the most daring companies in our industry.
[Update 9/6/15 – Recently, sources reemphasized the likelihood of an "all new" Rotax powerplant, very similar to our initial predictions of a larger displacement ACE-inspired engine. Aftermarket performance parts manufacturers have reported needing to make "extensive changes" to their current Rotax 1.5L parts to accommodate the new engine. Increased displacement and a minimum of over 300-horsepower are still expected, but the addition of a new dual overhead camshaft cylinder head radically improves the future Sea-Doo's longevity as a performance leader. – Ed]