If one is to dabble in the field of predicting the future, we've found it's best to become accustomed to the taste of crow. Today is one of those humbling instances, as almost half of the predictions made by The Watercraft Journal this year – pertaining to the 2023 models – were sunk. A wholly redesigned Spark? Not yet, buddy. A multi model-sweeping X-Series? Hmm, better luck next time. And this May's leaked green-and-carbon fiber RXP-X featuring Formula 1 pilot Daniel Ricciardo being a one-and-done custom? Not even close, kid.
Rather, in a surprising move, BRP opted to appeal to the furthermost extremes of some of the hobby's most polarized opposites: the fuel-efficient, long-distance cruiser; and the edge-of-your-seat, hardcore buoy-cutting racing enthusiast with the new Explorer Pro 170 and RXP-X Apex 300, respectively. These two new models stand alone as the solitary additions to the family of Sea-Doo watercraft, and expands the brand's already diverse variety of purpose-built products.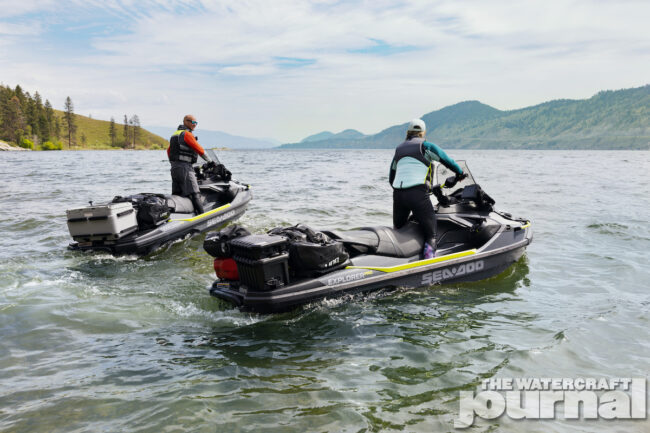 Apart from a limited number of new colorations – including the top-of-the-line GTX Limited 300, GTI and Spark models – the remainder of the watercraft lineup are direct carryovers from 2022 in both livery and equipment. This decision allows the 2023 lineup to seamlessly dovetail into last year's production run, which is still working to complete incomplete models. To this point, BRP CEO José Boisjoli emphatically praised dealers during the 2023 product rollout.
Boisjoli thanked its dealer network for continued professionalism and patience during the last two-and-and-a-half years of production delays and the influx of unfinished products arriving at dealerships. During the invite-only presentation, Boisjoli shared a few examples of the pains taken by BRP to complete units, including booking dozens of 747 flights to bring in materials from overseas, and making over 15,000 engineering changes to streamline and ease production woes.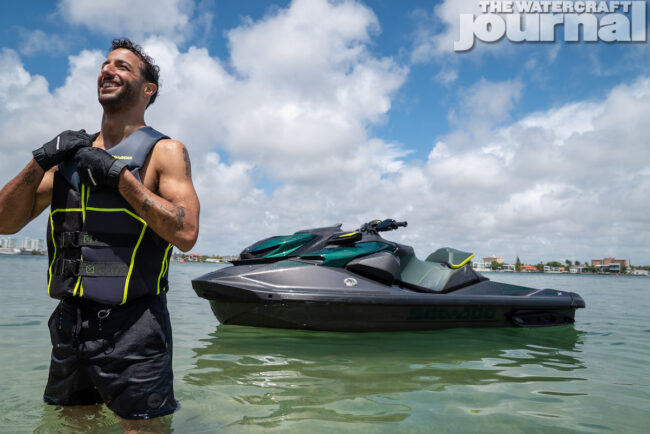 These efforts combined with the force of BRP's 20,000 employees gives the company a strong positive momentum leading into the new year. And assisting that momentum are two new machines that speak specifically to two very unique interests. With the aforementioned 2023 RXP-X Apex 300 ($20,999 MSRP).  Sea-Doo is offering it as an a 2023-only, limited run that are only available via pre-order with deposits ending November 30th, 2022.
The Apex comes almost exactly as shown in the leaked pictures and video featuring F1 racer Daniel Ricciardo – wrapped in Racing Green and Graphite Gray, and featuring carbon fiber on the mirrors and hood with blacked-out emblems, the Apex is living up to its name. What truly sets the Apex apart from the standard RXP-X 300 (which returns in Millennium Yellow and Premium Triple Black) is the use of a Hydraulic Steering Damper on a reinforced steering column (with three resistance settings).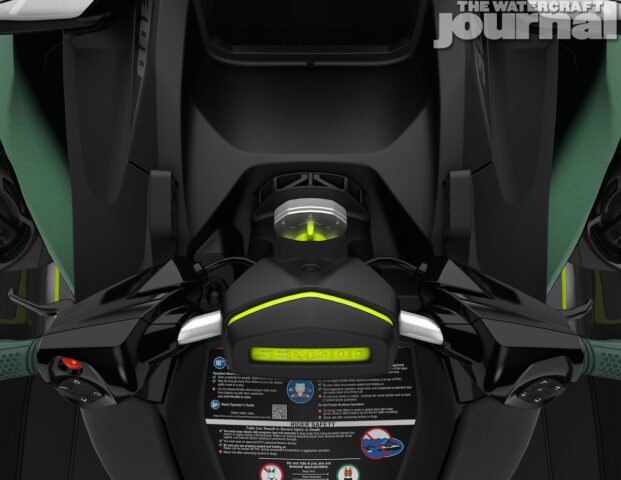 The adjustable hydraulic dampening action is designed to reduce the amount of rider input necessary to track through chop – particularly at speed – and consequently, reduce rider fatigue. The exclusive Apex also includes both seating options for the RXP-X, the high-backed single seat (Ergolock-R) and the optional passenger seat. Otherwise, all other characteristics of the Apex remain identical as the standard RXP-X (sponsons, power output, weight, etc.).
For those seeking a totally different use of the water, Sea-Doo launches its new "Adventure Segment" beginning with the 2023 Explorer Pro 170 ($16,799 MSRP). This machine shares a great deal in common with the Fish Pro Sport 170, employing the full-sized ST3 platform, the same thickly-padded flat "Touring" bench seat, gunwale footrests, a modified Fish Pro extended rear deck (more on that in a second), and 7-inch Garmin GPS/Fish Finder combination navigator.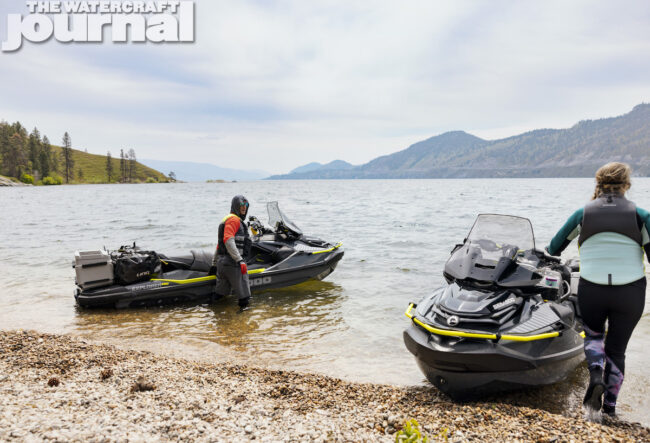 The Explorer Pro 170 includes several firsts for both Sea-Doo and the PWC industry like a full-sized removable windshield, a heavy-duty front bumper, a vertically-adjustable steering neck, a LinQ Explore Bag, a standard LinQ multi-cargo rack, and a redesigned rear platform with three-times the LinQ mounts, allowing adventurers to bring upwards of SIX LinQ accessories! The Explorer Pro 170 will appeal to those who want to venture far upriver, down the coastline, and even camp overnight near the shoreline.
For the remainder of the 2023 Sea-Doo lineup, the changes are minimal. Beginning from the Rec Lite and working our way up, the Spark returns with unchanged variations: Spark 2-up ($7,699) and 3-up ($8,899), both with or without BRP Sound), and Trixx 2-up ($8,799) and 3-up ($9,399) also both with or without BRP Sound – all Sparks optional in Manta Green or Dazzling Blue.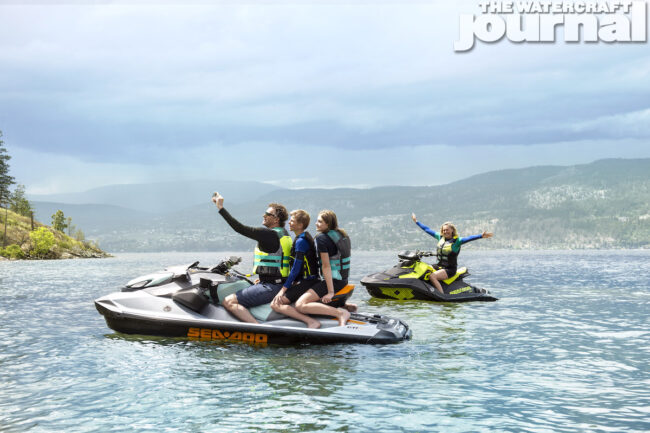 The GTI lineup is offered with either a 90-horsepower ACE ($10,699), SE 130 ($11,499) or SE 170 ($12,099) – and is offered in Reef Blue, Coral Blast/Eclipse Black or Ice Metal and Neo Mint, respectively.
The Touring segment consists of two tiers of GTX, the standard ST3-based GTX available either with a naturally-aspirated 170-horsepower ($15,199) or an option of a 230 ($16,199) or 300-horsepower supercharged powerplant ($17,499). All of these carryover from 2022 in the same Eclipse Black and Orange Crush livery.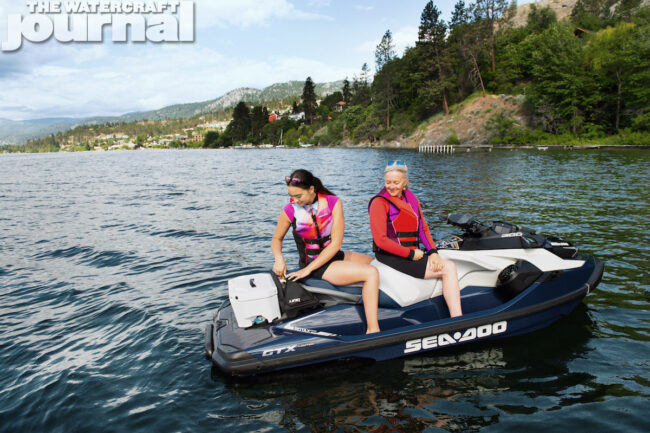 For the top tier Limited 300 models ($18,800 MSRP), customers have an option of either the Premium Metallic Sage hue or the new Blue Abyss coloration. No changes to these models have been announced apart from the availability of iDF and the BRP Tech Package on the non-Limited models as options.
The Performance segment also carries over unchanged – besides the aforementioned Apex – both the RXT-X ($18,499) and RXP-X ($16,499) returning in either Triple Black or Millennium Yellow. The GTR 230 ($13,299) also continues in Millennium Yellow for 2023 as well.
Moreover, so goes the story for the Wake Pro 230 ($17,499) and Wake 170 ($12,899), both returning for 2023 in Neo Mint. And lastly, the Fish Pro family soldiers on the identical liveries as last year – the Scout and Sport in Gulf Stream Blue ($14,299 and $16,499); and the groundbreaking Trophy in Flint Grey and Orange Crush ($19,599).
The goal for 2023 is to ensure that every pending order and that every new order is fulfilled in a satisfactory time frame. This will take continued strident efforts on BRP's behalf as well as the tens of thousands of hands who help to make every single Sea-Doo a reality. The listed price increases reflect the strains on the global supply chain and shouldn't come as a surprise to anyone who has been subscribed to The Watercraft Journal these last few years. We're excited to see how these new products are received as they speak to very different audiences.