With last week's reveal of Sea-Doo's function prototype E-GTI watercraft, the real possibility of a completely zero-emission PWC is coming into focus. Yet, what many people don't know is that they're a whole lot closer to its fruition than they might think. Except it's not gonna be from BRP. As of last night, Taiga Motors, the Canadian manufacturer behind the world's first electric snowmobiles, just revealed its first electric personal watercraft, the Orca.
Looking to usher in a new segment of the personal watercraft industry, Taiga's Orca introduces a variety of technologies, innovation and eye-catching design; from its heavily-sculpted deck to its suspended seat down to its 100-percent carbon fiber molding. The lightweight construction drops the Orca's overall weight just below 600-pounds, giving the Orca one of the "highest power to weight ratios in the industry while remaining nimble, silent, and practical for every day use."
Interestingly, the Orca is surprisingly tiny. From bow to stern, it's a little over 114-inches long (114.2-inches); nearly 9-inches shorter than a Yamaha EXR, or 4-inches longer than a 2-up Spark. At 47.2-inches wide, it's just an inch-and-a-quarter wider than the aforementioned Sea-Doo too. Standing at 39.8-inches tall, it's about an inch-and-a-half shorter than the traditional (non-Trixx) Spark as well. But here's the kicker: it's 134kW output is equal to 180-horsepower.
Now imagine a Spark making that kind of power and capable of 65 miles-per-hour top speeds! The Orca accomplishes this via a sealed and vibration-isolated, lithium-ion battery that operates on an automotive standard system voltage of 400 volts that is stated to last 2 hours of aggressive riding. The battery itself has been designed to be safely operated under high shock loads, high humidity environments, and even under temporary submersion!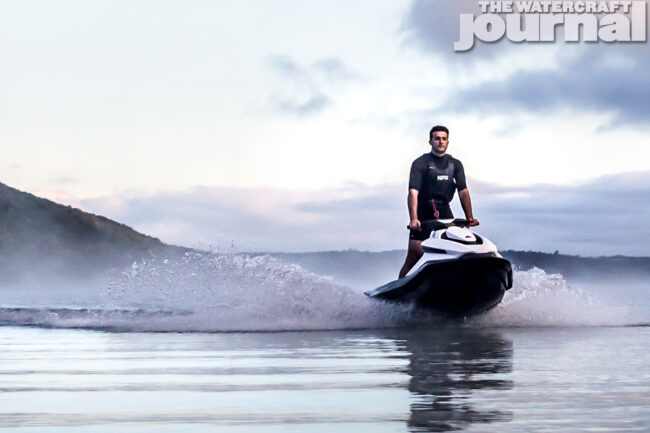 According to Tiaga, "the 23kWh battery capacity provides energy for up to 2 hours under typical drive conditions." Weighing in at approximately 125kg (275.5-pounds), the Orca's battery can be recharged from "a regular outlet for convenient overnight charging, from standard automotive chargers at a rate of up to 10kW, or by DC fast charging to 80% in 20 minutes for high throughput operators," continues Taiga representatives.
This nearly-instantaneous power (sub 5-milisecond response time) pushes the Orca forward with "precision impeller speed control" that both maximizes efficiency [read: low cavitation] and reduces noise levels under "varying conditions." This consistent power output is maintained using Tiaga's unique thermal management system; a closed loop cooling circuit that runs through the battery, motor, and inverter.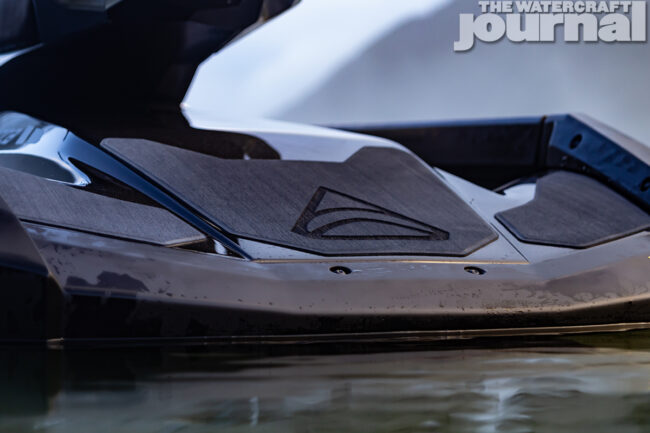 Originally designed for Taiga's electric snowmobiles, the closed loop cooling system means "no winterization is required," according to Taiga. They continue, "The auxiliary systems have been designed for extremely low quiescent currents so that the vehicle can be left unplugged up to 5 years while still periodically waking itself to check on systems. Users will no longer have to disconnect their 12V batteries for fear of draining them."
The low-slung battery array allows for a very deep-seated seating position, as well as what Taiga claims to be "the lowest center of gravity of any personal watercraft." While the manufacturer purports to enjoy "enhanced stability and precision carving" video (see below) still reveals the small, lightweight runabout riding very high on the surface with very little draft [ie. depth of hull below the water's surface]. Thankfully, factory-equipped adjustable sponsons allow for easy adjustment of the ride characteristics.
Although Taiga gives no data pertaining to storage – be it front bow or glove box – they do offer a great deal of insight pertaining to the Orca's onboard computer; the ECM offers intelligent connectivity via built-in GPS mapping, LTE, Wi-Fi, and Bluetooth. "Users can choose from a full suite of integrated sensors from water temperature to cameras and sonar to explore their environment," as well. Equally, users can adjust vehicle parameters either via the dashboard or a connected app.
And those connected Orca users will also receive continuous updates to their vehicles "as the latest advancements are made available via remote updates." Even beyond that, the Orca will be backed by a 5-year no-maintenance powertrain warranty and remote diagnostics anywhere they are sold. Moreover, every Orca can be digitally tuned and adjusted to meet the driving parameters of its respective owner.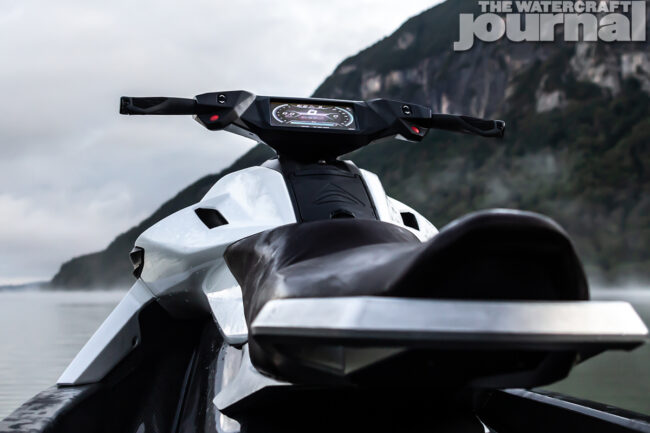 Externally, the Orca can be ordered to fit the customer's specific tastes; be it choosing between a variety of seat upholstery options (between high-end fabrics and colors), or from 10 base colors, the Orca's bodywork can also be optioned in an almost limitless color options with metallic and pristine gloss finishes. Even optional deck mat textures and colors can be selected.
Now here's the catch: interested buyers must order through Taiga's website, as there will only be a limited total production run of only 500 units. Of these, the first 100 Orcas built will receive commemorative badging branding them as "Founders Edition" models, featuring exclusive design elements and high-performance packages. Pricing for the exclusive edition will begin at $28,000 USD and will be delivered to North American customers in Summer 2020.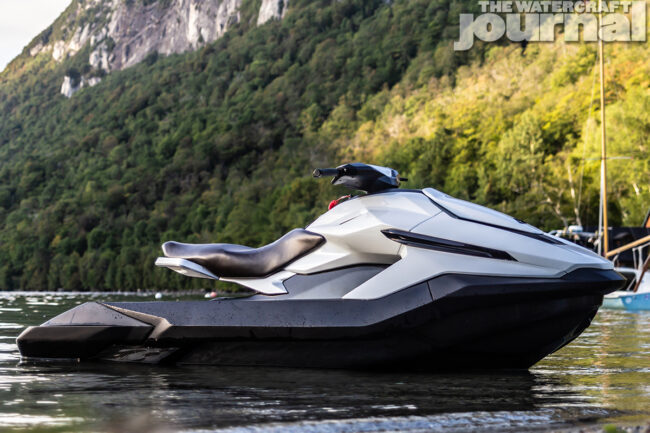 The remaining 400 production Orcas will begin at $24,000 USD, and will be made available to customers in North America and Europe shortly thereafter. As of this writing, reservations are now open online for the electric Orca PWC as well as the limited Founders Edition. And all units will be delivered through local Taiga-certified dealerships – so make sure to do a little searching online to find the closest dealer to you.
Taiga has high hopes for the Orca, both as a standalone vehicle being received by performance enthusiasts who also want a zero-emissions environmental footprint, as well as a gateway for future electric watercraft – hinting towards future models priced below $14,000 USD and even expanding Taiga's electric propulsion platform into electric inboard and outboard products for the boating industry.
And here's another video with actual audio of the ski in action: