For many watercross racers, already anxious after the yearly winter break, the past few months have been akin to one interminable, irritating, inexplicable marine hold, except instead of calving manatees or meandering sea turtles, the jet ski world was waiting for a little bug named COVID-19 to make its way off of the race course.
One week ago, with a backdrop of blue skies and bluer waters, the PWX race family shook off the quarantine blues with the first official race of 2020 – almost 2 months overdue, but all the more joyful for the delay.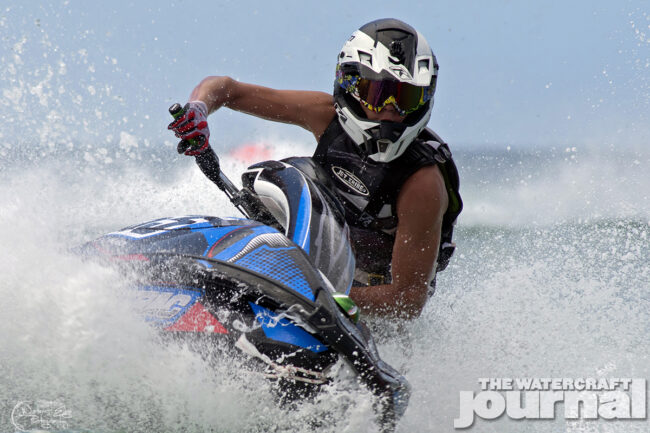 The first round of the 2020 Pro Watercross season, hosted by Sharky's Beachfront Restaurant in Panama City Beach, Florida, brought nearly 100 racers from across the country to reunite with racing friends and foes (often one in the same, in the PWX world), knock the dust off some race-tuned skis, and twist some throttles.
The atmosphere in the dry pits (which, in the opinion of this race junky, was one of the nicer pits/camping areas of any tour for the past several years – if you don't count the fire-ant bed that some to-remain-unnamed photographer stepped smack dab in the middle of!) was definitely one of camaraderie and good cheer – with just enough trash talking to make it seem like coming home.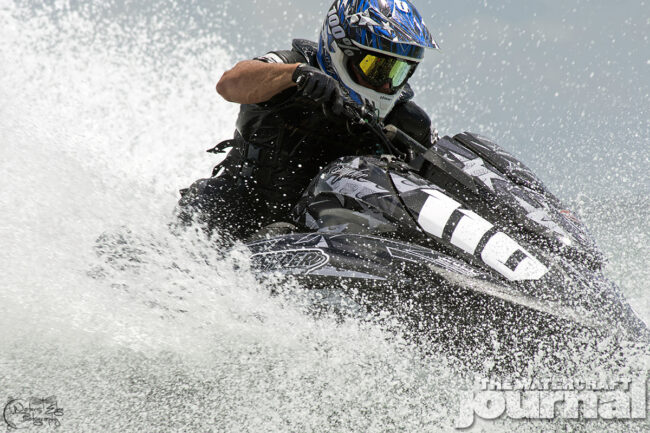 There were those with masks, and those without; those who bumped elbows, and those who hugged, and underneath it all, a comfortable easiness of old friends – or family – who respect each other and the inherent differences. Not once did I see someone crowded or pushed if they even gave the slightest hint of a preference for social-distancing, nor did I see any shaming or indignation against those not wearing masks. Everyone was there to race, there to throw off the weight of the past months, to trade protest worries and virus woes for some wire-to-wire battles between some of the hottest names in the game – and some new faces.
Pro Watercross, which is celebrating its 25th season of race promoting, packed the pro show into a one-day marathon, turning through three motos of all pro classes on Saturday, with some amateur and youth classes cut in to give racers – many of whom compete in multiple classes – a breather between motos.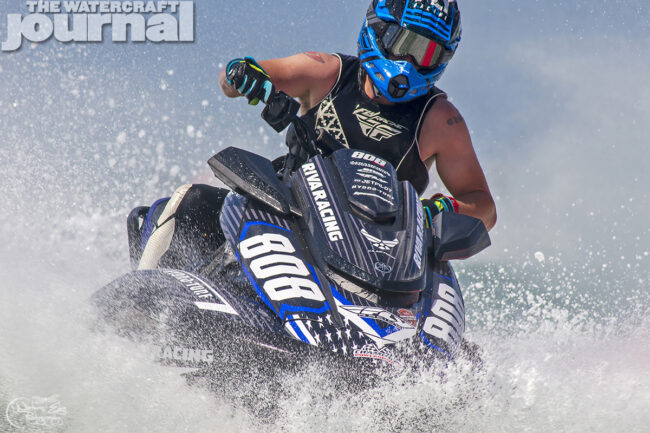 The Pro-Am Runabout Box Stock class packed the line with 13 racers, including top names such as Brian Baldwin and Troy Snyder. Snyder was fast off the line, but Baldwin piloted his Yamaha GP1800R to a hat-trick overall win with three checks in the win column. Snyder locked down three second place finishes for the second overall podium spot, and Tim Miller topped a fifth-place Moto 1 finish with two third-place finishes to take the third podium spot. Dylan Osborn also overcame a rough Moto 1 to take fourth place overall, and Graham Hunt finished out the top five in the R/A Box Stock Class.
In the Runabout GP class, Baldwin book-ended his first and third moto wins with a seventh-place finish in Moto 2 and Snyder took the top podium spot with a 2-1-2 performance on Saturday. Osborn, as in the Stock class, continued to put pressure on the front of the pack and recorded a 4-2-4 day, securing the third step on the podium, followed by Greg Radulski and Jason Russo.
The Pro-Am Ski GP Class also featured a packed line, and every name on the 12-spot lineup was a name to be reckoned with. There was little doubt that the entire race family was thrilled to see long-time race favorite and podium dominator Jimmy Wilson back in the game, but it was Dustin Motzouris – another multi-championship title-holder – that claimed the top finish on his Kommander GP1 with a 1-3-1 weekend.
Young gun Camden Powell edged out Wilson for the second podium spot with a 3-2-3 weekend, and Wilson recovered from a rough 7th-place Moto 1 to claim the third spot. Tyron Motzouris (2-1-11) took fourth, and another rising star, Matthew Richuk (6-8-4), finished out the top five.
In the Ski Stock class, Richuk (1-2-2) snagged the top overall spot, followed by Ryder Wildeboer (7-1-1) and Kennie McKenzie (2-3-4). In The Blaster GP class, the young guns ran the board, with Deven Farthing (1-1-2) taking first, Haden Skellett (2-2-1) securing second, and Revin Harris (3-3-4) nailing down third.
In Sport GP, Harris (1-1-2) claimed the weekend win, Skellett (2-2-1) took second, and Jimmy Wilson (3-3-4) took third. For more results, visit www.prowatercross.com. For a full album of photos from the race, visit www.watersedgephoto.online.